Celebrating the Class of 1970
UW-Parkside's First Graduates
UW-Parkside's first graduating class - the Class of 1970 - celebrates its 50th anniversary in 2020. We plan to celebrate this historic occurrence at the UW-Parkside Winter Commencement, December 12, 1970. As we prepare for this celebration, enjoy these remembrances from our first alumni.
First Commencement: June 6, 1970
(click image to enlarge)
 
Memories & Updates from the Class of 1970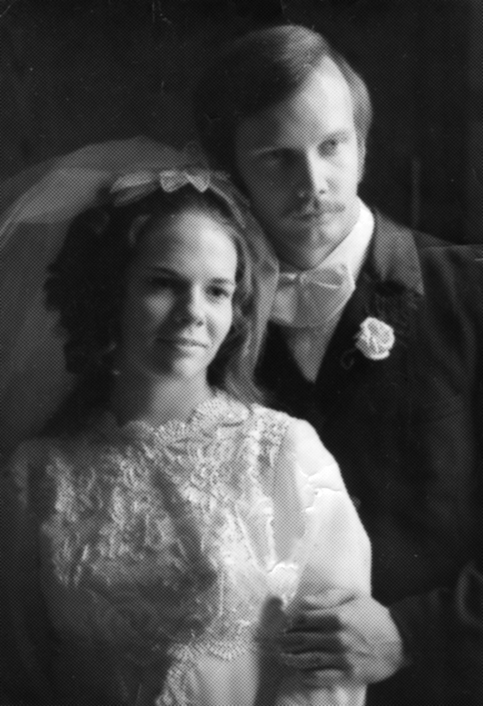 Patrick (Pat) Adamson
(As shared by Debi Cantway Adamson)
Pat & Debi met the first year that UW-Parkside opened, 1968-69. Debi was a freshman and Pat was working to continue his BS in mathematics for the first graduating class of 1970. Debi Cantway was in the first Homecoming Court and she named The Brick Factory (now razed), the gathering place for beer and entertainment on campus.  Pat and Debi first met in the Student Union and started dating in March 1969. They dated exclusively until they married September 18, 1971 and will be celebrating their 49th wedding anniversary this year. They have four married adult children and six grandchildren with a seventh arriving on April 22, Pat's 73rd birthday. 
 
Immediately following graduation, Pat was employed by American Motors as a systems analyst for the auto crash-testing program, where he had secured an internship during school. That employment later transferred to Milwaukee and lasted for nine years. Pat and Debi, along with their 9 month old daughter moved to Florida in 1979 for a job as a systems analyst at Pratt & Whitney Aircraft, a major engine manufacturer. Three more children came along, two boys and a girl, and Pat worked part-time at a local print shop, while also coaching each of the kids' sports teams of t-ball, baseball, basketball, soccer and softball. He also became a referee in soccer and volleyball, both recreational and for middle/high school. For three years, he created and ran a very successful state-funded after-school program for middle school students. He continued to referee soccer until three years ago when a sore hip caused him to stop. He had a total hip replacement in March 2020. His beloved grandbabies, all under the age of 6, call him PatPat and he loves it and them!
Senator Robert (Bob) Wirch
What are some of your favorite UW-Parkside memories?  
Drinking beer in the student union.

What was it like being part of UW-Parkside's first commencement ceremony?
I actually wasn't there.  I had to work at my factory job, so I had my diploma mailed to me.

How did your UW Parkside experience influence your future, professionally and/or personally?
It was a wonderful experience having a university serving the needs of blue collar/working class families right in my own backyard.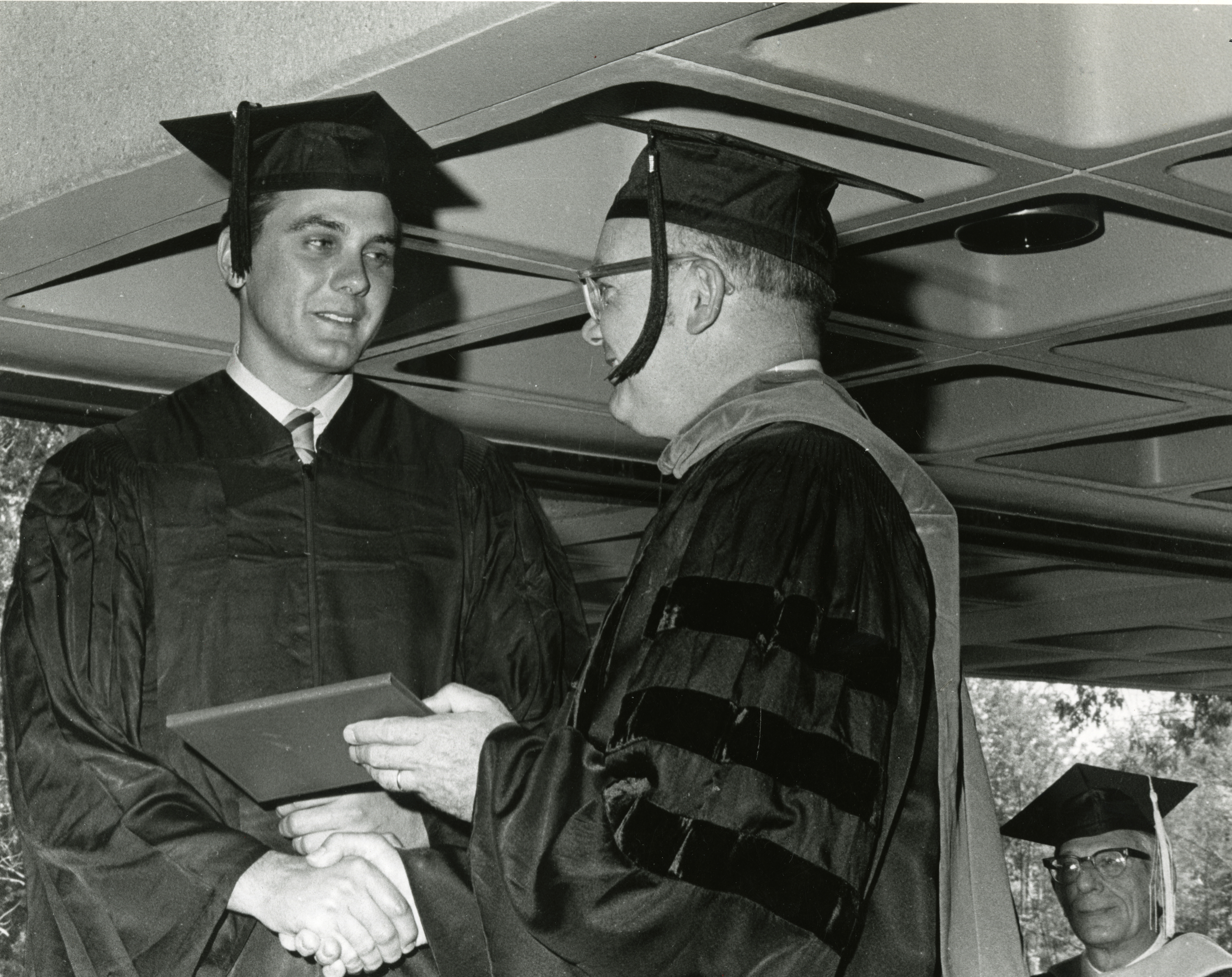 George Becker
George Becker was the first graduate to receive a diploma at the first commencement ceremony in spring 1970. Bragging rights!
After his service in the Air Force, George worked as part of the construction crew for the new university in Kenosha -- the University of Wisconsin-Parkside. He then enrolled and earned his degree in English. He then went on to earn a masters in curriculum and instruction from UW-Milwaukee and had a lengthy career in the Kenosha Unified School District. George's granddaughter, Charley Becker '17, was among the first graduates from UW-Parkside's revitalized teacher education program (Institute of Professional Educator Development).
Isom Fearn
Isom was the first African American graduate of the University of Wisconsin-Parkside. For 32 years, he served as the Director of the Access Opportunity Program at the State University of New York at Geneseo, which provided academically and economically disadvantaged students an opportunity to attend college. 
Isom passed away in 2006.
Mary Crane
Mary credits UW-Parkside for helping her find her passion in history. She had planned on pursuing a career in nursing, following the footsteps of others in her family, until a professor at UW-Parkside introduced her to history and instilled in her that she should follow her passion. Coming to UW-Parkside from UW-Madison, Mary found UW-Parkside's professors to be more caring than at any other school. 

One thing she vividly remembers is the long walk to the parking lot on cold Wisconsin days. Remembering Commencement, Mary recalls the folding chairs being set-up in Greenquist for graduation, seeing them and realizing what an honor it was to be a part of the first graduating class!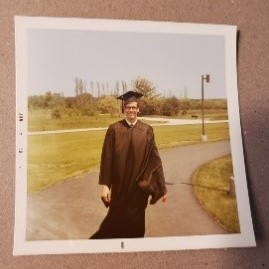 John Lueck
John Leuck started teaching right away in September 1970 after obtaining his math degree from UW-Parkside. John eventually went on to earn his MBA from UW-Parkside in 1984. After returning from served time in Korea, John picked up his career where he left off and has taught in RUSD, at Concordia University, and has even come back to teach a few classes at UW-Parkside! Currently, John works at Kenosha County Historical Society with another alum, Johnathan Martens '09.
Fun fact: John recently found out that his grandfather's farm was where Tallent Hall is now located.
Robert Rogers
Robert came to Parkside as a non-traditional student at the age of 27. He took night classes to complete his history degree, while working for Caterpillar in Milwaukee. An employee program at Caterpillar paid for his education costs after he graduated. He credits his UW-Parkside degree with opening many doors for employment throughout his life.

Robert has three daughters, two of whom are also UW-Parkside alumni. 
Penelope Shaubel
Penelope shares that her art degree from UW-Parkside prepared her for her life's work as an art educator, and for her current work as a creator and seller of hats!
Fun fact: Penelope makes appearances as a vendor at the oh-so-popular UW-Parkside Craft Fair.
Keep those memories coming! Members of the Class of 1970, we invite you to share your photos, memories, and updates by email: alumni@uwp.edu.