Voter Suppression: Courageous Conversations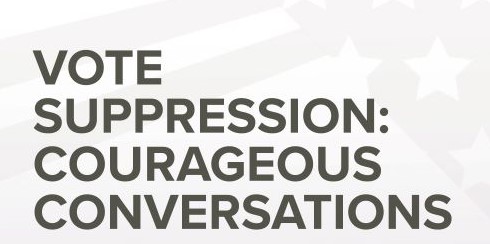 October 26, 2020
7 pm - 9 pm

VIRTUAL Event
Voter Suppression: Courageous Conversations
October 26 | 7-9 PM
The Alan E. Guskin Center for Community and Business Engagement partners with the Kenosha Coalition for Dismantling Racism in presenting COURAGEOUS CONVERSATIONS: Voter Suppression.  Panelists participating in the event are Yoger Aguilar, UW Parkside student and President of LULAC Council # 354,  Karen Kempinen, co-founder of Empower Uptown, and  Carl Fields, Vice President of Ex-incarcerated People Organizing (EXPO). Jade Peeples, law student, and political organizer. Reggie Jackson, writer, educator, activist. 
This online event will be live-streamed on Monday, October 26, 2020, 7-9 pm.  
Visit this link to participate in the event https://bit.ly/3jU1ZUe
The event will open at 6:45pm.