Community Events
The Election Experience 2020
Brownbag Discussions       Debates       Speakers
IMPORTANT DATES
SEP 22  |  National Voter Registration Day
OCT 24  |  National Vote Early Day
NOV 3  |  Election Day
Due to campus-wide COVID-19 regulations, only current students and campus community members will be able to attend in-person events. Click the REGISTER NOW button to access Live-Streaming information.
Join the Election Experience Team for virtual debate watch parties as Republican incumbent Donald Trump debates Democratic nominee Joe Biden. Interact online during the debates with a national audience from over 50 colleges and universities organized by the American Democracy Project in partnership with the Commission on Presidential Debates.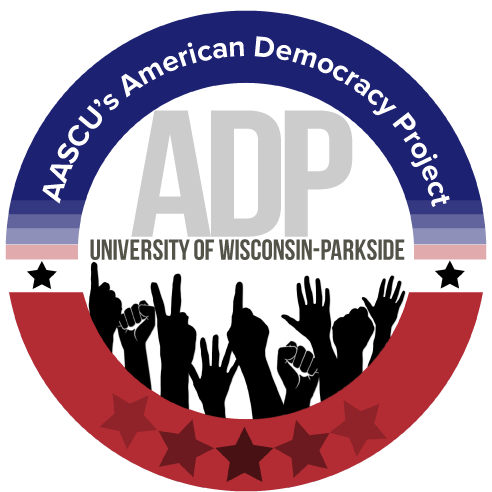 First Presidential Debate
September 29  |  7-9 PM
Vice-Presidential Debate
October 7  |  7-9 PM
Second Presidential Debate
October 15  |  7-9 PM
Third Presidential Debate
October 22  |  7-9 PM
JOIN THE DEBATE WATCH 2020 DISCORD SERVER
Fill out the information including your email address, username, and password
Once you've filled out the required information, click Continue
You have now successfully created your Discord Account!
Sign into your Discord Account
Click on the  +  icon in the left column
Click on  Join a Server or  Join a Friend on Discord
Enter in the invite URL  https://discord.gg/ZnaKpEf
After entering the invite URL click  Join Server
You have now successfully connected to the DEBATE WATCH 2020 Server!
In addition, we are sponsoring a UWP-ONLY Discord Channel where faculty, staff, and students can join together to discuss the debate.
Instructions: To connect with our UW-Parkside server channel click the + button on the left side of the screen, and click Have an Invite, Enter in the invite URL
You will be able to toggle back and forth with the national audience and our local community
The Peoples' Map
October 6 | 6-7:30 PM
On September 10, 2020 Governor Evers announced the formation of The Peoples' Map Task Force to address the increasing concerns throughout the state regarding potential partisan gerrymandering.  John Scott, member of the Fair Maps Coalition in Wisconsin will moderate a panel discussion on redistricting in Wisconsin, and the importance of grassroots efforts to effect change.  Panel Participants are Dale Schultz and Tim Cullen, former members of the Wisconsin State Senate. 
This event will be available online on Tuesday October 6, 2020, 6-7:30 PM.  This is a free event and open to the public, we ask that you register prior to the event.  
Charles Franklin
October 13  |  5-7 PM
A look at the 2020 Elections in Wisconsin and the Nation
Nationally recognized government scholar and pollster Charles Franklin has been director of the Marquette Law School Poll since its inception in 2012, and became a full-time member of the faculty in 2013.  As director of the largest independent polling project in history, Dr. Franklin will present the latest information on the campaign for the White House.
This event will be virtual and available online, we ask that you please register prior to the event. 
Voter Suppression: Courageous Conversations
October 26 | 6-8 PM
The Alan E. Guskin Center for Community and Business Engagement partners with the Kenosha Coalition for Dismantling Racism in presenting COURAGEOUS CONVERSATIONS: Voter Suppression.  Panelists participating in the event are Yoger Aguilar, UW Parkside student and President of LULAC Council # 354,  Karen Kempinen, co-founder of Empower Uptown, and  Carl Fields, Vice President of Ex-incarcerated People Organizing (EXPO). Jade Peeples, law student and political organizer. Reggie Jackson, writer, educator, activist. 
This online event will be live streamed on Monday October 26, 2020, 6-8pm.  While the event is open to all, we ask that you register prior to the event.  Registration will open soon.