GALLERIES: Landscapes Reception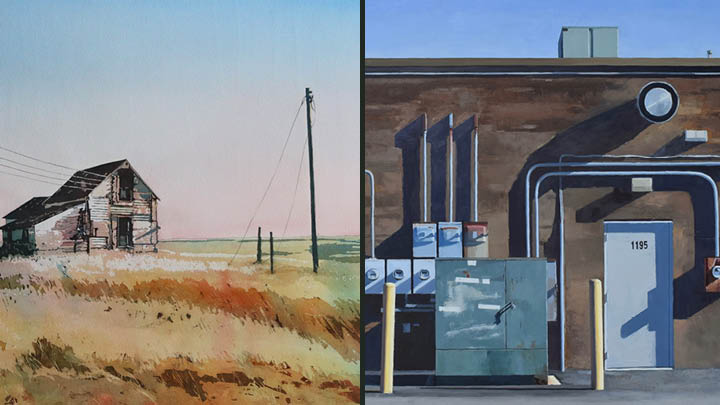 October 21, 2021
All Day
Fine Arts Gallery
Carlotta Miller was born and raised in the southwest corner of North Dakota.  She graduated from Minot State University, Minot, North Dakota with a degree in art education and her masters from Lesley University, Cambridge, Massachusetts. A signature member of Watercolor USA Honor Society and Red River Watercolor Society, Carlotta has exhibited in many national and local juried shows and recently published in Splash 21.  She currently maintains a studio at 16th Street Studios, Racine, Wisconsin.
Hans Habeger is an Associate Professor of Art at the College of Lake County in Grayslake, IL.  He is currently the Chair of the Art Department and oversees offerings in drawing and design foundations. He is originally from Wisconsin where he received a BFA from the University of Wisconsin Oshkosh in painting and drawing. He studied painting at Indiana University in Bloomington, IN where he earned an MFA. He has previously taught as a Lecturer at Iowa State University in Ames, IA. He has shown his work in national and regional juried shows and has participated in numerous invitational shows with George Billis Gallery New York and Los Angeles. He has had several solo and two person shows including the Robert T. Wright Community Gallery of Art in Grayslake, IL, Giertz Gallery in Champaign, IL and The Edwardsville Art Center, Edwardsville, IL. He has been a finalist in Manifest Gallery's International Drawing and Painting Annuals. His work has also been featured three times in the juried publication New American Paintings, Midwest edition. His paintings and drawings are in private and public collections including the College of Lake County in Grayslake, IL and The American Cultural Center Xian University, Xian, China.
All events at the Rita are masked events.
Virtual Exhibition Coming Soon