Alumni Spotlight: Jeffrey Wamboldt
Published: August 1, 2019
By:

Tessa Weber, Career Ambassador, Alumni Relations Associate
Jeffrey Wamboldt '17
As high school graduates head off to college, it's worth highlighting that not all college students fit the 18-year-old mold. UW-Parkside continues to see strong enrollment of "nontraditional" students who start or return to college later in life, balancing their studies with work, family, and other commitments.
Jeff Wamboldt '17 was a "typical nontraditional" student when he returned to UW-Parkside for a degree in Criminal Justice. Jeff was no stranger to the subject, with a 27-year career in the Kenosha Police Department. Jeff has taken on a variety of roles in the PD that has contributed to his success at Parkside. He has served as a third shift patrol officer for 11 years before transitioning to a School Resource officer for five years at Indian Trail High School. Jeff currently serves as a Crime Prevention Officer. Jeff has been recognized for his success in these roles through the following awards: Winner of the Crime prevention Program of the Year Award in 2010, the Kenosha Landlord Recognition Award in 2014, and the Kenosha Shrine Club Community Safety Person of the Year in 2019.  
Returning to the classroom, Jeff was able to contribute professional perspectives to criminal justice concepts. He was a guest speaker for several of his UW-Parkside courses regarding law enforcement related topics.
Jeff graduated in December 2017 and has seen the influence of his UW-Parkside experience: "UW-Parkside has helped in the development of the skills I use every day, not only in my career, but in my daily life. From critical thinking to seminar development to teaching in the classroom, the education I received at UW-Parkside was of great value and influence."
Giving back to his community, Jeff ran for the seat of the Kenosha County Supervisor for the 17th District.  He was re-elected in 2018.
Jeff and his wife, Debbie Barnett Wamboldt '87, understand the importance of a healthy work-life balance. While the two keep themselves busy with their careers, they also find value in spending time together. They invented a family travel game called Random Roadtrip to help people escape their daily routines and get them to experience all that life has to offer out in the world.

It is because of alumni like Jeff and Debbie that we are bursting with pride and will continue to applaud our UW-Parkside alum!
Jeffrey Wamboldt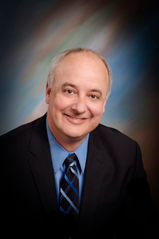 Jeff giving a presentation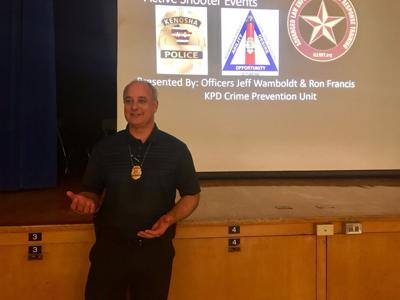 Jeff at graduation