Four UW-Parkside students to attend Edinburgh Fringe Festival in August, courtesy of Marie Kohler
Published: June 14, 2019
By:

UW-Parkside Marketing & Communications
SOMERS – Four University of Wisconsin-Parkside theatre students, two actors and two technicians, will have the incredible opportunity to help produce and perform in Boswell at the 2019 Edinburgh Fringe Festival for the month of August as part of a collaboration with Milwaukee-based playwright Marie Kohler and her production company.
Director, writer, actor, and playwright, Marie Kohler, wrote and produced Boswell's Dreams in 2005 to wide critical acclaim. In 2016, she reworked play and gave it a new title: BOSWELL. The play spotlights one of the most colorful literary figure from Scotland's past: James Boswell. Grounded in the friendship between Boswell and his English friend Samuel Johnson, BOSWELL reimagines the pair's "Tour" to the Hebrides in 1773 and interweaves with the 1950s discovery of Boswell's journals by Joan, an obsessed American graduate student researching in Scotland. Speaking through his always lively and often bawdy journals, Boswell's voice coaxes Joan to move towards greater authenticity -- and fun!
When rewriting Boswell's Dreams for a 2016-staged reading at Parkside, Kohler began to dream about taking the production to the Edinburgh Fringe Festival. Her passion for the material, and belief that Boswell's words needed to be revived and brought home to Scotland, inspired her to fulfill this career-long dream to participate in the world's largest arts festival and to share this experience with rising artists and local students. To make this happen, she pulled together an amazing team of collaborators, including the University of Wisconsin-Parkside, University of Nevada-Las Vegas/Nevada Conservatory Theater, and Renaissance Theaterworks for which Kohler is the co-founder and resident playwright.
The cast and crew of Boswell will be right here on the UW-Parkside campus rehearsing during the month of July, with a send-off performance at 4:30 p.m. in the Black Box Theatre on July 27. A reception will follow the performance, starting at 6:15 p.m. The public is invited to attend the performance and reception, both of which are free. During the reception, attendees will have the chance to engage in a Q&A session with Marie Kohler herself and the actors. Free parking is available in Lots A & B in The Rita parking lot.
Four Equity Actors will play the principle roles. They are Milwaukee favorites Laura Gordon (The Lady & David Garrick!), Brian Mani (Samuel Johnson), UW-Parkside's own Brian Gill (Boswell), and Abbey Siegworth (Joan Weinstein). Norma Saldivar, Chair of the UN-Las Vegas Theater Department, recruited her colleague, award-winning composer Josh Schmidt (Adding Machine and A Minister's Wife) to support the project. The four UW-Parkside students involved in the production are actors Christiane Laskowski and Kyle Racas, assistant stage manager Bri Humke, and backstage helper Olivia Jardas. In addition, UW-Parkside faculty members, Jody Sekas (sets/lights/props) and Misti Bradford (costumes), will design for the production.
After this performance, the team will fly to Scotland on July 29 to perform in a fabulous venue, Riddle's Court, with the assistance of the award-winning production company, Rhymes with Purple, from Aug 2 to 24. Riddle's Court is a 1590s-historic jewel of a theatre, off the Royal Mile, at the foot of Edinburgh Castle. Once a Renaissance merchant's home, later David Hume's (Enlightenment philosopher and Boswell's friend!), Maggie Smith made her Fringe debut here in 1959.
Community supporters have helped finance this production, including UW Parkside, the Brico Fund LLC, Stafford Rosenbaum Law Firm, the William Collins Kohler Foundation, Milwaukee Irish Fest Foundation and individual donors. Renaissance Theaterworks serves as the fiscal agent for this project, and contributions may be directed to them. 
###
Contact Info:

Lesley Heins-Walker
Dean of the College of Arts and Humanities
lwalker@uwp.edu
262-595-2188

Marie Kohler
writer.mariekohler@gmail.com
414-217-9978
 
Director, writer, actor, dramaturg, and award-winning playwright Marie Kohler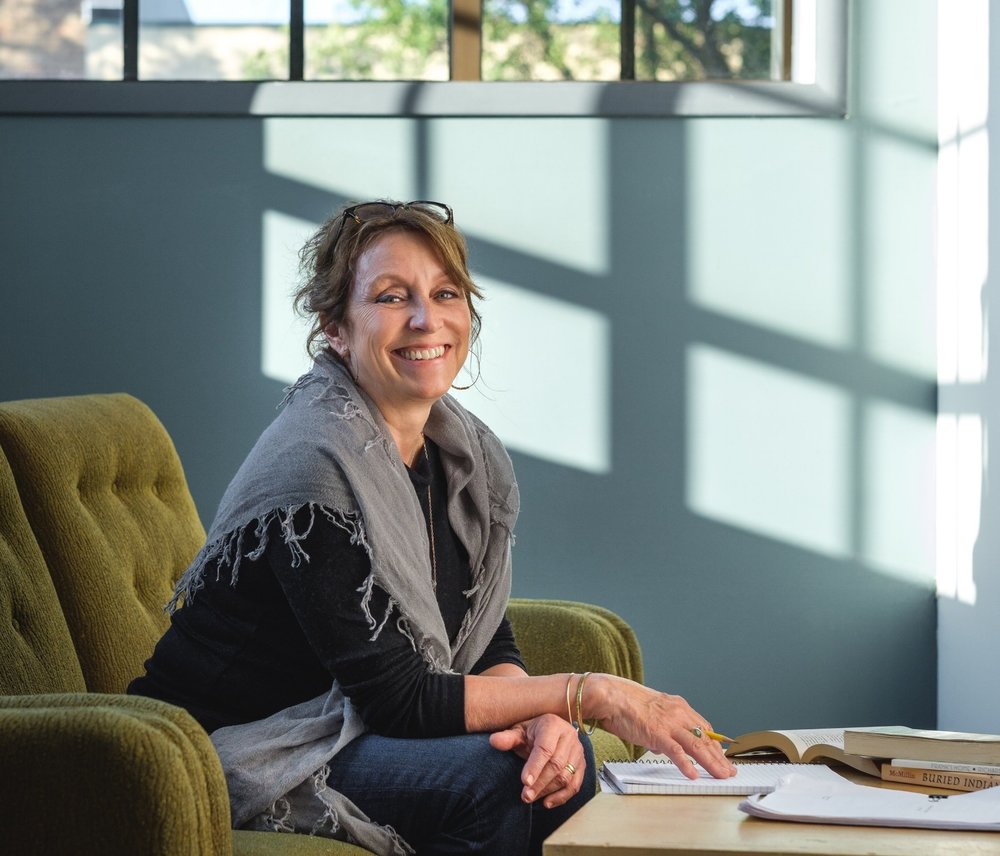 The cast and crew will perform in Riddle's Court, a beautiful and atmospheric venue in Edinburgh's Old Town