The UW-Parkside Music Department and College of Arts of Humanities Presents Christine Fawson Quartet
Published: September 19, 2019
By:

Karen Sorensen, UW-Parkside Music
SOMERS - UW-Parkside's Free Noon Concert Series offers the campus community a chance to listen to talented, engaging performers every Friday at noon in Bedford Concert Hall for absolutely free! The fall 2019 semester features an impressive lineup of master musicians, including Christine Fawson, who will be coming to The Rita on Friday, September 27.
Christine Fawson Quartet
Christine Fawson – trumpet and vocals
Mark Davis, piano
Jeff Hamann, bass
Dave Bayles, drums

Christine Fawson is an unforgettable talent, who mesmerizes audiences around the world with her sultry vocals and virtuosic control of the trumpet. Originating from Northern California, she forged a dominating path through jazz and commercial entertainment, and has sculpted the minds of aspiring artists for over 20 years.
Endorsed by the prestigious Bach Corporation, Christine was an innovative and commanding presence on the Brass Faculty at Berklee College of Music for 14 years, lending her talents to the Ear Training, Harmony, Vocal, Performance Studies and Ensemble Departments, as well as evaluating student applicants through the Audition and Interview Program. Berklee showcased her talents in countless performances, recordings, promotional materials, and jazz clinics in several foreign partner schools.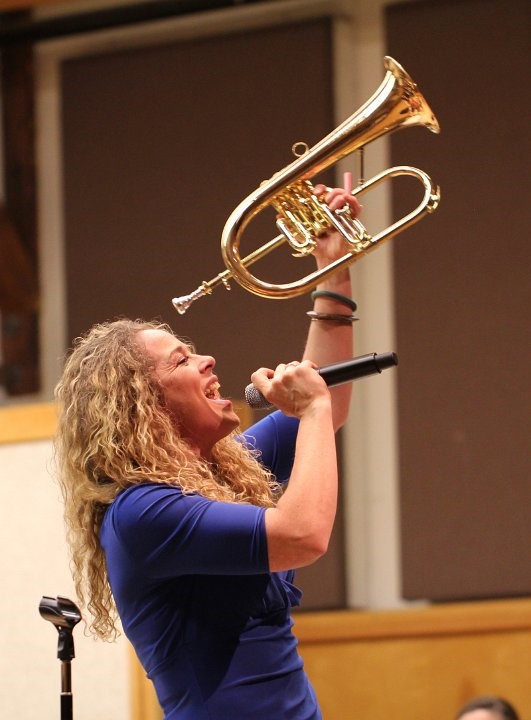 Downbeat Magazine has celebrated Christine as "A distinctive performer with compelling dynamism", and Jack Bowers, of All About Jazz, touts her presence as "a performer who must be seen as well as heard to be suitably appreciated".
Christine was awarded the esteemed honor of third place in the 2017 International Sarah Vaughan Jazz Vocal Competition, one of music's greatest accolades. Her 2002-2012 tenure in the popular vocal jazz ensemble, Syncopation, included a featured performance in the 2009 Boston Pops July 4th celebration, among other distinguished festivals around the United States and Japan. Syncopation produced three CDs during their journey together, including A New Dance, Of Blue, and Wonderful You, and regularly performed throughout the Boston area with The Capitol Center Jazz Orchestra and Phil Wilson's acclaimed Rainbow Band.
From 2004-2009, Christine joined the ranks of the infamous DIVA Jazz Orchestra, garnering exposure domestically and internationally for concerts and festivals - most notably, at Carnegie Hall, the Apollo Theater, and Lincoln Center with legendary talents such as Johnny Mandel, Tommy Newsom, and the New York Pops. Her stunning vocal expertise was featured often as a soloist for DIVA, with an unforgettable appearance at Dizzy's Club at Lincoln Center in the 2016 Ella Wishes You a Swinging Christmas Tribute Concert.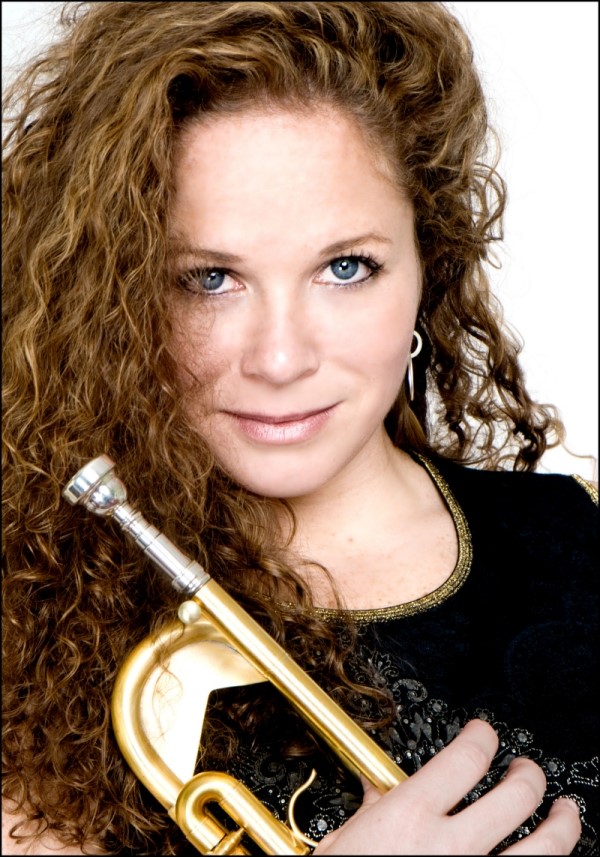 The warmth of her connection, ability to captivate audiences, and endless musical versatility made her a valuable asset as a freelance trumpet player for numerous agencies in New York and Boston, most notably Wilson Stevens. Her performances with The Rat Pack, The Disney Corporation, Bose, and Adele has delivered her soulful vibrations to audiences nationwide. Christine's dedicated research, passion for sharing the joy of music, and expertise grown through decades of experience have made her an in-demand performance artist, hosting clinics, concerts, and masterclasses for renowned events such as JEN and NMEA, and other festivals throughout the world.
Christine's success has accumulated four albums as leader. Her first, entitled Happy Talk (2003), is a collaboration with legendary trombonist and Grammy-nominated arranger, Phil Wilson. She stretched her creativity on her second album, My Side, in 2013 to feature some of her original pop and jazz compositions, but, brought her journey back to more traditional jazz roots for her 2016 production of Here Now. Her latest release, Christine Fawson Sings Jazz (2018) features her contemporary adaptations of favorite selections from the American Songbook.
Mark Davis is an accomplished pianist and an influential educator who has performed with jazz luminaries Eric Alexander, Peter Bernstein, Benny Golson, Slide Hampton, Tom Harrell, Jimmy Heath, Brian Lynch, Charles McPherson, Frank Morgan, Jim Pugh, and Phil Woods, among others.
Since 1992, Mark has taught at the Wisconsin Conservatory of Music, where he serves as Chair of the Jazz Institute and leads the resident ensemble, We Six. He is also on the music faculty of Alverno College and Wisconsin Lutheran College. Mark is the author of the Hal Leonard Jazz Piano Method and the Hal Leonard Jazz Piano Method – Book 2.  For more information visit www.markdavismusic.com
Jeff Hamann is an accomplished bassist and educator who has taught at the Wisconsin Conservatory of Music since 1998. He has been heard by millions over the last sixteen years on the National Public Radio Show "Michael Feldman's Whad'Ya Know?". He has performed throughout the U.S and toured internationally with a who's who of jazz legends that include Ben Sidran, Phil Woods, Charles McPherson, Frank Morgan, Ray Appleton, Peter Bernstein, Brian Lynch, David Hazeltine, Eric Alexander and Cheyenne Jackson to name a few.
Dave Bayles is a highly in-demand drummer and educator. He has performed with notable artists such as Eric Alexander, Lynne Arriale, Peter Bernstein, Rick Germanson, Benny Golson, Barry Harris, Slide Hampton, Brian Lynch, James Moody, Melvin Rhyne, Charles McPherson, Joe Magnarelli, Kevin Mahogany, Jack McDuff, Jim Pugh, Kim Richmond, Melvin Rhyne, John Swana, Phil Woods, and many others.
Dave has recorded with Rick Germanson, Brian Lynch, Luis Diaz, Doug Lawrence, Eric Jacobson, Melvin Rhyne, Dan Trudell, Steve Wiest, Juli Wood, and many jazz education recordings for Hal Leonard Music Publishing.
Dave has also performed in many jazz festivals including The Chicago Jazz Festival, Chicago Southside Jazz Festival, Fox Jazz Festival. Additionally, Dave has performed at clubs such as The Jazz Estate, Smalls (NYC), Django (NCY) Twins (Washington, DC), and Chris' Jazz Cafe (Philadelphia).
In addition to performing, Dave is on the faculty of the Wisconsin Conservatory of Music, University of Wisconsin-Milwaukee, and University of Wisconsin-Parkside.
Parking for the Noon Concert Series is free in Lot B or C, in any unmarked, unmetered parking space. For more information, contact the Rita Box Office at 262-595-2564. You can also find more information on The Rita homepage. Click the link below for more information:
UW-Parkside Noon Concert Series - Fall 2019
09/27   Christine Fawson Quartet
10/04   Seraph Brass
10/11   Mariachi Sirenas
10/18   European Folk Music by the Maxwell Street Klezmer Band Trio
10/25   Parkside Choirs
11/01   Parkside Student Recitals
11/08   Parkside Percussion Ensemble
11/15   Parkside Flute and Brass Ensembles
Contact:
Karen Sorensen
University of Wisconsin-Parkside
Fine Arts
900 Wood Road, Box 2000
Kenosha, WI 53144
262-595-2457