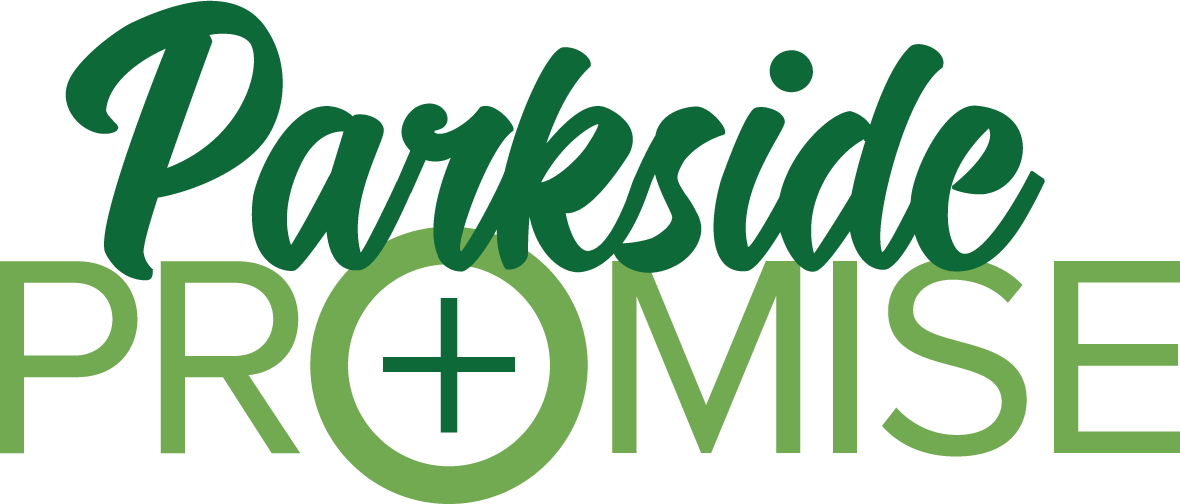 'PARKSIDE PROMISE PLUS' COMMITS TO STUDENT SUCCESS 
UW-Parkside's new financial aid and student success program, Parkside Promise Plus, offers a guarantees coverage of the gap between financial aid and the cost of tuition and segregated fees for qualifying first-time, full-time students of great promise and limited financial resources. Students who qualify for Parkside Promise Plus have access to academic and financial advising, along with one-on-one coaching and support from successful UW-Parkside students. The first class of Parkside Promise Plus students began on campus this fall, and the program is now open for fall 2020 applications.  

Director of Scholarships and Financial Aid, Kristina Klemens, talks about the Parkside Promise Plus program on Parkside Today.
Parkside Promise Plus web pages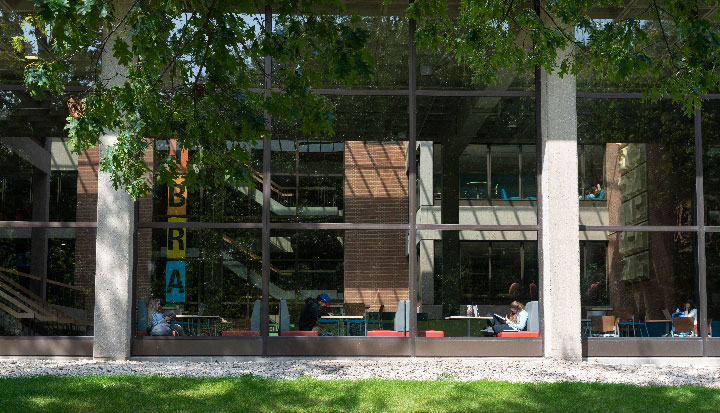 WYLLIE RENOVATION COMING SOON 
Construction for the Wyllie renovation project will begin in spring 2020. The project updates infrastructure in Wyllie Hall, which opened in 1972, and creates a fully integrated student services area that further supports student success. Funding for the $35.4 million project is part of the 2017-2019 Wisconsin capital budget.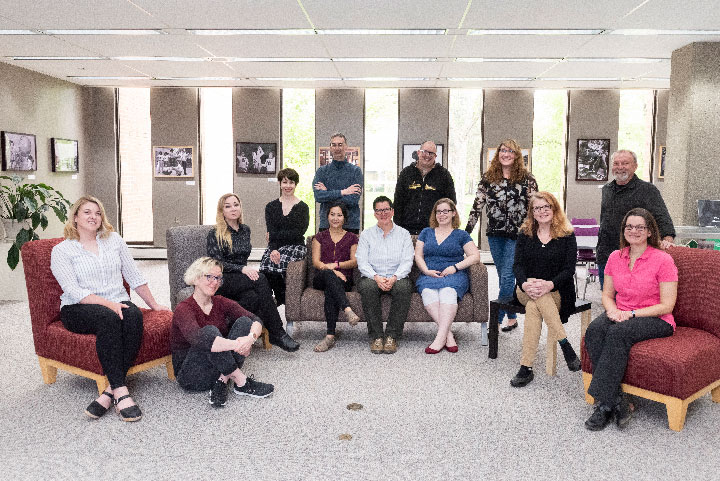 AN EXCELLENT LIBRARY  
The UW-Parkside Library, led by director Anna Stadick, was recognized by the UW System Board of Regents with the 2019 Academic Staff Excellence Award. Focusing on student needs and supporting academic success, library staff have added individual study spaces, presentation spaces, modern and accessible furniture, and technology-equipped study rooms to the library – resulting in increased library usage over the past three years. In partnership with donors and UW-Parkside's teacher education program, the library has also opened two collections dedicated to educator preparation and childhood literacy: the Guttormsen Family Literacy Lab and the Learning Resource Collection for Families, Children, and Educators sponsored by the Mary Frost Ashley Charitable Trust. The library has received two National Endowment for the Arts Big Read grants, allowing it to promote literacy for people of all ages. In 2017-18, the library was recognized with the Wisconsin Library Association's Library of the Year award. 

Conversation with Library Director, Anna Stadick on Parkside Today.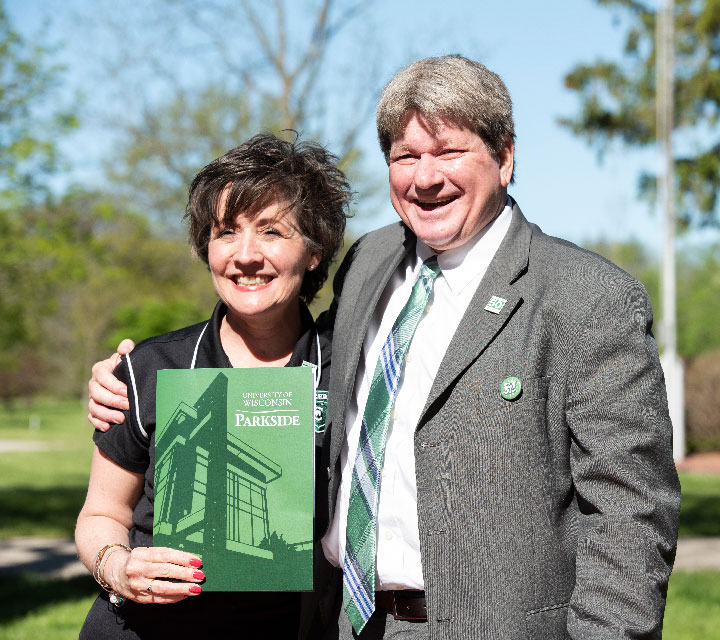 Pictured: Chancellor Debbie Ford and Kenosha County Executive Jim Kreuser '83, '86 MPA.
NEW PARTNERSHIPS FOR LOCAL ECOLOGY 
UW-Parkside and Kenosha County have signed a collaborative agreement aimed at improving the ecology and recreational opportunities on 139 acres of UW-Parkside property that borders Petrifying Springs Park. These natural areas are densely wooded, featuring diverse native species. Under the new, 50-year agreement, Kenosha County will aid in the management of the university-owned land, with the two parties working together on initiatives to improve stormwater and natural resource management. The 139 acres in the agreement includes roughly 76 acres that lie within the Pike River floodplain, which the county is continuing to proactively protect and restore. The agreement will also facilitate student learning and applied research opportunities. 
UW-Parkside and the Root-Pike Watershed Initiative Network (WIN) will also partner for the Pollinator Patch Program. The goal of the program is to develop a land restoration plan and create more habitat for the Rusty Patched Bumble Bee, a federally endangered species. UW-Parkside is in a unique position to rehabilitate and enhance the approximately 211 acres of forest and open space between county highways JR and E, and state Highway 31. These areas provide appealing native vegetation and prime habitat for wildlife, including the Rusty Patched Bumble Bee and other pollinators. UW-Parkside faculty and students will participate in field work and research for this project. 
________________
IN THE NEWS
Pollinator Patch Program
Parkside-Kenosha Co Land-Use Agreement
STUDENT CASSIE VAN HOOF NAMED 2019 INNOVATOR OF THE YEAR  
Kenosha-area resident and UW-Parkside senior Cassie Van Hoof has earned the 2019 Carl E. Gulbrandsen Innovator of the Year Award for exemplary contributions to Wisconsin innovation. Van Hoof has been an active member in building a culture of innovation on campus and across the UW System as a student and entrepreneur. Working with WiSys, Van Hoof created a product called Purrfect Pal to combat aggression and anxiety in cats.  
Her research began when she was introduced to UW-Parkside's Big Idea Competition in 2018 and began to brainstorm a possible submission. In developing her product, Van Hoof, who is a biological sciences major and a pre-veterinary student, combined her passions for science and animal health. After her idea won Parkside's Big Idea Competition, Van Hoof continued to develop Purrfect Pal into a business called Efoxen. In April, Van Hoof's company launched another product called Ruff Day, a calming spray for dogs. The Carl E. Gulbrandsen Innovator of the Year Award is presented to a UW System faculty or staff member, or student making exemplary contributions as a WiSys Innovator. WiSys is a nonprofit organization that works with faculty, staff, students and alumni of the UW System to facilitate cutting-edge research programs, develop and commercialize discoveries, and foster a spirit of innovative and entrepreneurial thinking across the state.
_______________
IN THE NEWS
WiSys Innovator of the Year 2019
Women In Science: Cassie Van Hoof

UW-Parkside students Salina Servantez, Chloe Calderon, Cassie Van Hoof, and Bianca Ruffalo discuss their experiences as women in the STEM field on Parkside Today.