Jake's View from Commencement


There are experiences in people's lives that change them and sculpt them into the individuals they are. These experiences come in all different forms and may not appear to be significant to someone observing from a distance. However, they may be vitally important if they provide the spark that ignites a person's curiosity and desire to learn. For Jake Hansen, this life-changing experience was his study-abroad opportunity in Italy the semester before his senior year. For Hansen, it was not just an opportunity to learn about different cultures and visit interesting places, but an opportunity to discover his hunger for knowledge and his motivation for academic and professional success. At Spring Commencement 2017, every student had their own unique story. Hansen's story included family ties.
Learning and growing together
Hansen's great uncle Ed Kubicki also walked across the Commencement stage in May completing his own individual story of successfully earning a degree – one that spans four decades. Read Kubicki's story.

While Hansen's Parkside story spanned four years rather than Kubicki's four decades, there are similarities that they were able to share and learn from each other's experiences. "We had the same advisor, Karen Anderson. There were two classes that we took that were the same and she (Anderson) was teaching both," Hansen said.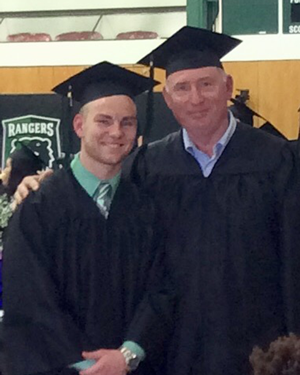 Reflections on commencement
Hansen has fond memories of the commencement ceremony. "I was just pretty excited to walk across the stage and get my diploma … that particular moment was pretty cool, I was kind of focused on myself at that point," Hansen said. "When the chancellor was talking at the end of the ceremony, my uncle started to tear up and I thought that was pretty sweet and we turned around and saw our family; he was hugging me and that was a pretty cool moment. We went through it together."
Choices
Deciding what course of action to take after high school is a difficult and very important choice to make. Coming out of high school Hansen says, "I didn't know what I want to do or where I wanted to go. Eventually my parents were like 'Why don't you try Parkside for a year and see how you like it.' That was kind of the main motivator. After I got in, I just liked it."
Another vitally important decision thrust upon students graduating from high school is choosing a field of study. Hansen wisely started with something he thought interested him, and then followed new-found passions and interests he discovered during his study-abroad journey. 
Motivating factors
The journey for Hansen was literal. "I had come back from a study-abroad trip which gave me a different perspective," Hansen said. "I was reading a lot about motivation and purpose – that's what my senior seminar project was on." He also credits the book "The One Thing," by Gary Keller and Jay Papasan, as an instrumental source of perspective for his own goals and aspirations. Hansen states, "It was very aligned with my purpose, in that what was most important was school and I wanted to achieve as best I could."
Enjoying the journey
Every student also finds some kind of happiness and enjoyment in their academic career that drives them to achieve their goals. Hansen states that for him it was receiving grades back for his work. He states, "Parkside really taught me how to learn." Hansen cites this desire to learn new things as an important motivator for his own life. When asked if he would do anything different Hansen says he would, "Bring that focus to the first years of school and previously high school." 
Hansen also has some advice for young students who may be in the same position he was in four years ago trying to decide whether to go away for college or keep it more local, He says, "It's not going to hurt not to go away. A lot of the people will tell you that it is the whole college experience to get away from the family and a lot of that is partying and extracurricular activities and stuff like that. I don't think that is a main component of college. I think that Parkside is a really incredible place to learn. Very versatile. Incredibly affordable."
Looking ahead to the future
Hansen is excited to have finished this part of his life and is excited to move on to bigger and better things. Hansen says of getting his diploma, "Employers know that I am college educated and I have a broader perspective and more ability to learn and learn quickly. That is a very vital component in today's workplace."
Derek Fye
English Major
Writer