Monday Update | College of Social Sciences and Professional Studies Update
Published: September 14, 2020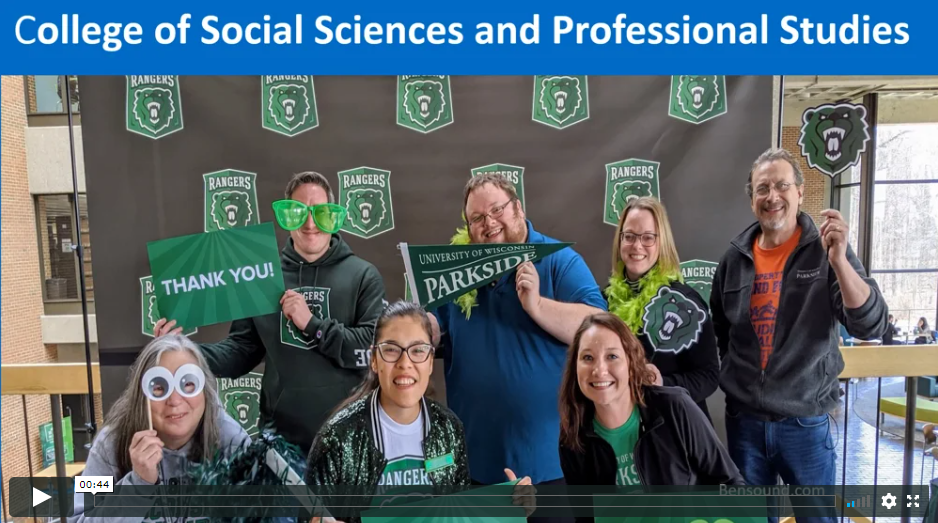 College of Social Sciences and Professional Studies Monday Update
UW-Parkside Community,
The College of Social Sciences and Professional Studies mission of civic and community engagement cannot be halted by COVID-19. In fact, we believe it to be more important than ever. For our campus and for our community, we are working to help everyone be present and be counted (estar presente y ser contado). To this end we are doubling our programming efforts for Hispanic Heritage Month and Election Experience 2020.
Election Experience 2020 continues with the third quadrennial election experience, offering Wednesday Brown bags by faculty across the campus, special events, and registration/voting drives. These events are live streamed with registration links provided on our election experience events webpage.
Special events include: 
The Peoples' Map: redistricting in Wisconsin presented by the Fair Maps Association on Sept 29th
Charles Franklin from the Marquette University Law School Polls on October 13th
Courageous Conversations: Voter Suppression co-hosted with the Kenosha Coalition for Dismantling Racism and the Al E Guskin Center for Community and Business Engagement on October 26th
These events and more can be accessed on the Election Experience 2020 Events webpage.
Upcoming is a drive through/walk in registration event on September 22 and 23rd in the parking lot in front of the Student Center. Election Experience interns, and other student volunteers from Latinos Unidos and Parkside Student Government, will be registering folks online.  No excuse, rain or shine!
If you can't wait until then, the Library is hosting a registration event on September 16th for students and staff. But if you do it on the 16th, you can't do it again- remember one registration, one vote. What do you think this is, Chicago in the 60's?
And do not forget that Hispanic Heritage Month kicks off this week with our third annual Festejo de Lideres event, when we honor local Hispanic leaders who have spent years giving back to the community. This fall we are honoring two UW Parkside alumni: Jose Rey Palacios, and Andres Cerritos. Look for our awards video which you can watch any time after Sept 16, in your jammies if you would like.
All events for Hispanic Heritage Month can be found at the website, but here are a select few:
OCT 7 | 5:30-7 PM
Paint the White House Brown (hosted by LULAC #354)
Jose Angel Gutierrez
A presentation about the Critical Mass of the Mexican Revolution of 1910 to the growing number of registered voters of Mexican ancestry in the USA by 2040 that will make these voters the most important of all groups in presidential politics
OCT 2 | 12-1 PM
Cache (hosted by the College of Arts and Humanities)
Enjoy a live streamed performance by Cache MKE, an exuberant Latin Musical Ensemble headed by Cecil Negron, who is known for their impact on the Latin Music scene for over 50 years. The virtual streaming of this event will be available via social media in the link below.
And, we are kicking off a multiyear project, because this one will be HUGE!
Raíces Project
As part of this year's Hispanic Heritage Month Celebration, and to celebrate our increasing Hispanic student population (18.9% in Fall 2020), OMSA and the College of Social Sciences and Professional Studies (CSSPS) have started the Raíces Project.  Raíces, 'Roots' in Spanish, is a digital collection/historical archive of the impact of our cultural history and our community's Hispanic heritage. We want YOU to share your family's history, immigration stories, photos or portraits, videos, images of heirlooms, or personal anecdotes.
Thank you!
Peggy James
Dean of the College of Social Sciences and Professional Studies