Hispanic Heritage Month
The University of Wisconsin-Parkside recognizes and honors the cultural diversity that our students and community bring to our campus. Hispanic Heritage Month is nationally recognized for September 15-October 15 and aligns with independence days of many Latin American countries. Hispanic Heritage Month is a great opportunity to come together and celebrate our multicultural intricacies via the arts, social connections, music, cultural awareness and various learning sessions that we offer. Join in!
NOCHE DE FIESTA  |  EVENING CELEBRATION 
SEP 15  |  4 PM  |  STUDENT CENTER TERRACE
Our month of celebration will kick off with Noche de Fiesta. Join us as we recognize the 2021 local leaders who have created an impact in our community and take part in our activity tables, light refreshments, and enjoy a performance by Panadanza dance group.  
4 PM  |  Reception at the Student Center Terrace
4:30 PM  |  Leadership Awards Announcement
5:30 PM  |  Panadanza Dance Company
Co-sponsors  |  College of Social Sciences and Professional Studies and College of Arts and Humanities
2021 HISPANIC LEADERSHIP AWARD RECIPIENTS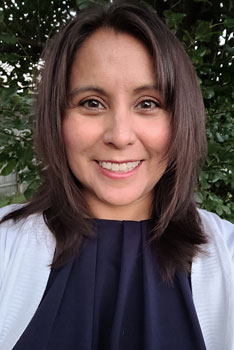 ANGELICA VALDIVIA
Bilingual School Counselor, Racine Unified School
ANGELICA VALDIVIA'S BIOGRAPHY
I am happily married, have 3 children, and two fur babies. My family is my world. We are a strong united family that has recently gone through a successful kidney transplant. I was blessed to be my husband's kidney donor. I share this because I know that life can have its challenges. Faith and many blessings have surrounded my family.
In my professional role, I am Bilingual School Counselor for Racine Unified School District going on 17 years now. I am honored that I can help all students in achieving their goals and aspirations. Especially, for our Latino students! It is a such a blessing to do what I do. I truly love my job!
I love that students can see me as a role model. Being a Latina, also a minority working in a professional career, they too can see, they can aspire to great things. I know we are faced with many challenges but, I tell my students to never give up, work very hard, and to always follow their dreams!
I am truly honored to receive a Hispanic Leadership Award from UW-Parkside. Thank you from the bottom of my heart for this award!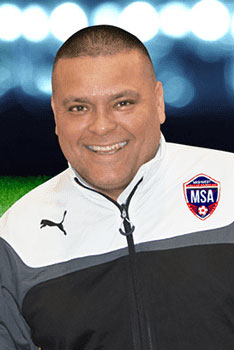 OSCAR TOSCANO
President, ACE Soccer Club
OSCAR TOSCANO'S BIOGRAPHY
Oscar Toscano is a native of Guadalajara Jalisco, Mexico. Oscar has dedicated his life in the Hispanic communities, whether it was through assisting in education, employment, or through his main passion soccer. 
Oscar Graduated from Horlick High School in Racine WI, where he excelled as a soccer player. He was player of the year, all county and all conference. Oscar continued his passion of soccer at
UW-Parkside, where he was a 4-year starter, led the team in assists and achieved all Midwest.  
While attending UW-Parkside, he quickly got involved with the students as a Resident Advisor where he was responsible for educational, athletic and cultural programming.
Oscar worked at United Migrant Opportunity Services (UMOS) for over 15 years, which has been a staple in the Hispanic community, by providing assistance in housing, employment, education and transportation.
In 2009, Oscar and his family founded ACE Soccer Club, a primarily Hispanic club. The goal of ACE has always been focused on outreach in the Hispanic communities teaching discipline, desire and dedication through soccer.  
ACE Soccer Club has had the opportunity to bring several players to Germany, Denmark and Mexico for soccer training. 
Oscar finds his greatest joy seeing his players succeeding as student athletes. Due to his impact on players, they continue giving back to the community by coaching at the high school and youth club level. 
IN THE HEIGHTS
with a post film discussion
SEP 16  |  5 PM  |  STUDENT CENTER CINEMA
 
Join us for showings of In the Heights and a post-film discussion to follow. In the Heights, based on Lin-Manuel Miranda's first Tony-winning hit, tells the story of a quickly gentrifying block in New York City's Washington Heights neighborhood and the people who live there. The film is directed by Jon M. Chu, Crazy Rich Asians, and written by Miranda and Quiara Alegría Hudes. Stay after the film for a crucial discussion about anti-blackness in the media. 
Co-sponsors  |  OMSA (Office of Multicultural Student Affairs) and  Campus Activities and Engagement
HISPANIC HERITAGE MONTH LIBRARY RESOURCES
SEP 15-OCT 15  |  UW-PARKSIDE LIBRARY
The UW-Parkside Library celebrates Hispanic Heritage Month with a book collection from notable Latina/o/e/x authors including works of nonfiction, fiction, anthologies, poetry, and many more. Additionally, you can check out the #OwnVoices collection and Mango languages. Mango is free for all currently enrolled students or employees at UW-Parkside. Spanish, French, Portuguese, Dutch, and Haitian Creole are all available for learners.  

Sponsor  |  UW-Parkside Library
LOTERIA IN THE LIBRARY 
11 AM-12 PM  |  SEP 21-SEP 23  |  UW-PARKSIDE LIBRARY
Come play a round or two of the beloved game, Lotería, in our renovated library space! Have fun, meet new faces, and win candy. No registration is necessary. Games will start around 11:15 to allow players to color in and decorate their game cards. Please note: all games will be played in Spanish. Don't know Spanish? Consider registering for a free account with Mango Languages! 
 
Sponsor  |  UW-Parkside Library
MOSAIC EDUCATORS WORKSHOP  |   Qué es esto? Latina/o/e/x and Hispanic in the U.S.  
SEP 27  |  12 PM  |  MOLINARO L111
Participate in this MOSAIC Educators Workshop dissecting race, stereotypes, and identity people with origins from Spanish-speaking and Latin American countries. Learn about how colonization, diaspora, language, and race in the United States have collided.  

Co-sponsor  |  OMSA (Office of Multicultural Student Affairs) 
DACA 101 WORKSHOP
SEP 29  |  4:30-6 PM  |  STUDENT CENTER OAK ROOM
Join Omega Delta Phi Fraternity and Latinos Unidos to learn about the Deferred Action for Childhood Arrivals (DACA) program, the 2021 DACA Update and the life of a DACA Recipient and UW-Parkside Alumnus Hector Cedeño Silva. 
Co-sponsors  |  Latinos Unidos, OMSA (Office of Multiculural Student Affairs) and Omega Delta Phi Fraternity 
NOON CONCERT SERIES  |  CACHE  
OCT 1  |  12-1 PM  |  BEDFORD MUSIC HALL
Enjoy a performance by Cache MKE, an exuberant Latin musical ensemble headed by Cecil Negron, who is known for their impact on the Latin Music scene for over 50 years. The virtual streaming of this event will be available via social media in the link below.

Sponsor  |  College of Arts and Humanities
CAFECITO CONVERSATION HOUR
OCT 5  |  12 PM  | OMSA Wyllie D181
Attention Beginners, Advanced Speakers, and Native Speakers, ALL are welcome! Join in on this conversation hour or intercambio to engage in the Spanish language. Grab a cup of coffee and meet new friends while you practice your English or Spanish. Charla con nosotros! Chat with us! 

Co-sponsors  |  Spanish Language and Cultural Club and OMSA (Office of Multicultural Student Affairs) 
NOON CONCERT SERIES  |  MARIACHI LAS SIRENAS
OCT 8  |  12-1 PM  |  BEDFORD MUSIC HALL
Enjoy a performance from Mariachi Sirenas. As Chicago's First All-Women Mariachi, they are proudly part of a community of strong women working together to promote the folkloric arts of Latin America. 

Sponsor  |  College of Arts and Humanities
ARTIST TALK  |  RAFAEL FRANCISCO SALAS 
OCT 12   |  1-3:20 PM   |   MAIN STAGE, RITA
Rafael Francisco Salas is a Wisconsin based artist. He combines landscape, the legacy of portraiture, architecture, and country music into artwork that evokes a strange, rural poetry. It reflects a personal journey of mixed race identity, conflict, beauty and devotion played out on the vast landscapes of rural Wisconsin.
His work has been exhibited in New York City, San Diego, Boston, as well as many venues in the Midwest including The Neville Public Museum, The Museum of Wisconsin Art, The John Michael Kohler Arts Center, Dean Jensen gallery, Circa Gallery and Frank Juarez Gallery. His work is represented by Portrait Society Gallery in Milwaukee, Wisconsin. Salas has also worked  as an art critic for the Milwaukee Journal Sentinel, Newcity Art in Chicago and Urban Milwaukee. Salas is a professor of art at Ripon College in Ripon, WI.

Sponsor  |  College of Arts and Humanities