UW-Parkside 2019 Sport Management Alumnus of the Year: Ryan Moede
Published: January 23, 2019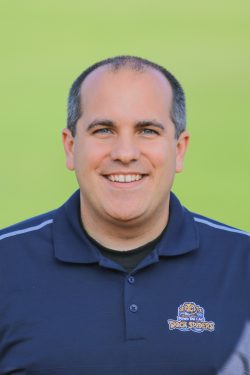 UW-Parkside alumnus Ryan Moede will be presented with the Sport Management Alumnus of the Year award during the inaugural UW-Parkside HESM Sport Management Conference Friday, Feb. 22. Moede earned the award in recognition of his incredible work ethic, the successes he has had as a professional in the sport industry and his contribution to the Sport Management program.
Recently named Northwoods League Executive of the Year, Moede is originally from Algoma, Wis., and graduated with a degree in sport management and a minor in business from UW-Parkside in 2009. During his time at UW-Parkside he achieved provost's list honors during all eight semesters in addition to being a member of the Sport and Fitness Management Club.
Moede has been the general manager for the Fond du Lac Dock Spiders since August 2016. The Dock Spiders are members of the 22-team Northwoods League where they won the Northwoods League Championship in just their second season.
As the general manager for the Dock Spiders, Moede is responsible for ticket sales, corporate sales, marketing, food and beverage, and stadium operations. He also collaborates with Marian University staff to maintain positive working relationship regarding the use of Herr-Baker Field.
Moede manages 13 full-time and intern staff and over 100 game day staff. Moede also works with the manager and coaching staff on player operations including roster development, host family set up, and Feed The Team program. 
Prior to being general manager for the Dock Spiders, Moede served as director of tickets for the Minor League Baseball (MiLB) Single-A Wisconsin Timber Rattlers organization located in Appleton from 2013-2016 and was box office manager for the squad before that from 2010-2013. Moede also had stops with the MiLB Triple-A affiliate Sacramento River Cats as a ticket sales representative from January to November of 2010, and a corporate marketing intern for the Milwaukee Brewers Baseball Club from Jan. to May of 2009. 
Moede will also serve on "The Future of Minor League and Emerging Sports" panel discussion during the 2019 Sport Management Conference, hosted by UW-Parkside on Friday, Feb. 22. The inaugural conference brings together sports business professionals, current and prospective students, and higher education professionals in a discussion about the direction of the sports management field. Panel discussions and keynote speakers will explore the educational and real-world experiences necessary for success along with new and exciting opportunities in the sports management.
In addition to Moede from the Dock Spiders, representatives from the Beloit Snappers, Big Top Soccer, Green Bay Packers, Kenosha Kingfish, Lakeshore Chinooks, Milwaukee Admirals, Milwaukee Brewers, Northwestern University Athletics, UW-Green Bay Athletics and many others will be participating in the conference.
For more information about the Sport Management Conference, visit https://www.uwp.edu/learn/departments/hesm/sportmanagementconference.cfm