Sexual Violence Awareness Month
Published: April 24, 2017
Peace Paper Project and Denim Day help raise awareness
Peace Paper Project is a community arts initiative that uses papermaking and printmaking as a form of social activism and engagement. 
In conjunction with lectures and workshops, an exhibition titled "Transforming Fibers: The Art of Peace Paper Project" opens Friday, April 28 in the Mathis Gallery inside the Rita Tallent Picken Regional Center for Arts and Humanities.
Transforming Fibers brings together artwork by Peace Paper Project co-founders Drew Matott and Margaret Mahan along with handmade paper created by the UW-Parkside community during the Panty Pulping workshop.
A lecture by Matott on April 24 kicked off a series of papermaking workshops for the campus community called Panty Pulping. Using "unmentionables" to address the unmentionable – sexual and domestic violence – the project uses hand papermaking to raise awareness.
Matott discussed the various international art and social-justice projects that are part of the Peace Paper Project. An interactive papermaking demonstration - Panty Pulping - took place April 26 on the UW-Parkside Student Center Plaza. See related story.

While most con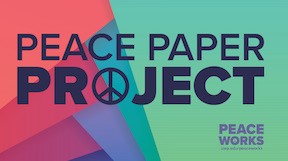 temporary paper is mass-produced from wood pulp, the traditional handmade process uses old clothing and rags as source material, breaking down and reconstituting these fibers. As such, it is by its very nature an art of transformation, and also of resilience, as these fibers are never destroyed but rather reborn into a new form. Peace Paper Project draws upon the transformative nature of paper, offering workshops and public 'interventions' in which paper is created out of symbolic clothing – from military uniforms to underwear. For the Peace Paper Project, this artistic practice is a form of community engagement, social activism, and art therapy.
Peace Paper Project has conducted more than 200 workshops worldwide since its founding in 2011. Initially developed by Mahan as a cathartic exercise after she was sexually assaulted, the Panty Pulping project has traveled to numerous college campuses to help spread awareness of sexual and domestic violence and promote a culture of consent. In the centuries-old practice of using cast-off clothing for papermaking, the project takes our most intimate of garments, our "unmentionables," to give voice to an often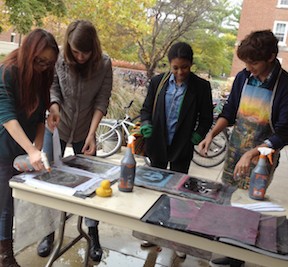 unspoken issue.
"Recent events remind us of the urgent need to address the problem of intimate or domestic violence," said Lesley Heins Walker, dean of the UW-Parkside College of Arts and Humanities. "By bringing the Peace Paper Project to our campus, we stand in solidarity with all victims of sexual violence. Through this art, we engage in a process of healing and creating a better world where everyone is safe and free from harm."
An Aurora Health Care Better Together Grant provided funding for UW-Parkside to address sexual assault and domestic violence. "For Sexual Assault Awareness Month, the collaboration between colleges, faculty, student leaders, and national experts demonstrates the commitment to addressing a topic that effects one in four woman and one in six men nationally," said Heather Kind-Keppel, UW-Parkside diversity and inclusion officer.
Denim Day, April 26
In conjunction with Sexual Assault Awareness Month, April 26 was Denim Day USA – an award-winning rape prevention education campaign originating in Rome in 1999 to protest a ruling by an appellate court, overturning the conviction of a 45 year old suspect accused of raping an 18 year old girl. Why denim? The statement released by the High Court declared: "because the victim wore very, very tight jeans, she had to help him remove them... and by removing the jeans... it was no longer rape but consensual sex." Enraged by the verdict, women of the Italian Parliament protested by wearing jeans on the steps of parliament.
Over the years, Denim Day has expanded worldwide to include community members, elected officials, businesses and students to make a social statement with their fashion statement. Wearing jeans on this anniversary became an international symbol of protest against erroneous and destructive attitudes about sexual violence. Denim Day especially focuses on raising awareness about sexual violence against women and children. This year marks the 18th celebration of Denim Day during Sexual Violence Awareness Month.
"I encouraged all members of the UW-Parkside Police Department, including uniformed patrol officers and civilians, to join me in making a statement by wearing jeans to work on Denim Day," said UW-Parkside Police Chief Jim Heller.