Spring Commencement
Published: May 16, 2015
College of Business, Economics, and Computing
College of Natural and Health Sciences
College of Arts and Humanities
College of Social Sciences and Professional Studies

 
Historic Ceremonies
Saturday marked the largest number of students eligible to graduate in the history of the University of Wisconsin-Parkside. Close to 500 men and women walked across the commencement stage having achieved an important academic and life goal.

In the past five years, UW-Parkside has awarded more undergraduate and graduate degrees than during any other five-year period in the institution's history.
UW-Parkside alumnus and President of the UW System Board of Regents Mike Falbo served as the featured speaker for both ceremonies. Because the university is his alma mater, Falbo said the assignment had special meaning - even though he arrived at Parkside in a somewhat nontraditional manner.
Falbo applied to Parkside from the jungles of Vietnam where he was serving as a medic in the U.S. Army. Being accepted ended Falbo's tour of duty two months early. "If that spared my life or not, isn't really important because someone replaced me and his life was important." 
Returning to southeastern Wisconsin, Falbo was ready to be a good student. Marriage and a young family less than two years later put his education into what Falbo called, nine-year, night-school mode. "Every one of those years motivated me even more to get to the goal line that you are at today," he said. "But does it stop here? No, it starts here."
He related a story about the power of yes, telling graduates that opportunities which have already come their way could not have become reality unless they had said yes. "The opportunities that will come your way in the future," Falbo said, "will not become reality unless you say yes. 
"As you leave Parkside your careers will take many different twists and turns. You will embark on a journey that will have very dramatic effects on the people in your life and in your community. What UW-Parkside has given you is the groundwork, the foundation and the skills to say yes to more opportunities than you could consider in the past."
Chancellor's Award recipient Alyssa Maciejewski (biological sciences, pre-med) mentioned that sometimes students had to say no: "We said 'no' to many of the pleasures that our non-student friends enjoyed. Because we always had some deadline, some project, something we could know or do a little better, if only we would invest the time."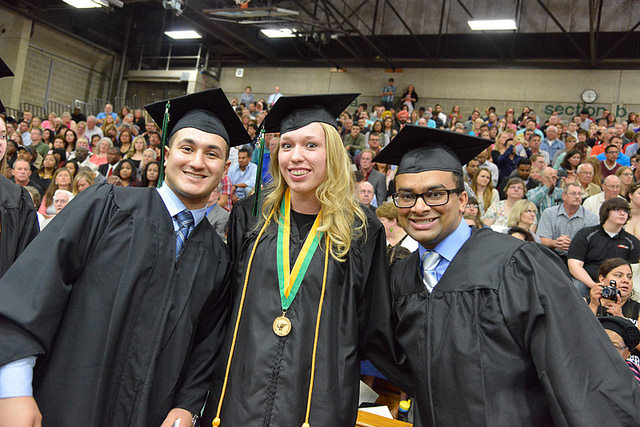 Alyssa Maciejewski and fellow graduates
Maciejewski said the most important lesson UW-Parkside taught her was that success is not a solo act. "We know much more than we did before our time at Parkside," she told her fellow graduates, "but there is still so much more to learn. The difference is, we are transformed and will never be the same."
UW Regent Regina Millner provided a welcome and congratulations from the UW System Board of Regents.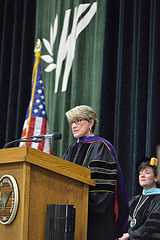 "Thirty years ago ... I crossed a stage at UW-Madison to collect my law degree," she said. "A lot has changed in the last three decades, including higher education. One thing that hasn't changed – and won't change – is the importance of a quality institution, where dedicated and creative faculty inspire students to want more."
Academic Awards
With the largest number of students eligible to participate in a commencement ceremony, being honored with the Chancellor's Award or an an Outstanding Graduate has special meaning.
Chancellor's Award
Alyssa Maciejewski (biological sciences, pre-med) has been an actively involved student throughout her years at UW-Parkside. She has served as an academic peer mentor, supplemental instruction leader, and tutor. Maciejewski's leadership experiences also include serving as president of the Pre-Health Club in her junior year. During her term, the club was recognized as having the most prominent participation in the annual Make a Difference Day volunteer event, and received the honor of earning an outstanding community service award.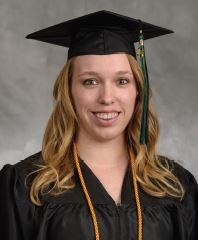 Beyond the university, Maciejewski has made a meaningful impact on the residents of nearby communities. Originally from South Milwaukee and now living in Racine, Maciejewski has volunteered numerous hours with the recreation and activities staff of a nearby nursing home, and assisted with several projects. Her most memorable project, My Hands, was featured in the Kenosha News newspaper and recognized by the facility's staff as one of their "proudest additions."
Maciejewski was among the first group of UW-Parkside pre-med students chosen for the UW School of Medicine and Public Health Rural and Urban Scholars in Community Health (RUSCH) program, which provided her with the opportunity to conduct research at the UW Hospitals and Clinics and present her findings at a national conference. Adding to an impressive academic community-service career, Maciejewski will now be forever known as the Chancellor's Award recipient, signifying the top graduate of the Spring 2015 class. 
Her faculty nominators say, "…she has exceeded our expectations as well as personified the work ethic, high achievement, and student success that faculty and staff look for in an outstanding representative of a UW-Parkside education."   
When Maciejewski considered transferring after her freshman year of college, she was immediately drawn to UW-Parkside. "I knew that Parkside could offer me the individualized support and guidance that I needed as a first-generation student," she said.   
Much of her successes she credits to the advising and assistance received from Parkside faculty and staff. "From planning out my course schedules each semester to congratulating me on my medical school acceptances, and everything in between," she said, "they have been with me through all of my ups and downs."   
Maciejewski begins her studies at the Medical College of Wisconsin in August and is grateful to be provided with the opportunity to pursue a medical degree in her hometown of Milwaukee.
Outstanding Graduates
Jeremiah Jeffrey (Racine, computer science, mathematics) is described as bright, hardworking, and dedicated. His high-energy approach to learning and teaching others stands out. Jeffrey began his academic experience at UW-Parkside with uncertainty. "I wasn't sure what I wanted, and I wasn't sure if college was right for me," he said. As the first in his family to attend college, it would have been easy for Jeffrey to be discouraged. However, he channeled his boundless energy into learning and quickly found his passion in computer science.  
Jeffrey's academic excellence has been recognized through multiple Dean's and Provost's list appearances, as well as his selection to participate in a prestigious National Science Foundation Research Experience for Undergraduates program last summer. He also competes on the computer science programming teams. Most notably, his leadership contributed to the UW-Parkside robotics team winning the Midwest Instructional Computing Symposium competition two years in a row.   
His trademark enthusiasm and approachable nature have made him one of UW-Parkside's most sought-out mathematics tutors. One faculty nominator said, "New tutors look to him for guidance as a role model and work on emulating his down-to-earth methods. Students come in with worried looks and hunched shoulders, but after working with Jeremiah, they leave with smiles – just like him."   
Jeffrey credits his success to professors who challenged him to persist and learn independently. "I have gained a love for higher learning, knowledge and skills that will allow me to perform professionally and socially," he said. "Whatever I pursue, I know that I will be prepared."   
Andrew Kossow (Green Bay, exercise science) learned the values of integrity, perseverance, and humility from the human hardships that he witnessed during his tour of duty in Iraq with the U.S. Army. As a student, he applied those values to his academic research and in service to others.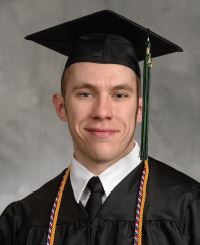 In addition to his strong academic performance, Kossow dedicates considerable time to serving others. He regularly volunteers at health clinics, trains young athletes at Marquette University High School, and was a main organizer of this year's Ranger Wellness Fair. He also distinguished himself through his research in human kinetics. During his time at Parkside, he has been involved in three research activities leading to an impressive three publications (two pending) and two professional presentations.   
Kossow's leadership in the exercise-science lab led to his selection as a key student research and lab assistant, supporting both faculty members and fellow students. His faculty nominators note that his performance greatly exceeds what is typical for an undergraduate. "Andrew is a developing young scientist who exudes professionalism in all he does," one nominator wrote. The high quality of his work also led to acceptance into the master's in kinesiology program at UW-Milwaukee.   
With all that he has accomplished, Kossow remains humble and grateful for what he has learned at UW-Parkside. "I'm thankful for what I have," he said, "and thankful for my professors who guided me to a place of excellence and opportunity."   
Karen Moreno (Kenosha, accounting, business management) is the first in her family to earn a university degree. Her story also exemplifies the opportunities provided by UW-Parkside to its large percentage of first-generation students and the growing number of Hispanic students.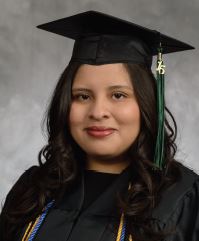 After arriving in the United States from Mexico, she began seventh grade and overcame language and cultural barriers to become an extraordinarily high-achieving student. Moreno was subsequently able to graduate from high school with honors, and qualify for several much needed scholarships.   
She has consistently been on the Dean's and Provost's lists and was inducted into the business honor society Beta Gamma Sigma. Moreno demonstrated a high level of professionalism in two internships. She served with distinction as the UW-Parkside Business Services intern, and was selected from a talented pool of candidates for the Treasury Management Association of Chicago Scholarship.   
Many Business Department faculty praised Moreno's intellectual abilities, work ethic, and determination. Business Professor Michele Gee said, "Karen is one of the most outstanding students I have encountered in the capstone Strategic Management class during my 20 years at UW-Parkside. She exhibited truly admirable leadership qualities in her team projects, and did so in a quietly charismatic way, earning the trust and support of her peers."   
Moreno has an exemplary record of service to the campus and external community. She serves as a volunteer tax preparer for the Volunteer Income Tax Assistance (VITA) program, and is actively involved in several student organizations on campus.   
Keona Thompson (Racine, biological sciences, pre-med) has been described as a UW-Parkside "poster child." This recognition extends beyond her appearances in university publicity materials, to her high level of academic achievement and involvement in the community as she prepares for a career as a physician.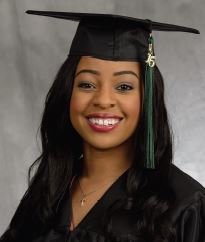 Thompson's professors highlight her strong work ethic, leading to academic success in both her major and pre-medical course work. As one faculty nominator said, "For her, there is no 'just good enough.' I have seen Keona persevere through academic obstacles that would derail many students."   
Her desire to improve community health outcomes complements her academic commitment. Thompson was selected for the highly competitive UW School of Medicine and Public Health Rural and Urban Scholars in Community Health (RUSCH) program. This experience helped her gain a better understanding of the impact of environmental factors on health and well-being. Thompson continues to develop her knowledge of health care in urban communities through the Community Health Internship Program at Aurora Healthcare in Milwaukee, along with ongoing research activities.   
She served the campus community as a tutor and supplemental instruction leader, an active senator in UW-Parkside Student Government, and a student representative on university initiative committees. "As a developing professional, I understand that not only do I represent myself, but I also represent UW-Parkside." Thompson said. "It is crucial that I do so in a positive and professional way."