Executive-in-Residence Program
The program was initiated in Spring 2002 to: 
Offer students and faculty the opportunity to learn from business leaders about the challenges faced when working in the global business arena
Provide executive guidance to students preparing to enter the marketplace for employment
Further enhance the school's partnerships with the business community
Classroom Experience
Held twice each academic year, the Executive-in-Residence program complements and strengthens the student's classroom experience by offering real-world illustrations of the key issues encountered when managing a business firm. In sharing their vision and experiences, the high level executives help bridge the gap between theory and practice and provide insight into how difficult business decisions are made. 
Faculty Experience
Students learn from these business perspectives and gain awareness that future success can be achieved through continued academic growth and development. Executives also meet with university leaders and faculty from the school to exchange ideas on how the university and business community can partner together for mutual benefit.
Community Win
Presented in an engaging atmosphere, participants have the opportunity to raise questions on issues of interest and from this interaction gain an appreciation of how executives make decisions, motivate, and manage. Executives find the experience to be very beneficial and gratifying in knowing they are playing an important role in shaping America's future business leaders.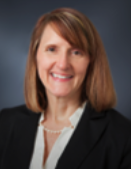 FALL 2018 EXEC
Kristin L Fritz
Vice President, Human Resources, Architecture & Software, State Development and Headquarter Functions
TUESDAY, OCTOBER 23
9:30 & 11 am  |  Student Center Cinema 
Since 2002, Kristin Fritz has been employed with Rockwell Automation, the world's largest company dedicated to industrial automation and information. Currently, she serves as Vice President of Human Resources, Architecture & Software (A&S), Strategic Development and Headquarter functions (Human Resources, IT, Finance, Office of General Council, Corporate Development). She provides leadership to ensure that the talent strategies for these groups help realize the company's Connected Enterprise vision.
Previously, she served as vice president Organization and Talent Effectiveness. Kristin joined Rockwell Automation in 2002 as a manager of Human Resources. In 2007, she assumed the role of vice president, Human Resources for Operations and Engineering Services (OES) organization and for headquarters.
In 2017, Kristin began serving as a key member of the leadership team for Academy of Advanced Manufacturing, a partnership between Rockwell Automation and Manpower Group, which recruits and trains United States Military Veterans for the position of "technician" in US manufacturers.
Prior to joining Rockwell Automation, Kristin spent nine years with Golden Books Publishing Company (the world's largest printer and publisher of children's books) in Racine, WI, and New York City, progressing from Human Resources representative to vice president for the organization. In total, Kristin has 30 years of experience in the human resources field.
Kristin has a bachelor's degree in business administration with an emphasis in Human Resources and an MBA from the University of Wisconsin-Parkside.
In addition, Kristin has spent time in the United States Army Reserves as a medic. When not at work,  you can find Kristin enjoying time with her 3 adult children (Zak, Kayla and Max), her 2 dogs (Rusty and Bubba), running and volunteering at the Racine Humane Society, keeping the less fortunate pups safe and secure.
Most recently, she has started instructing an HR Management course on-line for UW-Parkside.
Questions?  Laura McClure | 262-595-2243 | mcclure@uwp.edu