EXECUTIVE IN RESIDENCE

TUESDAY, APRIL 9 
9:30 AM & 11 AM  |  STUDENT CENTER CINEMA


RICK J. HARRIS
President  |  RJ Harris & Associates
BIOGRAPHY
Mr. Rick Harris is president of RJ Harris & Associates. Founded in 2008, the consulting firm specializes in general Human Resources, Diversity & Inclusion Strategy and Training, Talent Acquisition, Equal Employment Opportunity, and Talent Management services. Mr. Harris has consulted and worked with several Fortune 500 companies and his diverse background enables him to bring expertise, innovation, and passion to tie Human Resources issues into an overall strategic plan with the goal of providing solutions and effectiveness throughout organizations.
A seasoned Human Resource Executive Rick Harris specializes in improving individual and organization performance. He has 32 years of experience in the Human Resources and Manufacturing Operations fields in Fortune 500 companies. His extensive and diverse background, in the corporate world, gives him a realistic grounding in the opportunities, challenges and politics that are present in most companies. His experience partnering and working with professionals from multiple industries gives him a keen understanding of the particular issues, obstacles, and diverse cultures that exist within many organizations.
Known and respected throughout North America, Mr. Harris is a sought after speaker and subject matter expert in Diversity, Talent Acquisition, Talent Management, and Compliance. He is considered an innovative thought leader in the Human Resources field.
Mr. Harris was formerly the Sr. Director Diversity Management & Strategy with Walgreen's. In this role, he was responsible for developing and executing enterprise wide strategy for an organization with 250,000 employees, 8,000 stores, and revenues in excess of $71 billion. He was also responsible for establishing metrics, analytics and scorecards to measure performance, and diversity training and development. In addition, he served as the compliance officer for the organization managing over 500 affirmative action plans. Prior to joining Walgreen's, he served as an executive consultant for Kraft Foods; providing leadership coaching and strategic direction in the areas of Diversity, Inclusion and Affirmative Action Compliance. Preceding this role, Mr. Harris was Senior Director, Corporate Employee Relations for Pactiv Corporation where he led the Employee Relations, Talent Acquisition, and Diversity and Inclusion functions. Prior to this, Rick Harris spent thirteen years at Abbott Laboratories where he performed several strategic Human Resources and Manufacturing roles including Organizational Development, Talent Acquisition, Employee Relations, and Plant Operations Manager.
Rick Harris received his BS degree in Labor & Industrial Relations from the University of Wisconsin-Parkside, and was a student athlete on the wrestling team. Rick resides in Gurnee, IL with his wife Lorraine and their daughter Danielle, he remains very involved in local community affairs. For his contributions to his community, Mr. Harris was named "Most Influential African American" of Lake County in 2008, and inducted into the Civil Rights Hall of Fame in 2009.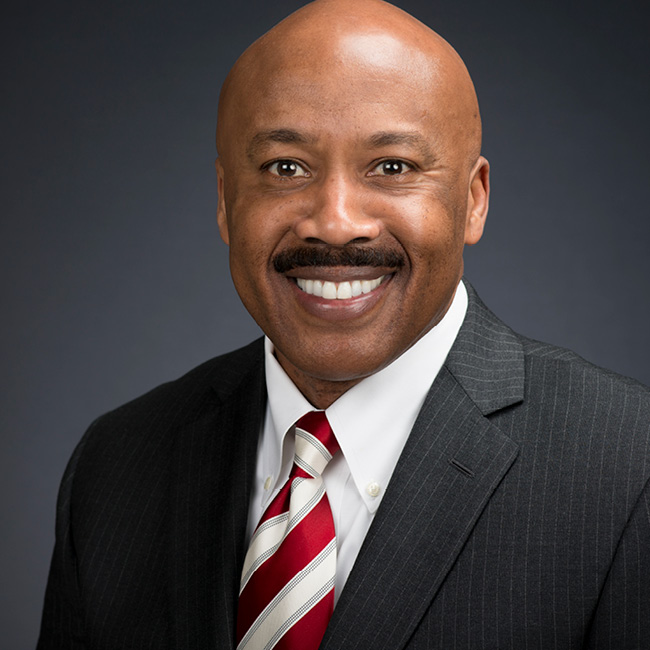 ALL STUDENTS, FACULTY, AND STAFF ARE INVITED
Executive-in-Residence Program
The program was initiated in Spring 2002 to: 
Offer students and faculty the opportunity to learn from business leaders about the challenges faced when working in the global business arena
Provide executive guidance to students preparing to enter the marketplace for employment
Further enhance the school's partnerships with the business community
Classroom Experience
Held twice each academic year, the Executive-in-Residence program complements and strengthens the student's classroom experience by offering real-world illustrations of the key issues encountered when managing a business firm. In sharing their vision and experiences, the high level executives help bridge the gap between theory and practice and provide insight into how difficult business decisions are made. 
Faculty Experience
Students learn from these business perspectives and gain awareness that future success can be achieved through continued academic growth and development. Executives also meet with university leaders and faculty from the school to exchange ideas on how the university and business community can partner together for mutual benefit.
Community Win
Presented in an engaging atmosphere, participants have the opportunity to raise questions on issues of interest and from this interaction gain an appreciation of how executives make decisions, motivate, and manage. Executives find the experience to be very beneficial and gratifying in knowing they are playing an important role in shaping America's future business leaders.