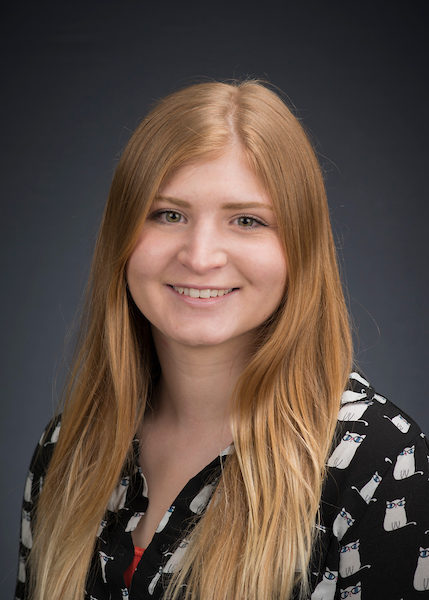 Heather Emery is a biology major at University of Wisconsin-Parkside. This semester she was given the opportunity to work at the Racine Zoo as an animal care intern. At her internship, she has the chance to shadow zookeepers to learn more about what they do on a day-to-day basis, including cleaning enclosures, feeding the animals, medical preparation, and even occasionally handling the zoo's educational animals.
"At the beginning of this year I emailed them asking if there was any way I could get involved there, even just volunteering. They emailed me back saying "well, we have an internship, you can start in two weeks." So I kind of fell into it on accident, but it was a happy accident."
Heather sees the internship as an opportunity to explore exactly what she wants to do for a career. "I know its my senior year so it's kind of late, but I switched from pre med to pre vet super late, so though I know I want to work with animals I'm making sure that [veterinary science] is what I want to do." She already has a lot of experience working with different kinds of animals, from small domestic animals to large farm animals to the exotic animals she's now getting the opportunity to work with.
"Now I feel more well-rounded. I've worked with every kind of animal and I've got more experience."
The best part about an internship at a zoo? Heather would say it's working with the rhinos. "They're like big puppies, they'll put their head up in the windows and just stare at you." Taking care of them is not without challenges, as they have some of the messiest enclosures in the zoo, but Heather believes that even cleaning their cage is rewarding. "It goes from the most dirty place in the entire zoo to the most clean."
The most valuable thing Heather has learned is the importance of safe animal handling. It was not something that she had really focused on before when working with domestic animals. "You know the dog's not going to bite you, the chicken will stay on the other side of the coop... But these are very large, very dangerous animals I'm working with, lions and tigers, so there's a lot of safety precautions that you have to learn." This is valuable information for someone considering a career working with exotic animals, so it's something that Heather takes seriously. She's also learning about general animal care, such as information about conservation, dietary needs of different species, as well as mental care and enrichment. All of this is important to keep the animals in the zoo happy and healthy, as well as keeping zookeepers and the animals safe.
The balancing act between an internship and classes can be a struggle, which is why Heather believes the most important thing to do is create a routine. "I also work two jobs so including my internship I work almost 30 hours a week.The first weeks were a little crazy, but now that I've got my schedule down, once I got in the groove of it, it wasn't as bad." Planning ahead and creating a schedule are important when balancing an internship with school.
"Don't keep yourself in a box, let internships be exploration."
For anyone interested in getting an internship, Heather would advise applying early and to a bunch of them. It's an opportunity to explore career options you are interested in but aren't sure about, and a chance to step out of the comfort zone of a class and gain some real world experience. "You never know what you're going to get. You might fall into a happy accident like I did and find something you really enjoy."