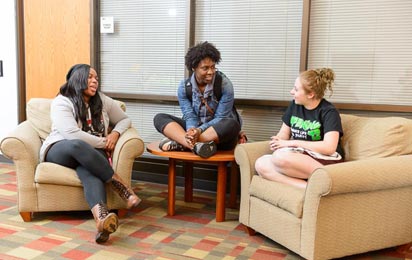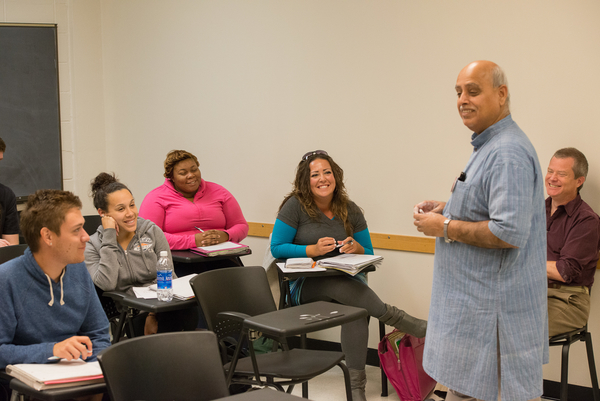 Guest Speaker Dr. Prasad Gollanapalli in Jonathan Shailor's COMM course.
Communication Internships
An internship is a professional-educational experience where students complete career-related tasks and responsibilities for an organization to learn more about a career area. The Communication Department strongly encourages students to complete an internship prior to graduation. Students earn credit for their internship through COMM 494: Communication Internship. The semester before you want to do your internship, you should meet with the department internship supervisor, Mary Waid (waid@uwp.edu) to discuss your interests and internship opportunities. Ultimately, it is the student's responsibility to find and apply for the internship, but the campus will provide several resources to help you successfully find your internship!
Students in Communication complete internships in a variety of areas such as: radio broadcasting, television production, marketing, public relations, social media promotions and marketing, event planning, videography, hospitality, and much more!
Our students have interned at organizations such as Jockey International, Milwaukee Bucks, American Lung Association, Racine Raiders Football, Veteran's Affairs Office, WIIL Rock Radio, Wisconsin Public Radio, Women and Children's Horizon, Insider News, among many other!
Frequently Asked Questions about the Communication Internship
How do I get a Communication Internship?
I think you have to ask yourself, "What do I want to pursue in the field of Communication professionally when I graduate?" If you are searching for an answer, there are plenty of people that are ready to listen and help you explore your options. You can contact Mary Waid the Internship Instructor who does advising for the Communication Internship. Armani Peterson in the Career Center does academic advising but advises on internships too. Your Academic Advisor in the Communication Department is also there to help. All of these people are available to you if you just send an email and set-up an appointment.
If you already know what area of Communication you want to pursue there are a number of options that are available to you.  Two websites that frequently have excellent internships posts are indeed.com and milwaukeejobs.com.  Another option is Ranger Trak. Searching there will give you a variety of placement sites and positions in Southeastern Wisconsin.  You can also regularly check company websites that you are interested in working at.  Some of these companies include Jockey International, Catalyst Exhibits, Uline, Johnson Bank/Financial, and Goodwill Industries Southeast. If you really have your heart set on particular organization or company and there is no posting, send them a letter of interest and a resume.  Many Communication students have secured internships this way.
I just declared Communication my major. Can I do an Internship now?
The Communication Internship Class is open to Junior and Senior Communication students in good academic standing.
How do I get credit for the Communication Internship?
To receive the full 3 credits for the online class, you must put in 120 hours on site. Roughly that works out to be between 8-10 hours per week during the academic semester.
How much work do I have to do for the class?
The class assignments include a Learning Agreement that gives a job description that both you and your site supervisor sign. There are 3 reports to the Discussion Board about your work on site. Finally at the end of the term you write a reflection paper about your experience and produce an e portfolio that documents your work during the internship.
So now I have an internship. Can I have a permission number and get registered?
You do not get a permission number and register on line. Because every internship is different, you meet with Mary Waid and fill out an internship form that is hand delivered to the Registrar's office. To complete registration your will need a job description, your supervisor's name, email, and telephone number.