Fitness and Wellness | Spring 2020
Normally our HESM 430 exercise science students provide group exercise classes, fitness assessments and put on some sort of wellness promoting event for our campus, as a CBL project working with Ranger Wellness and Student Activities.  But this year, well let's just say, things are a little different.  Since they still wanted to provide the campus with some motivation and help staying well and fit during this time, they decided to provide you with some resources.  Here you will find their "homemade" exercise classes as well as a list of links to some of their recommended resources for various topics related to health and wellbeing while practicing physical distancing. With that said, please take a look at and participate in an exercise class and peruse through some of the resources they pulled together for you. Keep in mind that the goal of the class was not about producing exercise videos, but rather on providing face-to-face group exercise classes.  Some of the students had very little experience or the needed resources to provide high-quality recordings from their home, and some even had to record themselves while they were "teaching" their exercise class. 
Please enjoy and stay well! And by all means, if you like any of it, let us know.  Or if there are any other resources you would like to see added, please let us know and we will try to add additional sources for you.
Be well, be safe, and be active! 😊
Penny Lyter
If you need help getting started, check out the links below the exercise classes for "Tips for Getting Motivated" And remember to click through the many links to the other information provided for you. Remember the most important thing is to take care of yourself and keep active.  Please listen to your body and exercise safely. Read the "Working out Disclaimer" before you begin doing any exercises.
ONLINE EXERCISE CLASSES
For use during stay at home orders or when you just need easy access to a workout. 
Working out Disclaimer
IMPORTANT-PLEASE READ
Working out Disclaimer - Agreement for Assumption of Risk, Indemnification, Release
Physical exercise, in all of its forms and with or without the use of equipment such as blocks, weights, or any other equipment that may be used by an instructor in the HESM 430 Fitness Program Management class is a strenuous physical activity. Accordingly, you are urged and advised to seek the advice of a physician before beginning any physical exercise regimen, routine, program, or using any suggested equipment shown in any of the videos. The University of Wisconsin-Parkside is not a medical organization and its students cannot give you medical advice or diagnosis. All suggestions and comments relating to the use of equipment, poses, moves and instruction are not required to be performed by you and are carried out at your election while viewing these videos. Nothing contained herein should be constructed as any form of such medical advice or diagnosis. 
By using this content, you represent that you understand that physical exercise involves strenuous physical movement, and that such activity carries the risk of injury whether physical or mental. You understand that it is your responsibility to judge your physical and mental capabilities for such activities. It is your responsibility to ensure that by participating in classes and activities, you will not exceed your limits while performing such activity, and you will select the appropriate level of classes for your skills and abilities, as well as for any mental or physical conditions and/or limitations you have. You understand that instructors may suggest physical adjustments or the use of equipment, and it is your sole responsibility to determine if any such suggested adjustment or equipment is appropriate for your level of ability and physical and mental condition. You expressly waive and release any claim that you may have at any time for injury of any kind arising out of your participation in a University of Wisconsin-Parkside program or any person or entity involved with the University or State of Wisconsin. 
By participating in any of the exercise videos you agree to the following:
Assumption of Risks: 
I understand that not all risks can be foreseen and there are some risks which are unpredictable. I understand that certain inherent risks that cannot be eliminated regardless of the care taken to avoid injuries. I am aware of the risks of participation, which include, but are not limited to, the possibility of physical injury, fatigue, bruises, contusions, broken bones, concussion, paralysis, and even death.   I understand that I am advised to have health and accident insurance in effect and that no such coverage is provided for me by the University or the State of Wisconsin. I know, understand, and appreciate the risks that are inherent in the exercise classes provided on our campus website. I hereby assert that my participation is voluntary and that I knowingly assume all such risks.
Hold Harmless, Indemnity and Release: 
In consideration of my participation in these activities, I, for myself, spouse, heirs, personal representatives, estate or assigns, agree to defend, hold harmless, indemnify and release the Board of Regents of the University of Wisconsin System, the University of Wisconsin- Parkside, and their officers, employees, agents, volunteers, and all others who are involved, from and against any and all claims, demands, actions, or causes of action of any sort on account of damage to personal property, or personal injury, or death which may result from my participation in the above-listed program. This release includes claims based on the negligence of the Board of Regents of the University of Wisconsin System, the University of Wisconsin-Parkside, and their officers, employees, agents, and volunteers, but expressly does not include claims based on their intentional misconduct or gross negligence. I understand that by voluntarily agreeing to participating in these exercise classes, that I am releasing claims and giving up substantial rights, including my right to sue.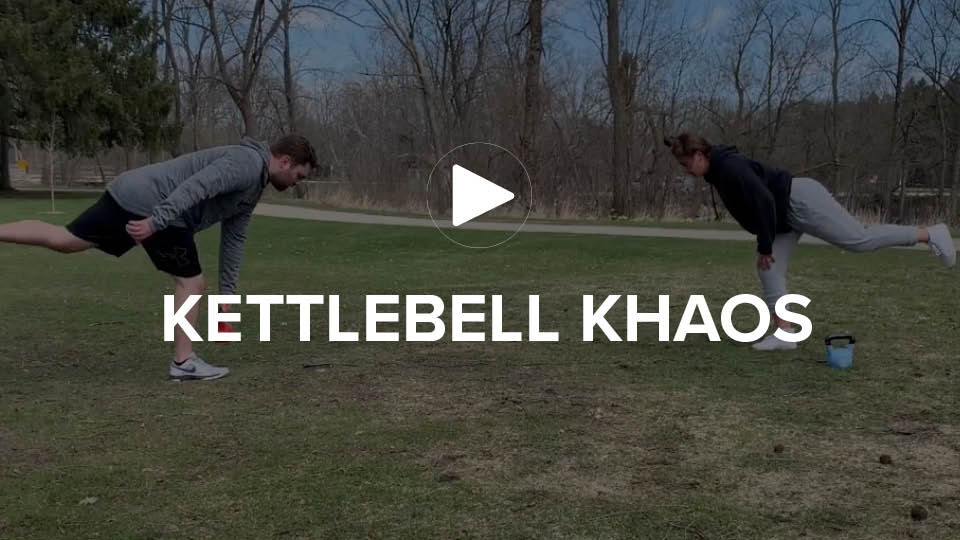 Kettlebell Khaos 
Maycee and Cameron
Want to learn how to get a complete workout using one piece of equipment? Want to get the most out of your training sessions? Don't have kettlebells, no worry we will give you alternatives to using kettlebells and still get a great work out even during social distancing. Kettlebell Khaos is for you!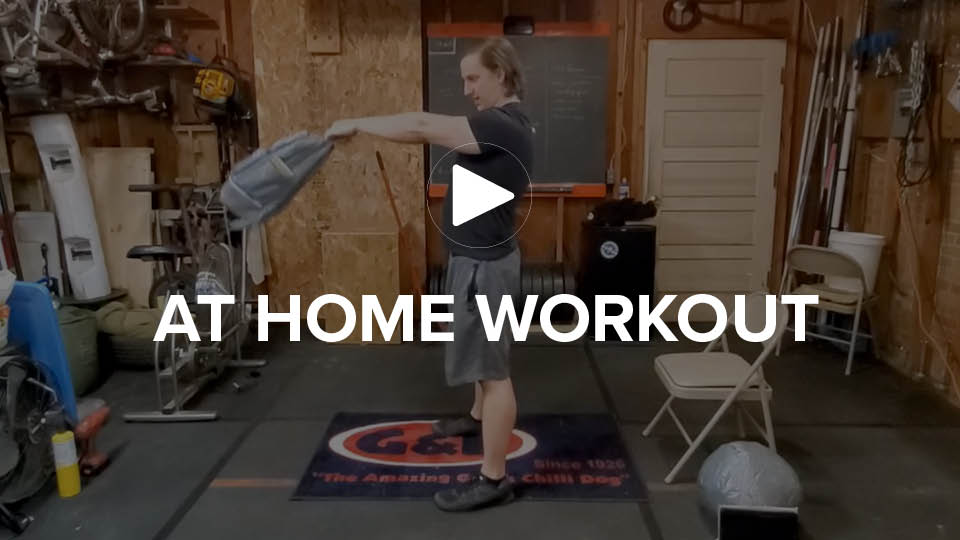 Thirty Minute at Home Workout
Josiah   
With this class we're offer you a simple 30 minute workout that requires minimal materials and equipment.  The class will be geared towards people stuck at home during the national stay at home order and will cater to people who have a very limited fitness self-efficacy.  The class will strive to use common household objects to effectively achieve a full body workout.  Objects will include a chair, backpack, broom and books.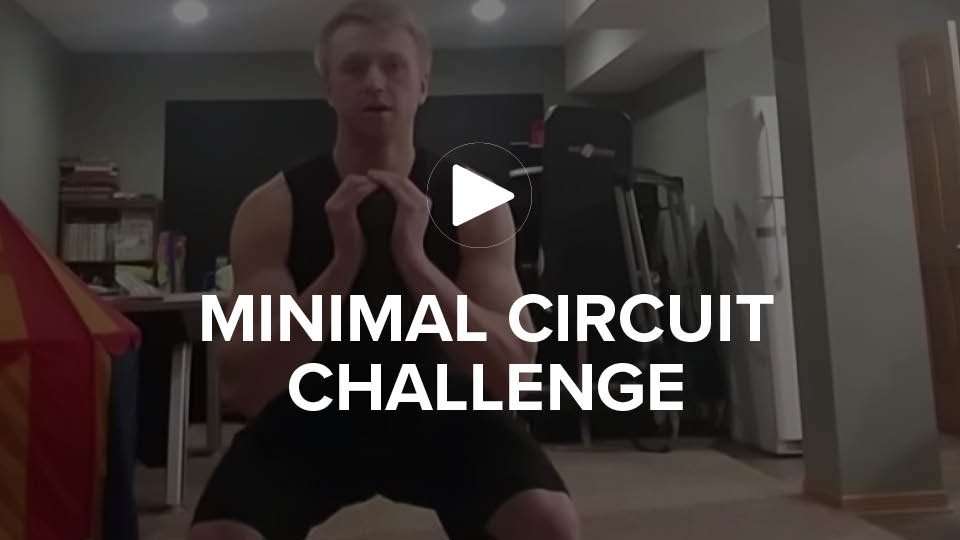 Minimal Circuit Challenge                   
Richard
No equipment, no problem. This whole-body workout will incorporate callisthenic/body weights and a light weight pair of dumbbells, or alternative form of weights. It is designed to challenge people who are primarily beginners.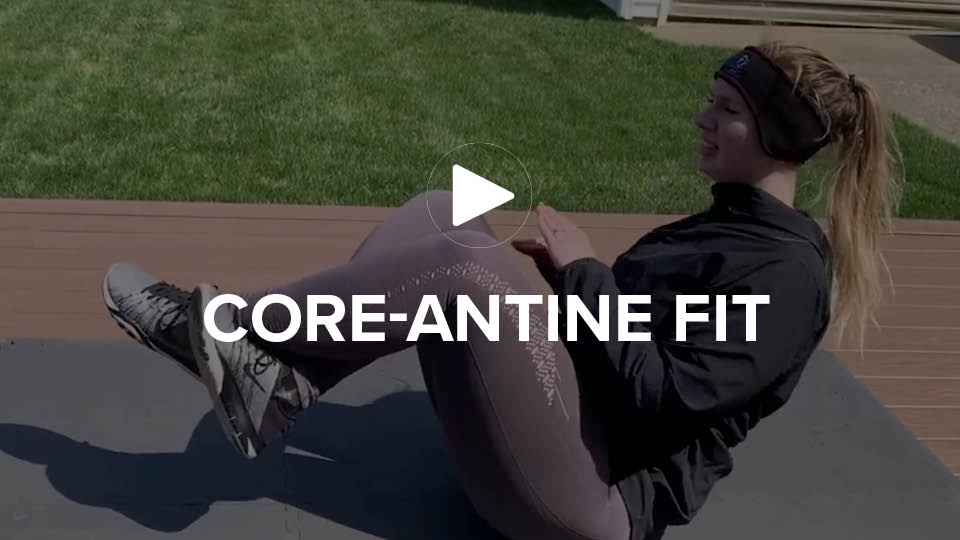 Core-Antine Fit                         
Alyssa
Work on your Core while distancing yourself from other. You can do this core strengthen exercise class almost anywhere you find yourself these days. Don't have any weights with you, no worry, I can show you how to use your own body weight and still get a great workout. So, let's get Core-Antined together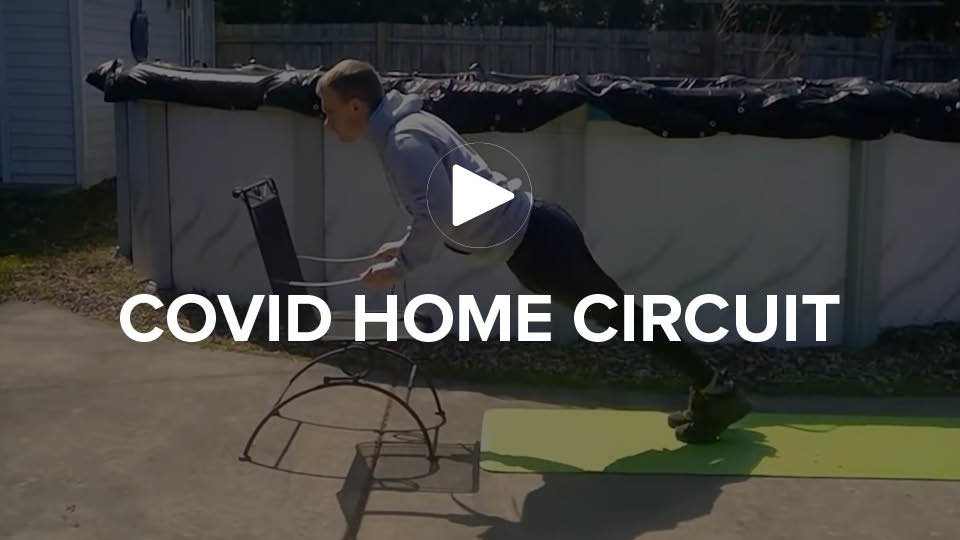 COVID Home Circuit                          
Cody
COVID Home Circuit class is intended to give you a complete quick and intense workout with simplicity in mind.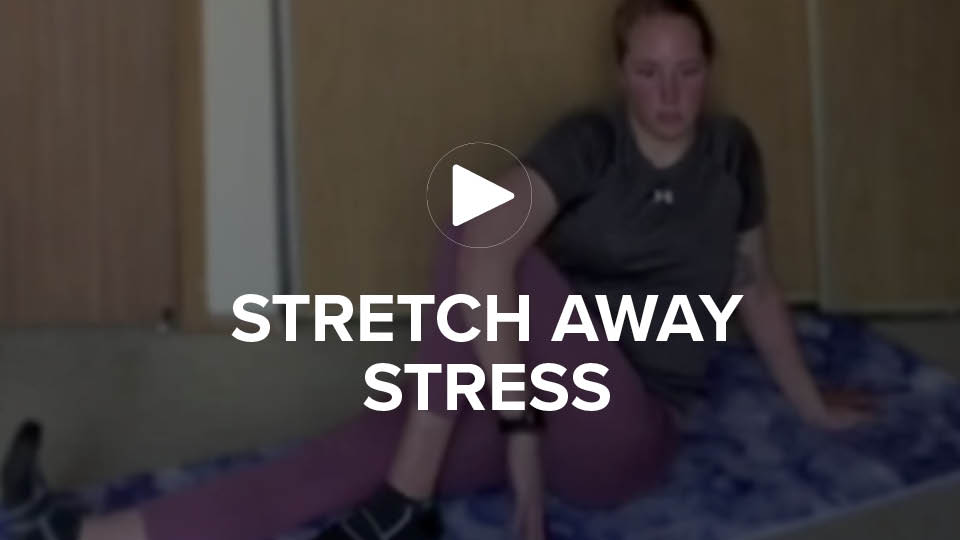 Stretch Away Stress  
Shelby
Do you need some help to ease your tension and stress from sitting in front of a screen too long or trying to keep up on all of the latest news? If so, give this class a try. This class incorporates a total body stretch through the use of yoga-based moves and relaxation. Complete this whole session in one shot, or break it up into smaller sessions to work better for your schedule!