Business management, Finance 
Financial planning is vital for individuals and organizations with the global economy and increased competition. Your expertise and skills as a financial representative will bring the require for careful planning and wise use of financial resources. 
The finance concentration at UW-Parkside is designed for business students like you, who wish to pursue careers in banking, corporate finance, investments, and financial planning. Upon graduation you will help individuals and businesses through commercial lending, bank management, investment banking, security analysis, portfolio management, asset acquisition, and strategic planning. The curriculum provides hands-on instruction such as student stock investment projects and banking simulation experiences. A career in finance is both intellectually and financially rewarding. 
Accredited for quality
Our Business Department is accredited by the Association to Advance Collegiate Schools of Business International (AACSB). We offer a high-quality, highly relevant educational experience taught by professors who regularly interact with the business community and who are up to date with the rapid changes in the global business environment.
Only 5% of business schools worldwide have earned this "gold standard" program accreditation.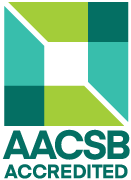 COURSE HIGHLIGHTS
HIGHLIGHTED COURSES
ACCT 201: Financial Accounting
Introduces financial accounting emphasizing basic concepts and procedures in accumulating, measuring, and communicating financial information. Includes preparation, analysis, and interpretation of financial statements.
QM 319: Operations Management
Examines the role of the operations function in an organization; strategy and competitiveness, supply chain management, forecasting and inventory control, total quality management, statistical quality control, lean manufacturing, scheduling, project management, and application of these principles in manufacturing and service organizations.
MKT 350: Marketing Principles
Introduces the general marketing process, which is involved in the distribution and exchange of goods and services. Surveys product, pricing, promotion, distribution, and buyer behavior variables within the context of market planning.
FIN 335: Investments
Introduction to securities markets and various investment instruments; topics include organization and operation of global securities markets, risk and return analysis, asset -allocation, and efficient markets.
FIN 336: Management of Financial Institutions
Examines the structure and operation of financial institutions including commercial banks, thrifts, credit unions, insurance companies, security firms and investment banks, finance companies, mutual funds, and pension funds.   Covers the techniques used to analyze and manage risks of financial institutions.
FIN 431: Advanced Managerial Finance
In-depth analysis of topics in managerial finance, lease financing, capital structure and valuation, dividend policy, business expansion and contraction, and international finance.
CAREERS AFTER PARKSIDE
Business-finance graduates hold exceptional jobs in:
Banking

Corporate finance

Investments

Commercial lending

Bank management

Asset acquisition