Business Department
The University of Wisconsin-Parkside offers internationally accredited undergraduate business programs as well as a graduate level online and face-to-face MBA program. The UW-Parkside business program is unique to Racine, Kenosha, and Lake County, IL since it is the only one internationally accredited by the Association to Advance Collegiate Schools of Business International (AACSB).
You will have the opportunity to work closely with faculty in an interactive, small class environment. Our state-of-the-art computer lab has day, night and weekend access. You can earn a degree part-time or full-time, depending on your schedule.
Undergraduate programs provide you with skills in accounting, finance, general business, human resource management, management information systems and marketing along with a variety of minors and certificates to help build an education experience to fit your interests and needs.
*Note: individual program goals can be located on the program pages for Marketing, Accounting, and Management Information Systems.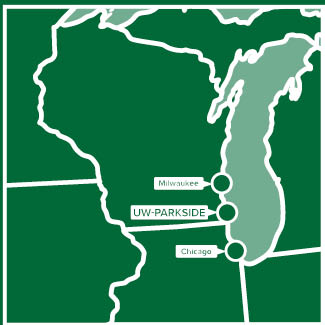 Located in a vibrant and growing economic corridor between Milwaukee and Chicago, UW-Parkside's business programs have the resources and connections to provide you with successful networking opportunities and relevant learning experiences.
VISION, MISSION & CORE VALUES

Vision
The Department of Business at UW-Parkside will be the leading source for business education, knowledge, collaboration, and advice in Southeast Wisconsin.
Mission
Dedicated to preparing successful business graduates, our AACSB-accredited Department of Business is committed to providing student-centered education with a purposeful emphasis on community engaged learning .  Located in the economically vibrant Chicago-Milwaukee corridor, our engaged and diverse business faculty, staff, and students work closely with many organizations in the region to advance economic development and best business practices. We also strive to develop global business leaders through our international partnerships, and educational programs.
CORE VALUES AND BELIEFS
Core Values and Beliefs
The department strives to bring the community to the classroom and the classroom to the community. The department is a leader in community based learning as a means to contribute to the community and a way to teach theory and practice.
The department values its location in SE Wisconsin and works with local business leaders to determine relevant programs, learning objectives, and curriculum. Graduating undergraduate and MBA students are well-prepared to work in local businesses and global organizations worldwide.
The department values innovation and develops new programs in attempt to meet the evolving needs of the economy and its students.
The department believes that scholarly research and professional practice are essential to qualified faculty. The department values multiple forms of research but particularly values research that addresses learning relevant for Parkside students and scholarship that is relevant to local business.
The department strives to prepare students for the global economy by creating international partnerships, providing opportunities for students to study abroad, cultivating a global classroom, and infusing globalization into the curriculum.
The department values the diverse backgrounds of UW-Parkside students, faculty, and staff. Diversity includes race, ethnicity, nationality, gender, sexual preference, financial status, family obligations, work status, and academic preparation. The department strives to offer multiple forms of learning to address the needs of UW-Parkside's diverse learning community.
The department values diverse perspectives and an inclusive form of decision making.
William Burnett
Associate Lecturer

Bill Burnett is a highly experienced finance and operations executive with over 30 years of experience. He brings a wealth of international know-how, having lived in six countries outside the USA and worked with local teams in all sorts of cultural settings in more than 60 additional countries. At Diners Club International, Bill spent 10 years as Senior Vice President, Head of Global Operation, and another 5 as Senior Vice President Strategic Initiatives. Bill also worked for the US Forest Service, Pittsburg National Bank, Bank of America, Textron, and Citigroup. Today, he is a consultant and frequent speaker to business groups.

Bill has written five books including CompeteAbility: Your Company's Ability To Create Competitive Advantage, and numerous articles. He holds a BA from the University of Northern Colorado, and a Masters in International Business from the Moore School at the University of South Carolina. He is married to Linda Britton. They have three children, George 31, Madeleine 30 and Charlie, 23.

Michelle Gabor, CPA and MBA
Associate Lecturer

Michelle teaches primarily for the online MBA program under the College of Business. She is a CPA who earned an accounting undergrad and MBA from Parkside. After 20 plus years of both strategic and functional roles in the manufacturing, non-profit and financial institution industries, Michelle started her own management consulting business. She fulfills her personal mission by helping people achieve the results they want through coaching, teaching and community service.

Peter Knight
Associate Professor
Business Department Chair

Peter is a marketing generalist with 25 years broad corporate and SME experience including very recent consulting experience in Europe working to develop a key account program, 17 years experience in academia and wide ranging interests in the field of Marketing. Dr. Knight has curriculum development skills in emerging areas, including Digital Marketng, Multi Cultural and Global Marketing, Sports and Event Marketing, Marketing in the Hi-Technology Sector, Sales, Flexible Learning Methods, Community-Based, Competency-Based and Online Learning. Extensive experience with simulation learning including Stukent MIMIC, CAPSIM,Country Manager,Momentium, New Shoes and Marketplace