ENGINEERING
CONSORTIAL PROGRAM
Engineering is a creative, diverse discipline. According to the Bureau of Labor Statistics, the job outlook for mechanical and electrical engineers is expected to grow 4-5% in the next 8 years. Because of the skyrocketing need for workers skilled in science, technology, engineering, and math, engineering tops nearly every list of degrees that offer a high return on investment.
Engineers innovate and create, building the roads we walk on, analyzing the watersheds we drink from, realizing robotic technology used to explore our DNA, and improving the electrocardiography (EKG) machines that one day might save our lives.
Engineering Programs at UW-Parkside include:
Biomedical Engineering 
Civil Engineering 
Electrical Engineering 
Industrial and Manufacturing Engineering 
Materials Engineering 
Mechanical Engineering
 
Interest in Parkside's Engineering Program is already on the rise and promises to increase steadily over the next few years. So don't delay -- apply today! 
For more information, please contact Dr. Ryan Karr (karr@uwp.edu), Dr. Bryan Lewis (lewisb@uwp.edu), or Dr. Paul Mohazzabi (mohazzab@uwp.edu).
Program ineligible for international F-1/J-1 visa holders
MILWAUKEE CONNECTION 
Begin your first two years of study at UW-Parkside specializing in biomedical, civil, electrical, industrial and manufacturing, mechanical, or materials engineering and be guaranteed acceptance into UW-Milwaukee College of Engineering and Applied Science (UWM-CEAS) after completion of required courses and meeting the minimum GPA requirements. At UW-Milwaukee, you'll get the support you need including career advising to help you write a resume, land an internship, co-op and get your first job. There's even two annual career fairs and on-site job interviews. UW-Milwaukee's undergraduate research opportunities give you job-ready experience.
Program Information
Students complete the first two years of course work (78-86 credits) at UW-Parkside, then continue at UWM toward one of the majors in UW-Milwaukee College of Engineering and Applied Science (CEAS) - biomedical, civil, electrical, industrial and manufacturing, mechanical, and materials engineering with a junior standing.
The transfer with junior standing is guaranteed for students who complete all of the articulated courses within the UWP-UWM agreement with a cumulative GPA no less than the minimum GPA for the individual UWM major to which the student seeks admission.
All UWP university admission requirements apply. Admission into the UWP-UWM articulated engineering requires placement into Math 221 or successful completion of the pre-requisites for Math 221.
During the first 78-86 credits of study (the first two years), students will be primarily advised by UWP faculty but will also have a co-advisor from UWM to facilitate smooth transition to UWM CEAS.
Students will pay tuition and appropriate fees to the university at which they are enrolled.
Students admitted under this agreement will be guided by UWM and UWP catalog year of their admission to UWP.
Students who voluntarily withdraw or do not meet the requirement to continue in the program, may transfer any of their earned UWP/UWM credits into another degree program subject to the credit transfer equivalencies and requirements.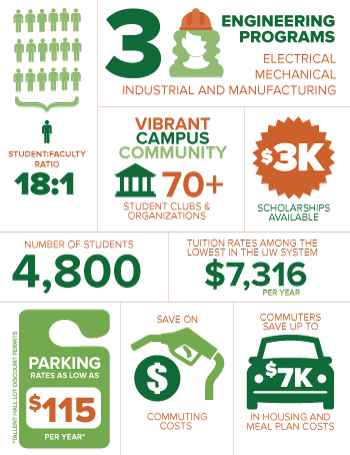 Highlights
 few of the benefits of initiating your study of engineering at UW-Parkside:
Small Class Sizes - You will learn the required mathematics, physics, and chemistry from dedicated Ph.D. professors at Parkside in relatively small classroom settings.
Rapid Specialization - You will begin to specialize in your chosen area quickly, with instructors who are experts in the application of the natural sciences to engineering.
Low Tuition Rates - The cost of your first two years of undergraduate study in engineering at Parkside is considerably less than the same two years of instruction at UW-Milwaukee.
Guaranteed Acceptance - Upon successful completion of the required courses, your acceptance to the continuation of your program at UW-Milwaukee is guaranteed.
Valuable Scholarships - Faculty members at UW-Parkside engage in local and regional partnerships with some of the world's leading manufacturing companies, including Kenosha's own Snap-On Incorporated. The Snap-On Incorporated Engineering Scholarship is available for promising students who enter the UW-Parkside Engineering Program. Each of these scholarships is worth $3,000 for one year, and renewable for a second year upon successful completion of program requirements.
Engineering Partnerships
Upon arrival in 2012, UW-Parkside College of Natural and Health Sciences founding Dean Emmanuel began talks with UW-Milwaukee's College of Engineering and Applied Science's Dean, Dr. Brett Peters.  Discussions also involved visiting high school principals in the Kenosha and Racine. The talks resulted in an initial agreement to offer the first two years of UWM's electrical and mechanical engineering programs at Parkside. Students complete the articulated courses at UW-Parkside and transfer seamlessly to UWM as juniors.  The agreement began in fall 2014 with 12 new students enrolled the first year.
At inception in fall 2014, Snap-On Tools, Inc. became a huge benefactor of this agreement through a $60,000 scholarship fund for Parkside engineering students.
In fall of 2015, following interest from UWM Associate Professor Dr. Naira Campbell-Kyureghyan, Drs. Paul Mohazzabi, Bryan Lewis, and Dean Otu met again with the UWM engineering program's department heads and Dean Peters to discuss expanding the agreement.  Following this meeting, a comprehensive agreement was signed for all engineering programs at UWM to have a two year start at UW-Parkside, following articulation of courses. Upon completion of the two-year articulated courses students also receive an associate of science degree in physics.
This spring, ASYST Technology, LLC, a Kenosha based international company – manufacturing automobile lighting fixtures – has offered two paid internship and one co-op opportunity for engineering students.