INTERNSHIPS & CAREER FAIRS
Purpose: To connect with the employers about current and future internships, volunteer, job, and service opportunities. 
Standing events: 
Fall & Spring Internships & Career Fairs (virtual and in-person) 
On-campus interviews (virtual and in-person)
Employer visits (virtual and in-person) 
Tips for Before, During, and After
Tips for Before
Create or update your resume. Sure, impressive skills and qualifications make for quality resume content, but without an impressive format they become contrary. Don't let your hard-earned skills go unnoticed and follow our resume tips in the link below! Visit the Advising & Career Center in Wyllie D175 to have your resume reviewed before the Internship & Career Fair.
Review the list of participating employers and the list of positions, which you can access using Handshake. Do your research. Find the company online, follow them on LinkedIn, and be sure to search for news articles and social media posts related to the organization for great conversation material.
Create a compelling elevator pitch and practice it several times. Research commonly asked interview questions and write out your own answers. Generate specific questions that you want to ask. 
Download the Elevator Pitch Guide
Dress professionally to make a good first impression. Don't have anything to wear? We have you covered, literally. Check out our Career Closet located in the Advising & Career Center, Wyllie D175. You can try on and keep any clothing to wear for the Internship & Career Fair or a job interview.
Tips for During
Challenge yourself to talk with more employers than you originally planned. Consider starting with one or two unplanned employers to warm up; you'll nail it when you talk to your top choice. 
Greet the representatives professionally. They might say to you, "So, tell us a little about yourself." This is where you use your elevator speech to respond in an organized and professional manner. Remember… first impressions are everything!
Stop in the Student Resource room or elsewhere outside of the event for a breather. You can come and go... you don't have to stay in the event location for the full length of the event!
Ask for a business card and thank the recruiter by name when you are ready to move along. Offer a copy of your resume, but know that some employers will direct you to their website to apply.
Tips for After
Send or submit any information requested by the representative (references, transcripts, or other employment related documents) the same day or no later than the following day. If obtaining documents will stall you, let them know ahead of time.
Follow-up with a thank-you note by email or on LinkedIn. Try to make reference to something specific that you talked about, including anything interesting you learned. The goal here is to be authentic. 
Start practicing your interview skills and get ready for the next step.
Gather all your important documents and keep them handy. Don't forget to take copies of your updated resume. 
Greet employers with enthusiasm and confidence. Introduce yourself and go with the flow of the conversation. 
When your conversation with an employer comes to an end, offer to give them your resume, thank them for their time, and wish them a wonderful day. 
Dress professionally and always keep smiling as this will help to reduce your stress levels. 
Enjoy the event!
EMPLOYER INFORMATION SESSIONS
Purpose: To gather information about a certain employer or group of employers. Information shared may include:
Tips on how to be successful in the field
Available internship and job opportunities
Job searching and networking strategies
Standing events: UW Career Treks and Career Launch Panels
IT'S ALL ABOUT FIRST IMPRESSION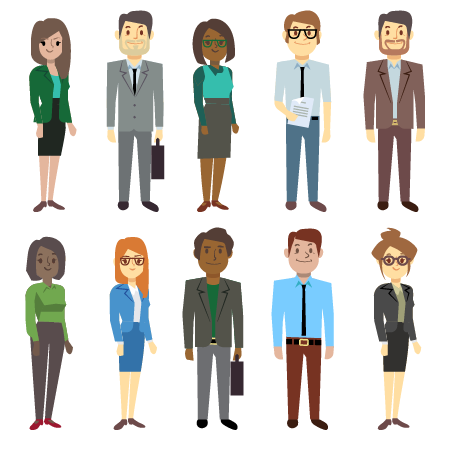 One should have proper pants/slacks                         
No jeans, shorts, sundresses or athletic wear
Skirts and dresses should be knee length when standing and thighs covered while seated
Blazers and cardigans with flats, boots, closed-toe shoes, or comfortable shoes for walking
Ties can be optional 
Clothes should be tailored, in good condition, wrinkle and lint free
Well-groomed hairstyle
Nails & makeup should be natural in style
Wear moderate jewelry with mild fragrance
For piercings & tattoos align to company culture and standards
Belts should match the color of your shoes and attire
Upgrade how you prepare for recruitment season. As more employers recruit college students online, we recommend using these tools from Handshake to go from job search to just hired.
10 Things to Know about Virtual Career Fairs
How-to Guide for Handshake Virtual Fairs
Be consistent with the format of your document (style, front, verb tense, spacing, etc.)
Keep it simple
Check your spelling and grammar!
Use strong action verbs
Focus on the positive and lead with your strengths
Have your resume reviewed by 3-5 people (current supervisor, faculty member, advisor, colleagues)
Save your document as a PDF before sending it to employers!