Housing
Living on campus puts you at the center of daily university life! On campus you're a short walk away from classes, professors, the library, academic resources, recreation facilities, a Rangers game or an organization meeting. All classes are less than a 10-minute walk away so you can roll out of bed, brush your teeth, and head off to class.
We know it's important that you're comfortable where you live, so our residents can choose from three kinds of living environments: traditional, apartment, and suite styles. You can also choose from two living-learning communities that allow students to find others with similar interests.
Living on campus is a great value. It's easy to budget when you know exactly what your expenses will be. In the halls there are no additional charges for internet or cable TV. There are no deposits or hidden costs.
Hey, guys. My name is Yazlyn. And we are standing right outside of the Pike River Suites. This is one of the newest residence halls here on campus. Come with me and I'll show you around. Like all residence halls, Pike River Suites has great common areas in which students get to hang out and study, like this one you see right here. In addition to having Wi-Fi in each room, students also have access to a computer lab with printing. All residence halls also have a laundry room and a fitness room. So this is a typical layout of a suite. This suite has two rooms. Each person in this room shares a common bathroom area. This is one of my favorite rooms here on campus. Each room comes with all the furniture that you see here. You can rearrange the room however you would like. It also has some of the highest ceilings here on campus. Another great feature is the huge walk-in closets. Thanks for letting me show you around Pike River Suites. Now, you have an idea of one of our residence halls looks like. But you should really come down and see all of our residence halls in person to see which fits best for you.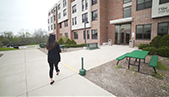 Housing