Student Services / Getting Started
Admissions
Come visit us on the UW-Parkside campus! We offer Ranger Saturdays and Experience Parkside Days to introduce you to various parts of campus. Plus, we have daily tours – with evening tours available if that works better for your schedule. We're excited to show you what Parkside is all about!
Then, when you're ready to apply for admission, we have dedicated admissions counselors who are ready and willing to help you every step of the way. We even have a counselor-on-call each day during business hours.
Each applicant receives an online SOLAR account, where you can check what items might be missing in order to create a complete application. Then, once you get your application and all supporting documents submitted, you'll typically find out the decision within a few days. We work really hard to get this decision to you as soon as possible, since we know how nervous and excited you must be!
We look forward to receiving your application and answering any questions that you have along the way! Go Rangers!
Hi. My name is Biri. I'm an education and Spanish major, and I'm from Mundelein, Illinois. Applying for admissions, it's really easy. You just go on to uwp.edu/apply. That link should take you right to our application. All you do is submit it. Within 48 hours, you should hear back from the admission staff as long as you have your transcripts, your ACT scores, and any transcripts from any other colleges. You can actually check for your status of your application online using SOLAR. That is an account given to you as an applicant. You will have access to SOLAR 24 hours, seven days a week. We have a little under 5,000 students enrolled at Parkside currently, and we are the most diverse campus in the UW system. The staff here at Parkside is actually really helpful. We have a full admissions staff. We also have campus ambassadors that will give tours for you, and all of the admissions staff is actually very helpful. So we're here at all times. If you need us, just give us a call. Hablamos espanol.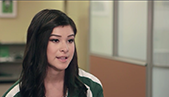 Admissions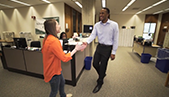 Advising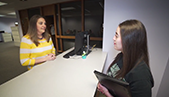 Financial Aid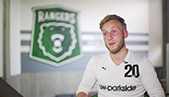 International Students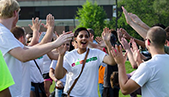 Orientation