Anton House: Driven by Passion and Purpose
Published: May 10, 2016
By the time he was just 13 years old, Anton House was selling crack cocaine as a member of the Gangster Disciples. He was in and out of prison between the ages 18 and 27. Then, House chose to turn his life around. He enrolled at the University of Wisconsin-Parkside as a nontraditional student. "I hail from Racine and I have ties with my community," House said. "Parkside was the perfect place, it was close to home, and I could commute and bring the arguments and discussions from the classroom back home with me."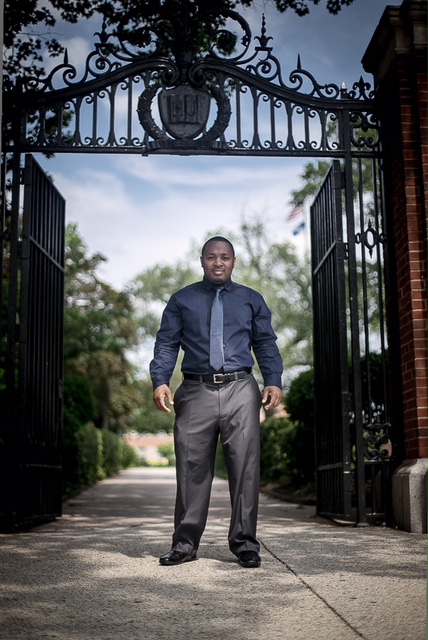 When House first started college, he was a business major. But everything changed after a history class with Assistant Professor Dr. David Bruce. "After I witnessed his command over narration and information, I was hooked," House said. "I followed my love for history with an interest in political science." House ended up graduating in 2011 with a degree in history and minors in political science and ethnic diversity.
House describes his experiences at Parkside as positive. "I often highlight graduating from the University of Wisconsin-Parkside as one of my proudest accomplishments," he said. House entered Parkside in 2007 and left his mark on the campus. He was the president of the Black Student Union and served on the Parkside Student Government Senate.
House used his student-leadership positions to raise awareness of black culture and history. As president of the Black Student Union, he worked with programs such as Flood the Hood with Dreams Poetry, and Black Israelite. In February 2016, the Black Student Union and the Office of Multicultural Affairs invited House to speak on the rise of protest and diversity in America.
Currently, House is working on his doctoral degree in U.S. History at Howard University in Washington, D.C. His concentration is in the late 19th and early 20th centuries with areas of focus including racial uplift and the New Negro Movement; African American benevolent, fraternal, and mutual aid societies; migration; and urbanization. "I did not come from a tradition of education," House said. "However, by obtaining a quality education from Parkside, I was confident enough to further my education. I moved from a position of learning, to teaching and advocacy."
House plans to teach at a university after he finishes school, but also is interested in politics. "I can honestly say my passion is learning and leading," he said. "Ever since I cracked open 'The Destruction of Black Civilization' by Chancellor Williams, I have developed an insatiable appetite for history. I guess one can say when I discovered the text, I discovered myself. Dr. Williams exposed me to the world of my ancestors and showed me something greater than the pathological – black deviant narrative that's perpetuated by society. This is what fueled my passion for history and self-discovery."
The Parkside alumnus says his goal is to use his experiences to educate and inform, as well as challenge stereotypes and preconceived notions. "Many in my community are invested in my success like a public trust," he said. "They have watched me transition from a troubled individual with a checkered past that involves gangbanging and drug dealing to a first generation, nontraditional college student," House said. "I believe this makes me familiar to many and relatable to some. A 'real' model to most, and a role model to some."
As for the future, House says he is driven by passion and purpose. He believes the two go hand in hand; that his passion propels his purpose. "The more information I consume, I try to find ways to make it relatable to returning citizens, at-risk youth, and individuals looking to change for the better," House said. "It is a constant challenge, however, trying to motivate those who have little and only see making money by non-permissible means as the way to financial security." House says he tries to expose these people to the hope and opportunity they can obtain by having access to information and mentorship.
House encourages current and future students to use their time wisely and to take their college experience seriously. He challenges students to learn how to think rather than learning what to think, and to meet those who are new and different. "Be silent and be still and listen to them; gain an understanding of the world outside your comfort zone and preconceived notions and ideals," he said. "As a polarized nation, we will need the courage and boldness of the youth to impress upon the world its vision of what society should be and not what elitists say it is."