University of Wisconsin-Parkside Graduate Inderjit Kaur awarded scholarship from The Intern Group
Published: May 29, 2020
By:

UW-Parkside Marketing & Communications
SOMERS – Beta Gamma Sigma (BGS), the international business honor society for AACSB accredited institutions, has announced that Inderjit Kaur, a recent graduate of University of Wisconsin-Parkside and a BGS member, has been awarded a $3000 scholarship from The Intern Group.
"When I graduated from the University of Wisconsin-Parkside a year ago, my first thought was that the journey begins now," said Kaur, recalling her graduation. "As an enthusiastic recent graduate, I was looking forward to exploring business fields as a professional before I start my master's program at the University of Wisconsin-Milwaukee."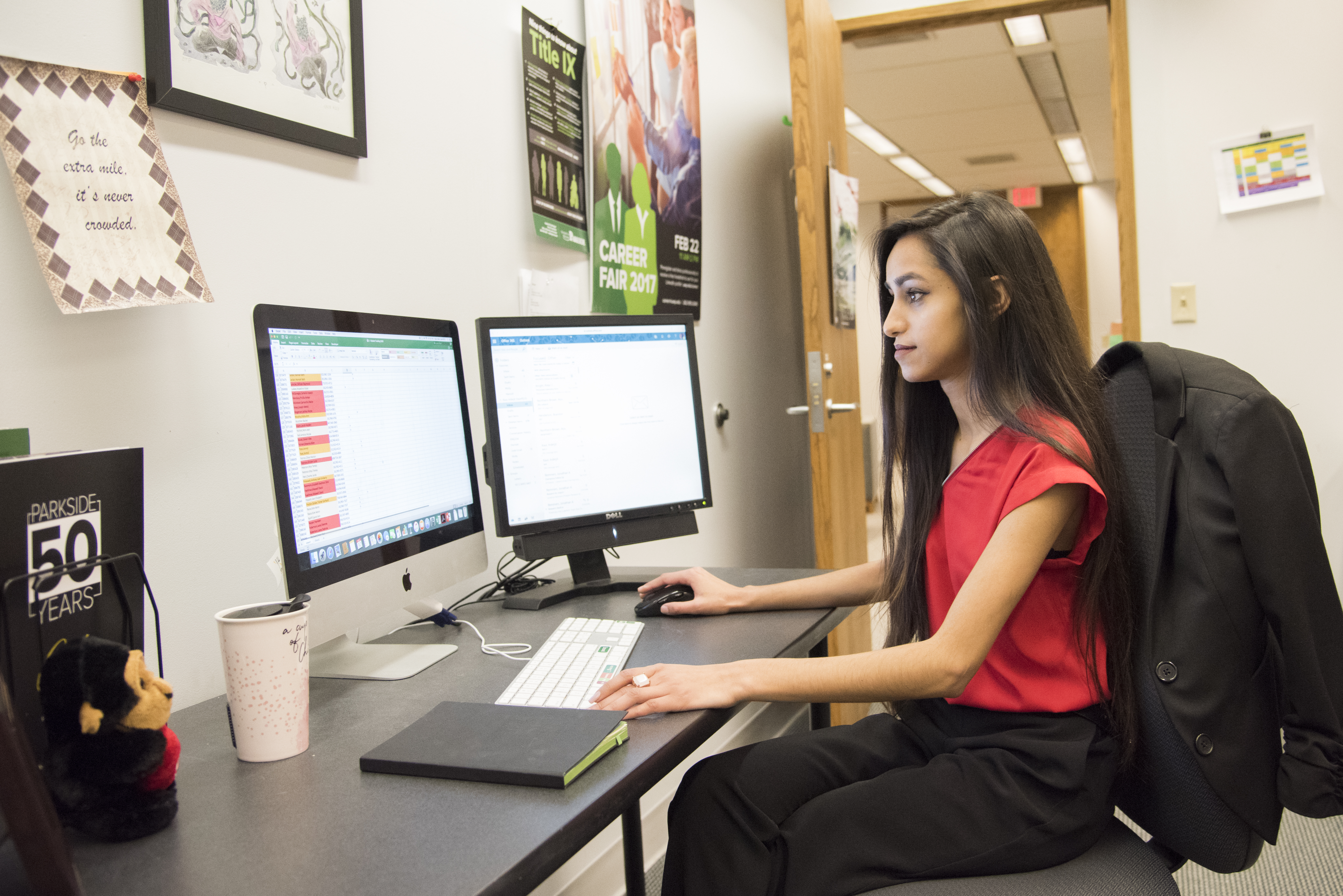 Inderjit Kaur at UW-Parkside
Kaur has big plans for her future career. Taking on more debt, however, was not something she wanted to do. "The challenge was to strategize my plans with minimum debt. I received an email from Beta Gamma Sigma… regarding an internship opportunity as well as the availability of the scholarships," said Kaur.
The Intern Group internship program provided her with the opportunity to enhance her professional profile. But initially, she held back from applying. "I prefer to use my money wisely and save more for my master's program… After considering my options, the only way I wanted to move further was with the The Intern Group scholarship for Beta Gamma Sigma members. Without this scholarship, I couldn't have taken this opportunity that is a perfect fit for me. I feel that my dedication is appreciated and supported by community leaders and organizations like Beta Gamma Sigma and The Intern Group," said Kaur.
The Intern Group is a leading provider of global internship programs in Europe, Asia, Australia, North America, and Latin America. The scholarship covers an 8-week virtual/remote internship program in summer 2020 with any of The Intern Group's international program partners.
A scholarship from The Intern Group provides a student with an outstanding opportunity to gain valuable international experience and helps them stand out from the crowd when applying for full time jobs. Interns are placed with a number of different companies and organizations across the globe to enhance cultural understanding and professional development.
Inderjit earned her BGS membership at University of Wisconsin-Parkside. She will complete a virtual/remote internship, where she hopes to further her study of business and the market industry while making herself a unique candidate for her graduate degree program.
About Beta Gamma Sigma (BGS):
Beta Gamma Sigma is the international business honor society which operates exclusively for AACSB accredited programs. Membership in Beta Gamma Sigma is highly selective, reserved for the top students within the top 5% of business schools around the world. Members of Beta Gamma Sigma go on to lead—and even create—some of the largest and most successful companies around the globe. Beta Gamma Sigma has inducted more than 875,000 members worldwide since its founding in 1913. The Society is headquartered in Saint Louis, Missouri, United States of America.
About The Intern Group
The Intern Group is an award-winning social enterprise that helps talented individuals from across the globe to realize their potential. They envisage a future where they can empower & educate individuals, regardless of socioeconomic status, to intern and travel anywhere on the globe cost-effectively and leverage the latest technology to share their experiences with others around the world.
###
Media contact:
John Mielke
Communications Director
University of Wisconsin-Parkside
mielkej@uwp.edu
262-595-3226; 262-902-9355 cell
Julio Velazquez
Director of Marketing
Beta Gamma Sigmamarketingcommunications@betagammasigma.org