BUSINESS MANAGEMENT MAJOR
The fast-paced world of business is full of interesting people, emerging global markets, and a myriad of opportunities for success. You will gain experience far beyond what you learn in the classroom by working with businesses and nonprofits on projects and these companies will benefits from your assistance.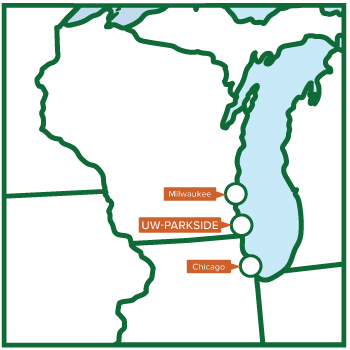 Parkside is strategically located in the Chicago-Milwaukee corridor, which is great for connecting you with meaningful internships and employment opportunities. Combine this with our accreditation and affordability and you will see that choosing UW-Parkside's Business Management program is a sound, logical decision.
All Business Management majors select from one of three concentrations:
Looking to complete your degree?
Learning in Action
Business students are in high demand for professional internships with major corporations and businesses of all sizes. You can also participate in faculty-led study abroad experiences to see business in action across the world. 
Not only do business students learn from top faculty, you also benefit from visiting scholars and guest speakers in the classroom and during special events by the department, college, and student organizations.
Gain real-world experience through the Ralph Jaeschke Solutions for Economic Growth Center (SEG), a campus partnership with area businesses and nonprofit organizations. Under the direction of faculty, students help solve business challenges, allowing them to expand upon what they learn in the classroom. The work provides a cost-effective solution for medium and small-sized  organizations.
Within SEG are specialty centers:
Information Technology Practice Center
Operations Management Specialty Center
and Accounting and Finance Specialty Center
It's difficult to learn from a textbook how business is conducted outside of the U.S. The Global Education Center (GEC) evolved as a means to:
provide students with first-hand experience through international study
bring international experts and scholars to campus
provide faculty members with opportunities to study abroad
and recruit international students to Parkside.
Accredited for Quality
Our Business Department is accredited by the Association to Advance Collegiate Schools of Business International (AACSB). We offer a high-quality, highly relevant educational experience taught by professors who regularly interact with the business community and who are up to date with the rapid changes in the global business environment.
Only 5% of business schools worldwide have earned this "gold standard" program accreditation.
Careers after Parkside
Business management graduates hold exceptional jobs in:
Sales
Marketing
Computer networks and systems
Corporate finance
Investment 
Government and nonprofit management
Entrepreneurship
Production and inventory management
Logistics
Supply Chain Operations
Our graduates work with prominent small, medium, and large organizations helping them succeed in our global economy.