Record Graduating Class - Winter 2019 Commencement
Published: December 16, 2019
By:

UW-Parkside Marketing & Communications
Each year for the past decade, it seems that the University of Wisconsin-Parkside announces a record-setting graduation class. The Winter 2019 Commencement continued that tradition as more than 380 students were eligible to participate in the ceremony. 
UW-Parkside Chancellor Debbie Ford told a packed De Simone Gymnasium that she is confident each graduate is ready to succeed. "Receiving your degree is emblematic of your ability to think critically, to innovate, and to contribute to the solution regardless of the challenge," Ford said.

The winter ceremony featured a number of firsts for the university. Ingrid Maria Liacopoulus, Racine, Wis., received the university's first master of arts degree in applied professional studies. For years, the university has awarded master of business administration and master of science degrees. Liacopoulus acknowledged that being out of the "school game" for a number of years made it more challenging to return. "Not only did I learn so much – the tip of the iceberg – but it really opened my mind and heart to continue to keep learning," she said.
Liacopoulus works in crisis management. "I see so much hardship …. It's a challenge at times to keep my mind moving forward and creatively," she said. "This program has not only given me a degree but also a renewed sense of excitement about the possibilities we have in the community."
Three graduates earned bachelor of science degrees in business administration through the revolutionary UW Flexible Option program. UW Flexible Option is an online, competency-based format that allows students to build on the knowledge they already have. One of the UW Flexible Option graduates, Austen Busse, Manitowoc, Wis., was able to complete the degree while on work assignment outside the U.S.
Outstanding Graduate Awards
Four students were honored with Outstanding Graduate awards: Michael Connolly, Kenosha, Wis.; Grace Kubiak, Waterford, Wis.; Jackie Kerr Schlosser, Lake Forest, Ill.; Cassie Van Hoof, Kenosha, Wis. Laurel Marcinkus, Kenosha, Wis., received the Chancellor's Award emblematic of the top graduating student. Marcinkus has been on both the Dean's List and the Provost's List every semester since she began her studies at UW-Parkside. She received a National Medal at Carnegie Hall for her poetry when she was a freshman, along with video congratulations from former first lady Michelle Obama.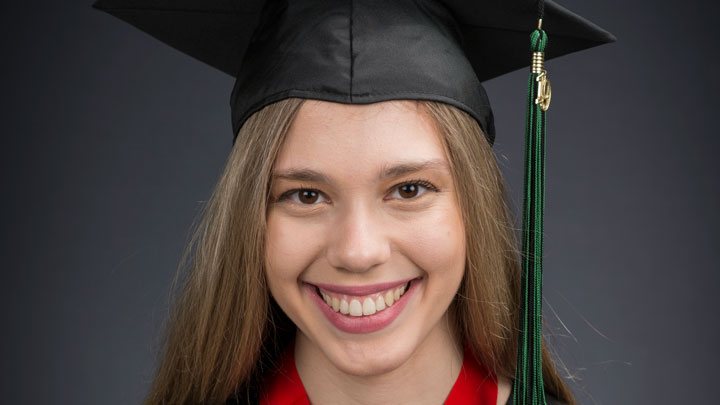 Marcinkus told her fellow graduates that it is not only important to fight for what they believe in, but to fight for who they are. "Fighting for who you are means finding yourself, having faith in yourself and not allowing the world to change you," she said.
Read more about the outstanding graduates
Alumna Featured Speaker
Susan Podlogar, a 1984 UW-Parkside graduate and chief human resources officer for MetLife, was the featured speaker. Podlogar reminded graduates of the words of pro football Hall of Fame coach Vince Lombardi: People who work together will win. She described graduates as the generation of hope. "We need your thinking, we need your solutions," Podlogar said, "and I challenge you to make a difference."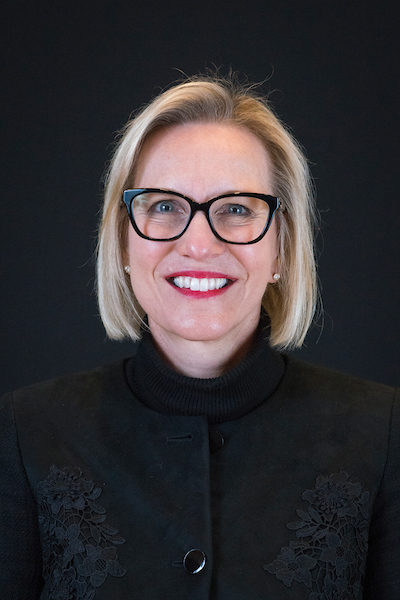 Read more about Susan Podlogar
Meeting the Needs
Chancellor Ford told graduates, along with friends and family in attendance, that academic programs and the ways in which knowledge is shared and delivered at UW-Parkside continue to expand because of innovative, dedicated faculty who understand the challenges facing students and the community.
"Our faculty are leading the change, and our faculty are leading the innovation," Ford said. "More than 380 women and men are receiving their UW-Parkside degrees today. Each person has pursued that accomplishment with vision, optimism and enthusiasm. And each of you know that you're ready for the future."
Watch the Ceremony Ceremony Archives
In the News:
Record number graduate at UW-Parkside winter commencement, Kenosha News 
'It's pretty intimidating': Nontraditional Parkside graduate overcomes life challenges, The Journal Times
Check out more photos of the event: