IiL Instructional Technology
The Innovations in Learning team provides training and mini-courses on the classroom technology we have here at UW-Parkside. We offer training to both faculty and staff so they can learn how to efficiently use the technology in their courses and workshops. Alongside classroom technology, UW-Parkside also offers a variety of software, such as Kaltura and Blackboard Collaborate, that the Innovations in Learning team is happy to help incorporate into courses.
Featured Technology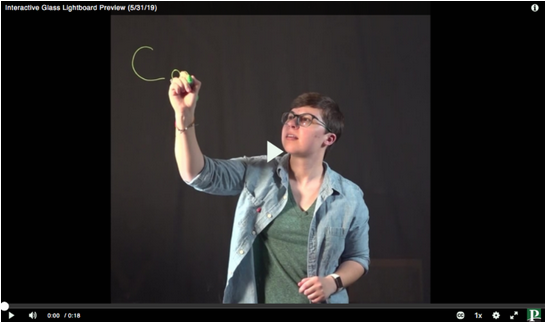 The Interactive Glass Whiteboard is the newest technology Innovations in Learning has to offer. This lightboard is located in our brand new filming studio with state of the art cameras, lighting, and staff to help create amazing video content. The lightboard itself is made of glass and can be used to write formulas, draw diagrams, and so much more. In post-production, the video will be mirrored to display the writing in the correct direction. There are unlimited possibilities with the lightboard and film studio!
If you are interested in learning more, please contact innovations@uwp.edu.
UW-Parkside offers a variety of third party tools too be integrated into D2L. Some of those tools include: Kaltura, Blackboard Collaborate Ultra, and textbook integration.
To learn more about these tools, please visit the Innovations Third Party Tool page. If you're interested in incorporating any of these tools into your D2L course, please contact the Innovations in Learning team at innovations@uwp.edu and a team member will get back to you within 24 hours.
Online Technology Requirements
When talking about online learning, a big question that pops up is "What technology do I need to take an online course?". We have compiled a list of basic requirements for the technology needed when taking an online course.
Online Technology Requirements
We strongly encourage all faculty teaching online to read the technology requirements and provide them to their online courses via the syllabus or in the course content.
UW-Parkside has a variety of classroom technology that can impact not only face-to-face courses, but online courses as well. UW-Parkside has technology ranging from interactive whiteboards, Mac/PC labs, and classrooms equipped with recording equipment.
We have multiple Mac/PC labs across campus, but we also have a designated collaboration room called the Learning Technology Lab (LTL). The Learning Technology Lab is equipped with an interactive whiteboard and circle tables which are ideal for collaboration. The Learning Technology Lab can be reserved for classes, meetings, and workshops.
You can find which rooms offer specific equipment on the UW-Parkside Technology Classrooms page.