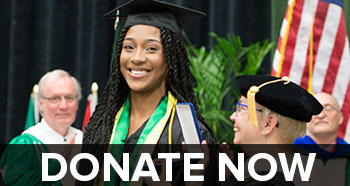 Contact Us
UW-Parkside Foundation

900 Wood Road | PO Box 2000
Kenosha, WI 53141-2000
Visit us in Wyllie Hall, L3 level.
UW-Parkside Foundation
The University of Wisconsin-Parkside Foundation's mission is to support the University of Wisconsin-Parkside by raising funds that will enhance access to educational excellence and to promote mutually beneficial partnerships. The Foundation connects the visions and passions of donors with the needs of the university. 

Founded in 1985 and recognized by the IRS as a 501(c)(3) organization, an independent board of directors governs the UW-Parkside Foundation. It is organized and operates exclusively for charitable and educational purposes, for the benefit of the University of Wisconsin-Parkside.

Through the support of the Foundation, UW-Parkside is able to transform higher education, student lives, and the communities served by the university. All gifts, large and small, advance UW-Parkside's continued growth and success.
 
BOARD OF DIRECTORS
 
Ms. Kathryn Andrea, Treasurer
Chair, Finance Committee

Mr. Chris Antonneau

Ms. Susan Boland

Mr. Michael Bond, Vice President

Mr. Dominic A. Cariello '92
Chair, Development Committee

Mr. Richard Caskey '87

Mr. Joseph Cronin '09, '12

Mr. Steven Donovan '92
Chair, Marketing Committee

Ms. Jennifer Dooley-Hogan

Mr. James Eastman

Reverend Melvin D. Hargrove

 

Ms. Lisa Just

Ms. Kimberly Kane

Mr. James Kramer, '79, '90

Mrs. Karla Krehbiel
Chair, Nominating Committee

Ms. Emily J. Lawrence, President

Mr. Timothy T. Mahone, Past President

Mr. Tom Marini

Mr. Stephen R. Mills

Mr. Tom Nelson

Mr. Wally (Guadalupe) Rendon

Ms. Vanda Santelli

Ms. Heidi Skatrud, Secretary