Youth Camps and Conferences
There is no better time than the summer for your child to expand his or her knowledge. The University of Wisconsin-Parkside is now offering a variety of youth summer camps, both in-person and online.
Our summer programs allow children of all ages to work with our highly qualified staff to get hands-on experience that will prepare them for the future.
When your child participates in a #RangerBearCamp, you can feel at ease knowing that they are in great hands. All our summer programs follow strict guidelines to ensure that each student stays safe.
Plan a summer that your child won't forget!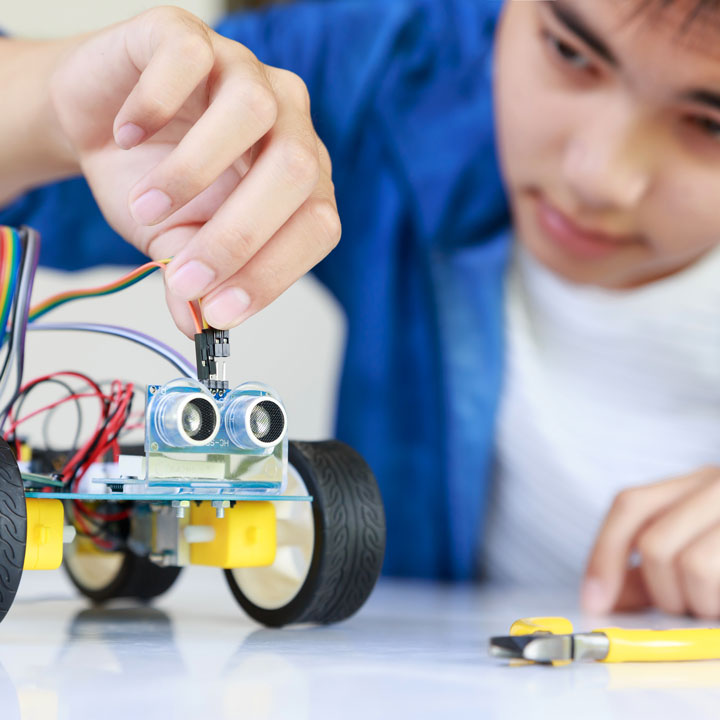 ENVIRONMENT
Root River Environmental Education Community Center Field trips
The safety of our students, participants, and guests is our top priority at the University of Wisconsin-Parkside. Our experienced staff has created strict guidelines to help protect both the staff and students that participate in each camp.
These are the protocols we are following for our youth programs this summer. Please note that safety measures are constantly changing, meaning that our requirements are subject to change. Our protocols will be shared with each student and their family prior to the start of the programs. If you have any questions or concerns, please feel free to email phamj@uwp.edu.
General Safety Protocols
Six feet of social distancing must always be maintained by all students.
Masks must be properly worn at all times unless they pose safety concerns during specific activities.
Staff members will be required to wear additional safety equipment.  
Each group will consist of 25 or fewer and members of different groups will not be able to interact with one another.
All activities have been designed to be performed with minimal contact.
Instead of a buffet-style, meals will be served by UW-Parkside staff
Occupancy limits will be strictly followed for both indoor and outdoor activities.
Hand sanitizer will be provided and should be used regularly.
Additional safety processes will be in place to help maintain social distancing guidelines.
Required Testing & Vaccinations
Each student will be required to complete an online screening a few days prior to the start of the camp. If your child is not able to answer "no" to every question, your child will not be able to attend, and you will be refunded.
Students are required to isolate for a total of 10 days prior to the start of their camp.
Children who are participating in multi-day or commuter camps are required to be tested within 3 days of the start of their camp.
We encourage each child to be vaccinated prior to the start of the program. Find a vaccine location near you.
Those that have been fully vaccinated more than 14 days before the program has started will not be required to be tested. Proof of vaccination is required.  
Everyone will be required to follow protocols, even those that have been fully vaccinated.
UW-Parkside will have an on-site testing site where students can get tested the day of their camps, although it is encouraged for students to get tested prior to the day of their event. Visit www.dhs.wisconsin.gov to find a testing site near you.
Those who have tested positive more than two weeks and less than 90 days before their program begins are not required to be tested as the test will likely result in a false positive. If this applies to your child, you will need to provide us with proof of the positive test result.
We will issue full refunds to families who are no longer able to send their children to camp due to COVID-19 related issues.  
The Check-In Process
The check-in process will now take place using a drive-thru system. Parents/guardians can get directions and any additional information from the comfort of their vehicles.
COVID-19 related documents should be readily available for staff to look over upon arrival.
Each student will be asked screening questions regarding recent COVID-19 related symptoms.
Symptoms During the Camp
In the event that your child shows any COVID-19 related symptoms while in our care, he or she will be immediately isolated from the group. Those that spent more than 15 minutes with your child will also be isolated.
If symptoms are present, parents/guardians have the option to either pick up their child immediately or have their child take a PCR test. While awaiting results, those showing symptoms will be isolated and supervised.
A portion of the amount paid for the camp will be refunded to all families who are required to pick up their children.
After the Program
We will follow up with you once the camp is over to get any feedback you would like to share with us about your/your child's experience.
If your child shows any COVID-19 related symptoms upon arriving home from camp, please notify us at continuing.ed@uwp.edu.
Self-Check Questions
The following check-in will be emailed to you one week before your child's summer camp begins:
Has your child been in contact with anyone who has tested positive for COVID-19 within the last two weeks?
Has your child had a fever of 100.4F (38.0C) within the past 10 days?
Has child your experienced any of the following symptoms in the past 10 days: cough, shortness of breath, and/or sore throat?
If you answered "yes" to any of the questions listed above, your child will not be allowed to attend any in-person programs. continuing.ed@uwp.edu will contact you to process your cancellation and refund.
When do I need to register for an event?
The final registration date depends on the date of your event. Camps have the possibility of being canalled due to low enrollment, which is why we appreciate those who register early. You will be notified 21 days prior to the start of your event if it is no longer being held. The last day to register will be listed for each event on our website. If you missed the registration deadline and would like to attend an event, check the description of the event on our website to see if you can still participate. Roommate requests for summer camps that missed the deadline can be reviewed with our staff after you check in at the start of the camp.  
When do I need to pay for an event?
Will the event happen despite poor weather conditions?
Yes. We plan to hold events even when there may be poor weather conditions. In rare circumstances, we may need to cancel an event due to weather conditions. If this happens, you will receive an email from us to the email address we have on file for you indicating that the event has been cancelled or postponed. If we cancel an event, you will be fully refunded.
Does the event fee include the deposit?
There is normally a deposit collected that is separate from the event fee. Due to COVID-19, you will NOT be required to pay a deposit for any in-person events. This year, your deposit will be deducted from the total fee for your event.
Is a copy of my physical examinations and/or immunizations required?
No. Your child will only be required to fill out the self-check in his or her online registration. If your child requires medication, please make sure to fill out the medication form that will be made available to you three weeks prior to the start of the event.
When should I expect to receive specific camp details?
Information for each event will be available on our website at least three weeks prior to the start of the program. We will be updating our website regularly with any updates.
How do I register if I received a UW-Parkside camp award last year?
Those who received an award last year will be given a special promotion code, which can be used when registering for the event online for a discounted price.
How do I register if I will be receiving a scholarship or money as a gift?
Those who will be receiving a scholarship or money to put towards the cost of a camp will be given a promotion code registrants can use when registering for the camp online. Any balance remaining after the promotion code is used is the participant's responsibility. Promotion codes cannot be applied after the payment is made in full.
Register for in-person programs risk free.  If we cancel an in-person program due to COVID-19, we will let you know 21 days prior to each event.
Do I have to pay any fees for in-person programs?
No. You will not be required to pay any fees until your selected camp is 21 days away. We will contact you by email to inform you that the camp is being held. Directions on how you can pay online will be attached to this email. Full amounts are to be paid one week prior to the start of your selected program.
What do I do if I didn't receive a payment request?
Certain email accounts can make it difficult for us to email you directly. With that being said, please email continuing.ed@uwp.edu to verify the email account you would like for us to have on file for you.
Are we able to bring snacks?
Yes. Children are allowed to bring their own snacks to enjoy between meals.  
Are we able to bring coolers?
Yes. Participants are allowed to bring their own coolers. There will be ice available for purchase at the dining halls.
How much spending money should campers bring with them?
Your child does not need to bring any spending money, however there will be merchandise available for purchase such as apparel. Children can also buy snacks.
What if my child needs to take medication?
At the beginning of camp, we will collect all reported medications. Please bring all medications your child takes in their original containers and complete the health form with specific instructions that include the name and required dose of the medication, as well as the time your child takes his or her medication. For those who use an EPI pen or inhaler, we strongly recommend bringing two of each to camp.
Is there air conditioning?
Yes, our residence halls are air conditioned.
How many children stay in the same room?
There will be two children every room, each in their own single bed. We will do our best to ensure that every child has a roommate, although we cannot make any guarantees.
How do campers get assigned roommates?
Children are assigned to a roommate based on their age and gender. If your child has a roommate request, you can indicate that on the camp application and we will do our best to honor the request. You cannot request your child to have his or her own room.
Are we able to go to other residence halls?
Absolutely not. Children who enter a residence hall other than the one they are assigned to will be dismissed from the camp and you will not receive a refund. We will go over the rules with participants at the start of the camp to make sure there are no misunderstandings.
How can you reach your child?
Your children are allowed to and encouraged to bring their cell phones. If your child does not have a cell phone, you can reach them by calling our staff. This number can be found on our website and in your camp information packet. You may also call 262-595-3340 Professional and Continuing Education, Mon-Fri 8 am-4:30 pm.
Will there be free time?
Your child will be given some free time between activities, which will be supervised by our camp staff.
Who can children contact after "lights-out" when the doors are locked?
Each residence hall will be locked at the end of the day. The "lights-out" times vary from camp to camp and will be included in the camp information packet.
Will your child be allowed to go off campus?
No. The only time children will be allowed to be off campus is when there is an off-campus activity. Parents will need to sign a permission slip for us to have on file in order for their child to be allowed to participate in the off-campus activity.
Are parents able to observe activities?
Due to COVID-19 restrictions, we will not be allowing parents to observe activities this year to ensure that children and staff are staying as safe as possible.
What if my child needs medical attention?
In the event that your child requires medical attention, our camp health supervisor will assess the situation and take the necessary steps. If the issue doesn't require immediate medical attention, parents will be called for advice and recommendations. Please fill out the health form in great detail prior to arrival, as this is the only guide a health care provider will have if there happens to be an emergency.
Are campers who participate in overnight programs able to receive mail?
Due to COVID-19 restrictions, we are not allowing campers to receive any sort of mail this year.
Are all staff required to go through background checks?
Most definitely. Each camp staff member has undergone a background check. Each staff member has also been required to undergo extensive training to be able to work in our youth programs.
What is the supervision like at the camps?
Our camp staff will be present at all times during instruction to supervise participants. A 10:1 camper to staff ratio will be maintained.