DR. ANNA MARIA WILLIAMS
Lifetime Achievement Award 
An Enduring Legacy: Dr. Anna Maria Williams 
Dr. Anna Maria Williams left many marks on the UW-Parkside campus community during her decades of teaching and leadership. This year, her legacy deepened in another impactful way. 
As a founding faculty member, Dr. Williams helped to establish UW-Parkside's Life Science Discipline, subsequently the Biological Sciences Department, and drove the university's pre-health program's growth. Historically, close to 90 percent of students from the university's pre-med and pre-health programs, which Dr. Williams helped create, are accepted to medical professional schools. That rate is more than double the national average. The large number of alumni who are now highly respected doctors and health professionals is a testament to her devotion to teaching. UW-Parkside alumni and other friends created the Anna Maria Williams Endowed Scholarship in her honor, when she retired in 1990 after more than 20 years of teaching and leading the pre-health program. 
Dr. Williams continued her involvement with the campus and inspiring students by establishing the "Doctors of Our Community" program which introduced high school students to opportunities in health careers by providing access to medical schools and medical professionals, and the campus' Anna Maria Williams Nature Trail. Today, the UW-Parkside campus is home to more than 100 marked trees on the self-guided walking trail including 67 species native to Wisconsin and more than half of the 50 state trees in the United States.  
Following Anna Maria's death in 2015, her sister, Isabelle Williams, remained connected to the university and relished hearing from Anna Maria Williams Endowed Scholarship recipients each year. "Just as her sister did, Isabelle loved learning about students' accomplishments and the work they were doing to prepare for health professions," said Hannah Wallisch, director of development. "She was especially proud when the Anna Maria Williams Endowed Scholarship supported female students. She hoped it encouraged them to be trailblazers in the sciences like Anna Maria was." 
Given the Williams sisters' lifetime of support for UW-Parkside students, it came as no surprise that Isabelle Williams left a significant portion of her estate to the UW-Parkside Foundation following her death in 2020. Her gift of more than $770,000 to the Anna Maria Williams Endowed Scholarship will make it possible for more pre-health students to learn and prepare for healthcare careers in the years to come.  
"Anna Maria's dedication to UW-Parkside students and their success is legendary, as our pre-health alumni will tell you," said Chancellor Debbie Ford. "We're so grateful that future generations of UW-Parkside students in the sciences will experience Anna Maria and Isabelle's generosity and will continue to be inspired by the Williams sisters' belief in what UW-Parkside students can achieve."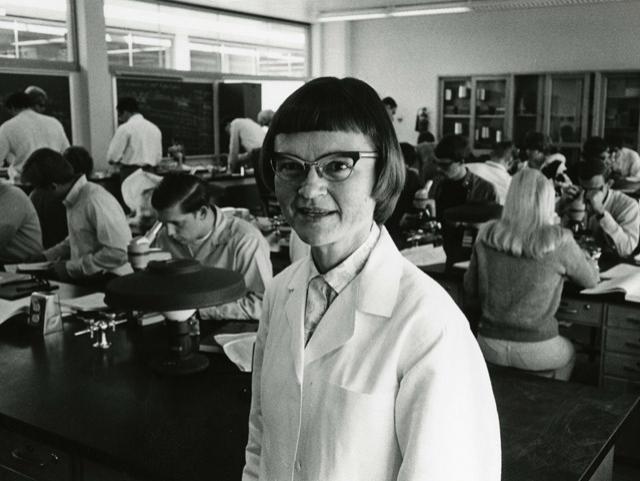 About the Lifetime Achievement Award
The Lifetime Achievement Award may be presented to an individual who has demonstrated exemplary achievement in career, community leadership, or other arenas. The award may be presented to a UW-Parkside alumnus or a non-alumnus, and to a living recipient or posthumously. Lifetime Achievement Awardees take action that has a lasting impact on UW-Parkside, its students, and the wider community, making the university stronger and more vibrant far into the future.