Scott Menke Appointed Vice Chancellor
Published: February 26, 2018
Officials at the University of Wisconsin-Parkside have announced the appointment of Scott M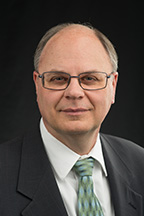 enke as vice chancellor for finance and administration. Menke currently serves as director of business services, controller, and budget officer for UW-Parkside. He will replace current UW-Parkside vice chancellor Mel Klinkner, who is retiring from the university later this year. Menke will transition to his new duties during the summer semester and will report directly to UW-Parkside Chancellor Debbie Ford.
"Scott has been a valued resource to the entire campus community and, in partnership with Mel Klinkner, has helped guide the university through some very challenging financial times," Chancellor Ford said. "While Scott has been with UW-Parkside for almost 14 years, he brings a great perspective from his experience in public accounting and the private sector. We will miss Mel's dedication to all aspects of our learning community, and his ongoing commitment to affordable access to higher education."
Menke's new responsibilities include leadership of Business Services, Facilities Management, Human Resources, Safety and Risk Management, University Police and Public Safety, and Campus Planning.
"I look forward to combining my past experience in public accounting with my current experience in higher education to continue the model of student success at UW-Parkside," Menke said.
Menke is a certified public accountant whose extensive experience includes consulting in the management advisory services division of McGladrey & Pullen. During his 14-years at UW-Parkside, Menke's duties have included controller, budget officer, director of Business Services, and director of Human Resources.
Menke is a Wisconsin native who has lived in Mt. Pleasant for more than 20 years. He is the first UW-Parkside graduate (M.B.A. '10) to hold a senior leadership position with the university.
The University of Wisconsin-Parkside is one of 13 four-year campuses in the University of Wisconsin System. Founded in 1968 to better serve the needs of a growing population in southeastern Wisconsin and northeastern Illinois, UW-Parkside offers undergraduate and graduate degree programs and serves as an academic and cultural resource. The campus is located at 900 Wood Rd. in Somers.