International Admissions Frequently Asked Questions
What types of majors does UW-Parkside offer?
UW-Parkside offers 41 majors.  View the complete list of majors, minors and certificates. You may also wish to refer to the Academic Catalog to learn more about UW-Parkside's programs.
 
The 41 majors at the University of Wisconsin-Parkside are housed in four distinct colleges, as outlined below:
The College of Arts & Humanities offers undergraduate programs in Art, Communication, English, Ethnic Studies, Liberal Studies, Modern Languages, Music, and Theatre Arts. 
The College of Business, Economics, and Computing strives to provide the finest quality education that is responsive to the requirements of an ever-changing and diverse student body and prepares them for success in the rapidly changing global environment. 
The College of Natural and Health Sciences emphasizes experiential learning opportunities through clinical settings, laboratories and field trips that are taken as part of many courses, as well as a rich array of internships and service learning opportunities.
The College of Social Sciences and Professional Studies brings together a diverse group of disciplines with a strong belief that it is important to promote both theoretical and practical knowledge in their various fields, developing knowledgeable and enlightened citizens for our future. 
When should I apply?
UW-Parkside offers something called "rolling admission," which means we admit students throughout the year.  There are priority deadlines for each semester, however.
Undergraduate Admissions
Students applying for the Fall semester (beginning in September) are encouraged to complete the application process by May 30.
Students applying for the Spring semester (beginning in February) are encouraged to complete the application process by November 15 (for admission in the following calendar year).
Graduate Admissions
Students applying for the Fall semester (beginning in September) must complete the application process by January 1.
Students applying for the Spring semester (beginning in January) must complete the application process by August 1 (for admission in the following calendar year).
How do I pay the application fee?
Undergraduate international students pay the undergraduate application fee online through the application website.
Graduate international students pay the graduate student application fee online through the application website.
Do I need to submit recommendation letters?
Undergraduate international students do not need to submit recommendation letters.
Graduate international students are required to submit two (2) letters of recommendation.
What if I don't reach the language requirement?
The University of Wisconsin-Parkside is able to offer conditional admission to undergraduate and graduate applicants who meet academic and financial requirements and are enrolled in our ELS Program.  Students must demonstrate completion of the ELS level 112 intensive program - English for academic purpose for full admissions consideration.  The ELS program is conveniently located right at our university.
Do you require ACT or SAT scores?
We do not require SAT or ACT for international students. 
Undergraduate students:
If you have taken either of these exams, we may consider that score in place of the TOEFL, IELTS or EIKEN scores, with permission from the Office of Admissions.
Does my graduate program require the GRE?
Requires official GRE score reports from applicants
Master of Science in Computer and Information Systems (MSCIS)
No, GRE score report required
 
Health Information Management and Technology (HIMT)
Applied Molecular Biology and master's degree applicants
Applied Professional Studies
Sustainable Management (SMGT)
Masters of Business Administration (MBA)
What is the cost of attendance at UW-Parkside?
An education is one of the most important investments that you will make in yourself and in your future.

At the University of Wisconsin-Parkside, we believe that cost should not be a barrier to a great education, and we are committed to keeping costs down, so our students receive a quality education at an affordable price.  It's about much more than just the price – it's about the value of the education that you will receive, and the opportunities that will be created as a result of your education at Parkside.

Personal attention, small class sizes, limitless internship opportunities and dedicated faculty – here you'll find the qualities you want in your college experience, at a cost you can afford.

When planning to attend the University of Wisconsin-Parkside, students must certify that they have financial support for the first full year (two 16-week semesters outlined below).
 
Tuition and Fees
$7,665 USD
Campus Housing and Meal Plan
$3,513 USD
Health Insurance
$846 USD
Miscellaneous expenses
[Textbooks, academic supplies,
bedding and living need supplies,
transportation costs, spending
money (groceries, toiletries, "fun"
money, funds for emergencies)]  
$2,226 USD
Total Cost for one 16-week semester
$14,250 USD
Total Cost for two 16-week semesters
$28,500 USD
Do you offer scholarships?
Admitted international or non-US citizen students are eligible for scholarship consideration.  Scholarships are determined on an individual basis.  Scholarship awards are determined through the evaluation of academic records and test scores at the time of admission and range from $1500-$6000 USD. Please note that scholarship amounts are determined on a student-by-student basis, and not all international students qualify for scholarships. If awarded, the scholarship is renewable for up to 4 years as long as the student is enrolled full-time and keeps a cumulative (total) grade-point-average (GPA) above a 2.5/4.0.
For more information, visit: International Student Scholarships
What is your ranking?
 UW-Parkside has many features that set it apart.  
We are proud to be selected as the #1 Criminal Justice program in Wisconsin (of the 4 year universities).
Our campus features an English as a Second or Other Language program with ELS Language Schools for students needing English proficiency (mostly international students).
Our institution has the lowest crime rates in the UW-System.  Read the statistics.
Of the UW-System comprehensive 4 year schools, UW-Parkside has the most ethnic and racial diversity within the student body
We are rated one of the "Most Affordable" 4-year, comprehensive universities in the State of Wisconsin.
The Rangers basketball team was the #1 seed for the recent Regional tournament (that was held at UW-Parkside).
UW-Parkside is the only NCAA Division II Athletics program in the state of Wisconsin.  http://www.parksiderangers.com/
Placement rates—within 6 months—after graduation (in careers or graduate schools/PhD/Medical programs)
92% for business
96% for nursing
100% for management information systems
92% for theatre arts
90% for pre-health into medical school of choice (national average is 41.4%...UWP far exceeds the national average)
100% for computer science
100% for biological sciences
We have very strong retention and graduation rates for students. 
What sets UW-Parkside apart from other universities?
UW-Parkside's focus on the environment
We are called UW-Parkside (instead of being named for the name of our city) for our location near a park and our park-like setting
We sit on 700 acres of natural beauty, featuring natural wildlife and woodlands
We are situated 5 minutes from the shores of Lake Michigan
Quiet, serene place to study
Small student body
4,500 enrolled students -- students are be a "number" on our campus
20-to-1 student-to-faculty ratio
50% of classes have 20 students or fewer; 70% of classes have 30 students or fewer
Our courses are all taught by faculty.  We don't have any Teaching Assistants.
We have a focus on "Real Amazing" opportunities (this is our catchphrase this year).  Our students have multiple opportunities to gain real world experience and apply their classroom learning outside of the classroom.
500 student internship placements last year
Our small size allows for undergraduate research with faculty
We offer study abroad opportunities to more than 20 countries (and yes, international students can study abroad!)
Many courses offer community-based learning projects where students engage with their community for credit
Students develop interactive skills to demonstrate their learning such as presentations, public speaking, and group work
Excellent Location
Parkside is in Kenosha, Wisconsin
Milwaukee is to the north (45 minute drive)
Chicago is to the south (1 hour drive)
The campus is situated in a quiet, natural environment
Downtown Kenosha (shops, restaurants) is a few minutes away
Public transportation (bus, Amtrak and METRA rail service available)
First year students may have cars on campus if they choose
Scholarships
We offer international student scholarships
These are merit-based and are determined on a case-by-case basis
What type of student housing is available on campus?
There are three different styles of on-campus housing at UW-Parkside.  All three styles of housing have a residence hall front desk which is staffed each day for student support.
Ranger Hall
Six-story, traditional-style American residence hall
Houses over 400 residents
2 students per room
Freshmen (first year student) housing
Each floor has one TV lounge and kitchenette
Each room is carpeted and furnished
Heated in cold months
Air conditioned in warm months with an adjustable thermostat
Take a virtual tour of Ranger Hall

Pike River Suites
Four-story suite-style residence hall
Houses 250 residents
Built in 2009
Floors have a lounge, kitchenette, and study area
Suites house up to 5 students, including one-person and two-person rooms
Each room is fully carpeted and furnished
Heated in cold months
Air conditioned in warm months with an adjustable thermostat
Home of the Global Village Leadership living-learning community (click to learn more)
Take a virtual tour of Pike River Suites

University Apartments
Three-story apartment-style residence hall
Houses 370 residents
Seven separate buildings
Each building has 6-10 four-bedroom apartments
Apartments house up to 7 students, including one single-room and three double-rooms
Each apartment has a full kitchen, living room area, and two bathrooms
Each room is fully carpeted and furnished
Heated in cold months
Air conditioned in warm months
Take a virtual tour of the University Apartments
For more on Residence Life and Housing, including a video overview of all housing options, visit: uwp.edu/live/offices/residencelife/
What opportunities are there for employment while I am at Parkside?
US Work Opportunities for International Students
(F-1 visas)

It is extremely common for Parkside students to work in order to gain valuable vocational skills and to also help with university expenses.  We want to be sure that you are aware of the following work programs for international students.

On-campus work

International students are eligible for employment on the University campus.  Students find employment in campus offices including university computer services, bookstore, cafeterias, athletic facilities, academic departments, etc. Students can work up to 20 hours per week. The minimum wage in Wisconsin is $7.25 per hour.

Curricular Practical Training (CPT) Work Program
After two semesters in F-1 visa status, international students can apply for paid 3 internships with US employers.  The work positions must relate to their academic major and be part of an academic internship course.
 
Optional Practical Training (OPT) Work Program
After two semesters, international students are eligible to apply for OPT which allows 12 months of paid employment related to their academic major during or after their studies.  This program requires an application fee and takes 3 months to process.  Usually international students save this opportunity until after they graduate.  
OPT Extension for Students in Science, Technology, Engineering or Mathematics (STEM)
STEM majors may be able to extend their OPT period from 12 months to 36 months.  With this program, many international students are able to start their careers with significant professional work experience in the United States.
Where is UW-Parkside located?
The University of Wisconsin-Parkside is located in the city of Kenosha, in the state of Wisconsin in the Midwest region of the United States.  The abbreviation for Wisconsin is "WI."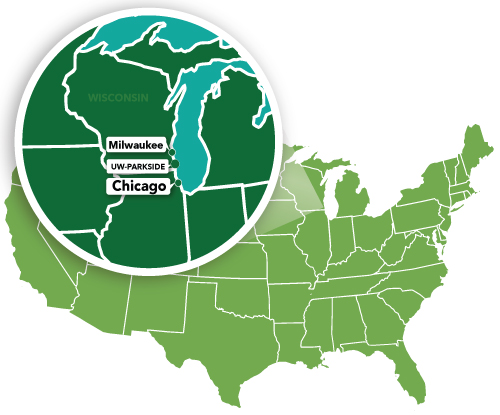 Address:
University of Wisconsin-Parkside
900 Wood Road
P.O. Box 2000
Kenosha, WI 53140
United States of America
Distances from Kenosha, WI to major U.S. Cities
What Is life like in the state of Wisconsin?
Wisconsin's location
Wisconsin is a state in the upper Midwest of the United States.  It is a state that has the fortune to be near some of the Great Lakes of the United States.  North of Wisconsin is Lake Superior, the largest of the Great Lakes.  To the west of Wisconsin is the state of Minnesota, home of the "Twin Cities" of Minneapolis and Saint Paul.  To its south is the state of Illinois, the home of the city of Chicago.  The eastern coast of Wisconsin sits on Lake Michigan, and UW-Parkside is a short distance from its shores.
Wisconsin has a total population of about 5.8 million people.  Wisconsin offers a variety of different landscapes and experiences—everything from the night life, fine dining and cultural arts available in the larger cities of Madison (the capital city) and Milwaukee, to the quiet, peaceful shores of Lake Michigan, to the small, inviting farming communities providing rich, agricultural beauty.
Life in Wisconsin
As one of the United States' leading dairy product producers, Wisconsin is known as "America's Dairyland."  Cheese made in Wisconsin is known and enjoyed all over the world.  Wisconsin offers a lot to enjoy for everyone.  "Wisconsinites" (people from Wisconsin) enjoy the four seasons—biking and boating in the summer and fall, cross-country skiing and ice-fishing in the winter and early spring. 
Downtown Kenosha, featuring shopping, cinemas, restaurants and recreation, is a short distance from UW-Parkside.  On campus, you will find a commitment to the culture and the arts through productions in the UW-Parkside Rita Tallent Picken Regional Center for Art and Humanities ("The Rita") and art exhibits throughout the University galleries.  Students are encouraged to take full advantage of the beauty that Wisconsin has to offer and try new or familiar these activities while studying at UW-Parkside!
Fast facts about Kenosha, Wisconsin
 
Kenosha is a friendly community of 168,000 people.

Kenosha is just over one hour from Chicago. So, big-city excitement is close by!
UW-Parkside's  campus is 5 minutes from beautiful Lake Michigan.
We  have four distinct seasons, each with its own natural beauty.
Nearby state parks and natural areas allow students to enjoy Wisconsin's outdoor  beauty.