Vote Posters: Political Propaganda and the Hand-Pulled Print
Intermediate and Advanced students in the Art Department's 2016 Fall Printmaking course were tasked with responding to the Presidential election in the form of hand printed posters. There is a long tradition of artists and print makers who have made a name for themselves by engaging with campaign imagery, most notable of the 21st century is Shepard Fairey's Warhol-esque "Hope" poster for Barack Obama's 2008 presidential campaign. Students in this class follow this tradition by researching the history, then designing and hand printing large-scale vote posters related to the 2016 presidential election.
Students identified a breadth of themes that surround the 2016 presidential election. The themes included nostalgia, equality, liberty, democracy, balance, fairness as well as more human characteristics like temperament and integrity. The students took a variety of design approached to showcase these themes.


The image making process that students used is complex in both history and technique. Printmaking students used relief printing which dates back to the 220 AD China. Relief printing involves featuring a sheet of wood with plateaued areas by carving away non-image areas. Students use a printing press to transfer the ink from the top most portions of the plateaued matrix- or the relief areas- to paper. Each color layer is printed separately, one on top of the last, to create new color interactions.


Assistant Professor: Kristen Bartel, Art Department


Intermediate Students:
Omar Botello
Nick Freemand
Karen Gilpatrick
Nathan Hevrdijs
Brook Landre
Luis Mercadillo



Advanced Students:
Laura Hauter
Alex Markiewicz
Colleen Steenhagen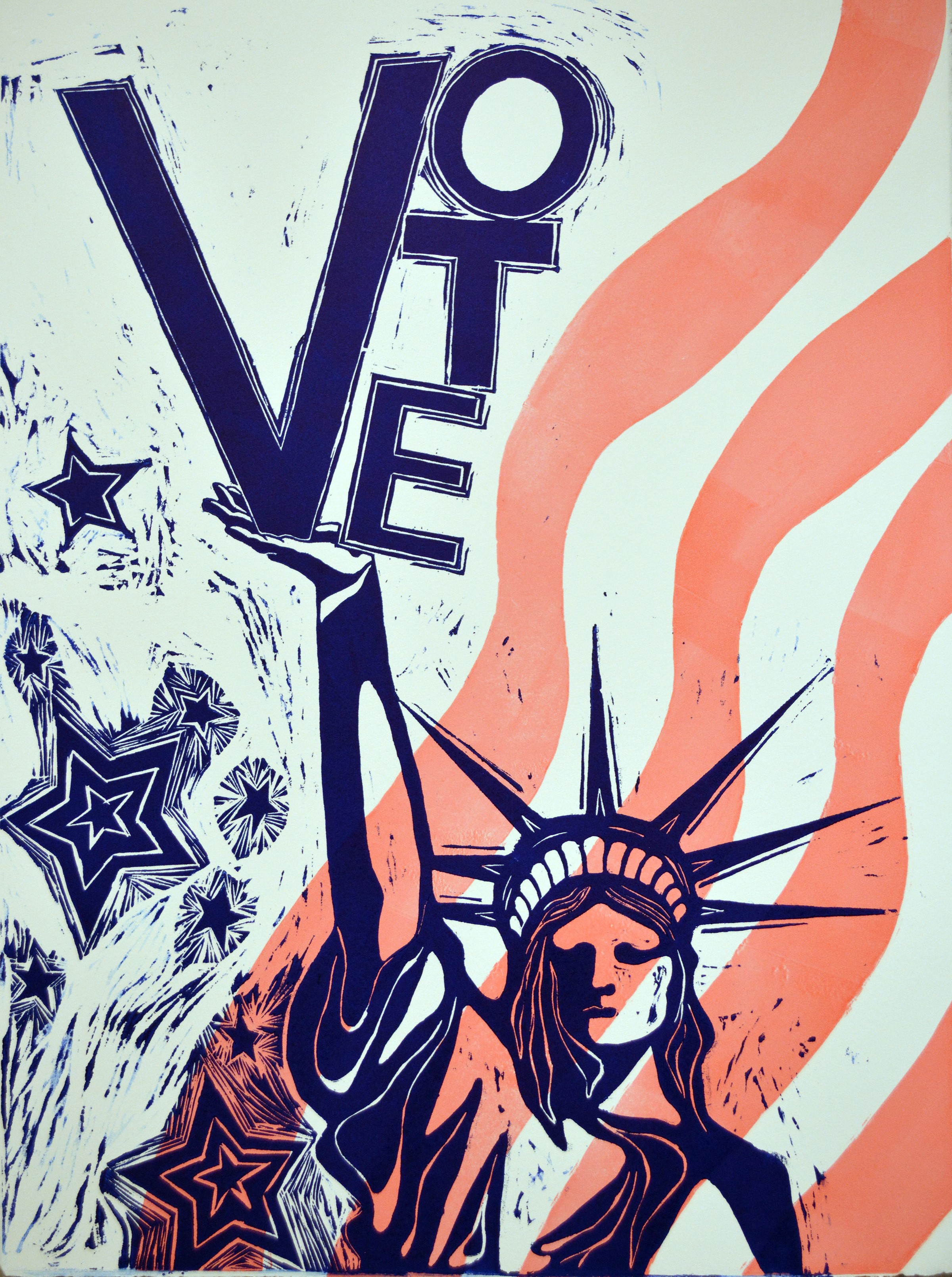 In this poster, students employ the faded American flag as a backdrop. Here lady liberty is shown precariously holding up the word "vote". In this poster, students wanted to symbolize the lack of balance that has dominated our society's rights and freedoms. To them, it serves a reminder of the power a vote can have to reestablish ideas of peace and equality.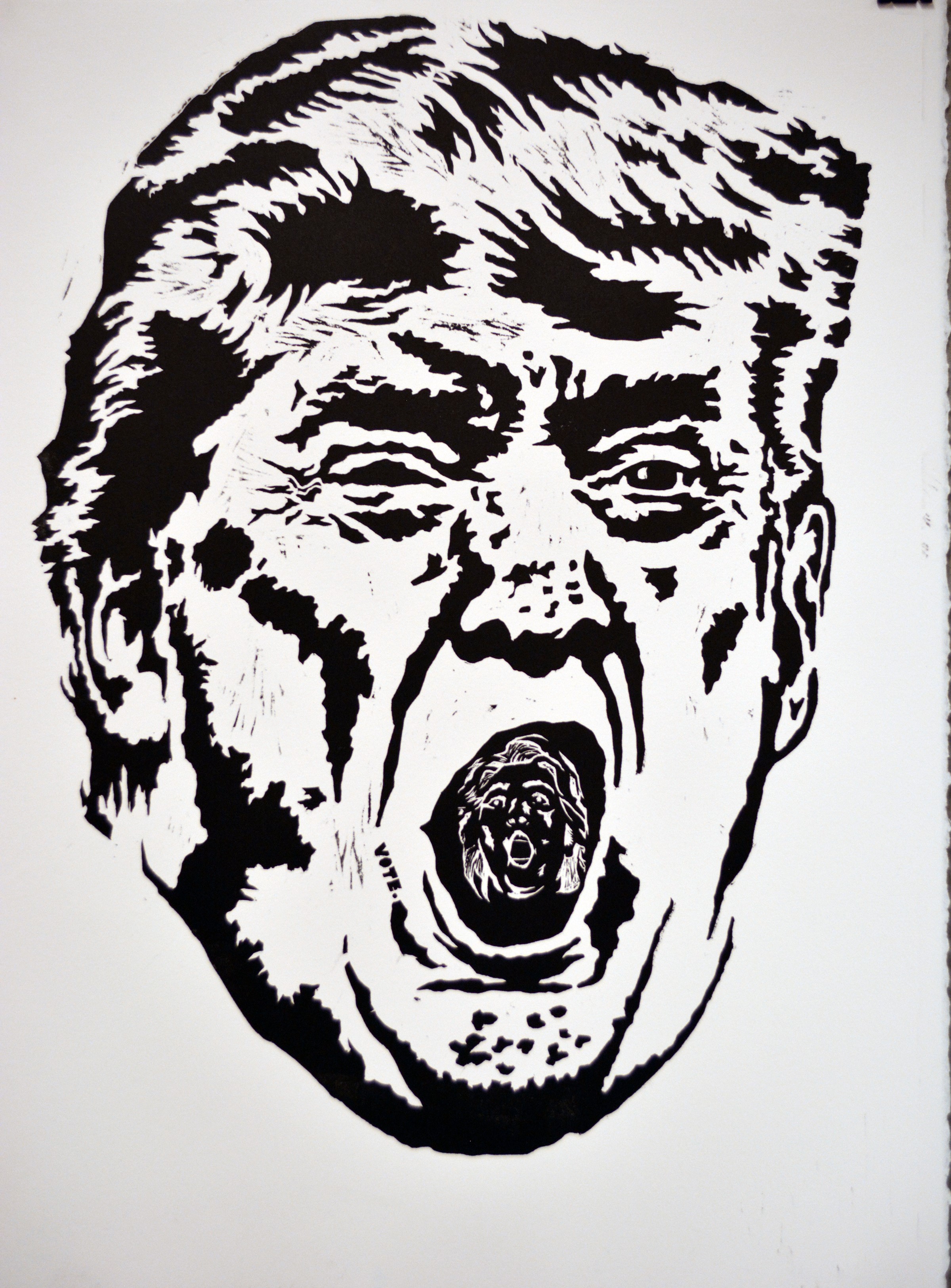 In another poster students take less idealized directions in their designs. Here we see a large floating head of Trump yelling and inside his open mouth a smaller floating head of Clinton yelling. These rabid, visceral postures in the image afford the viewers more raw interpretations that focus on the less glamorous traits and characteristics that are required for campaigning in the 21st century.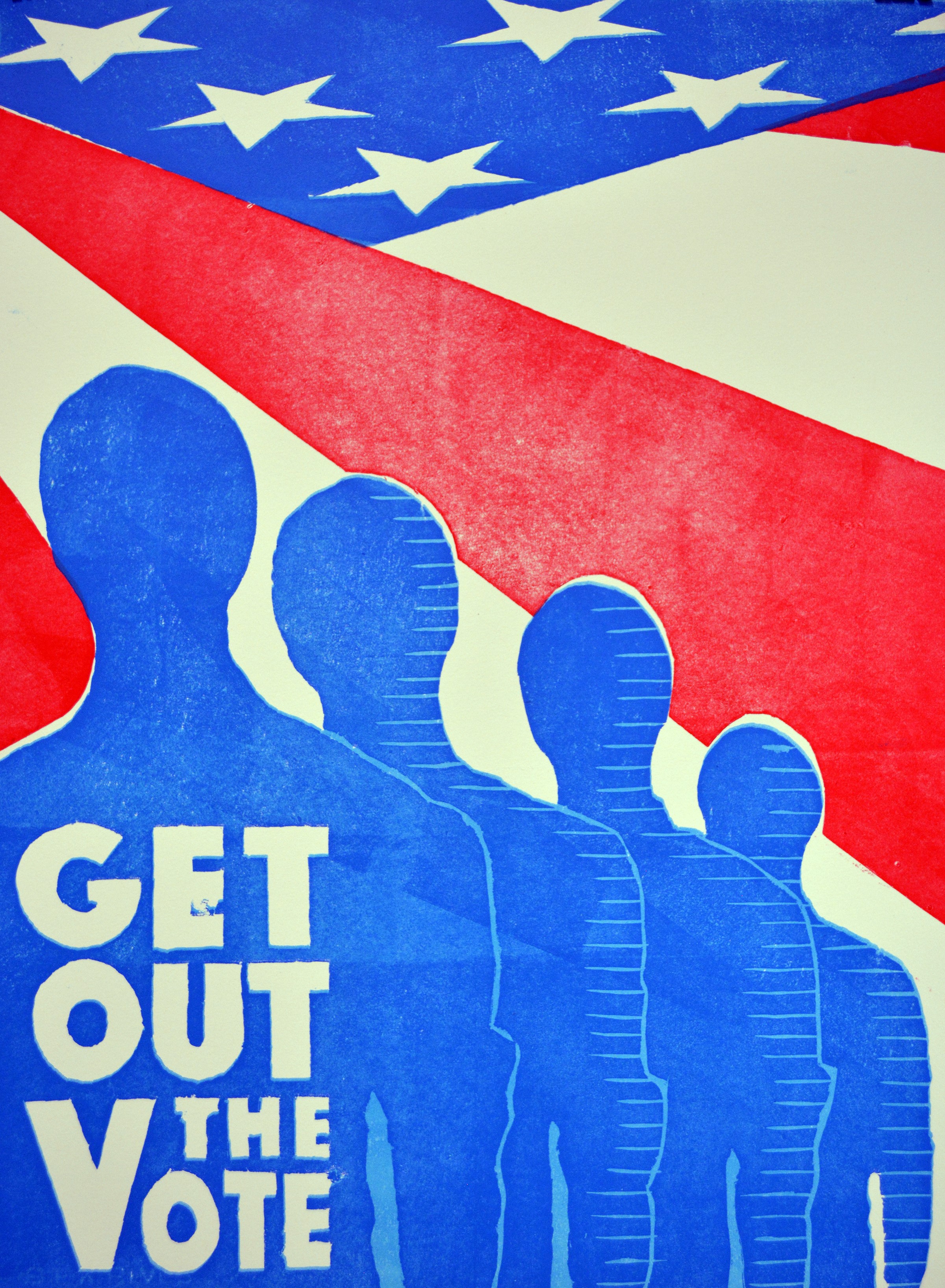 In another example, students take more straightforward approaches to designing a vote poster. Here we see students use the silhouetted figure, repeated to form a queue. Over them we see a fragment of the American flag and the phrase "get out the vote". The goal for this group of student was to create an image that used relatable motifs to symbolize democracy and the importance of a collective effort.