CHemistry Major
Looking for an interactive undergraduate degree program in chemistry with plenty of personal attention? Look to the University of Wisconsin-Parkside. The Chemistry program is approved by the American Chemical Society and that assures you of an educational experience of the highest caliber.
Everyone knows that there's no substitute for one-on-one instruction. The overall student-faculty ratio at Parkside is an impressive 14:1. The typical enrollment in junior and senior level chemistry classes is ten to fifteen students. That low student-to-faculty ratio is especially important in the lab, where you'll find hands-on learning with modern instrumentation including an inductively coupled plasma emission spectrometer and a gas chromatograph-mass spectrometer. The Chemistry Department makes extensive use of computers in the labs for instrument control, data acquisition and molecular modeling.
SIX CONCENTRATIONS
General Chemistry 
Biochemistry
Industrial Chemistry
Chemistry for Pre-Health Professions
Natural Products
Professional Chemistry
PROGRAM HIGHLIGHT
SC JOHNSON INTEGRATED SCIENCE LAB
The SC Johnson Integrated Science Laboratory provides you with a state-of-the-art learning environment, designed to prepare you for successful careers in in-demand science and healthcare fields. A few things that make the lab a unique experience for you are the Research Opportunities assist you in exploring scientific concepts hands-on with faculty mentors.  A Collaborative Workspace makes it possible for you to learn and work together in classes and across areas of study – from introductory to upper level courses. Updated Scientific Equipment allows you to experience the same tools that are found in industry-leading workplaces and facilitates partnerships with local industry on research and testing.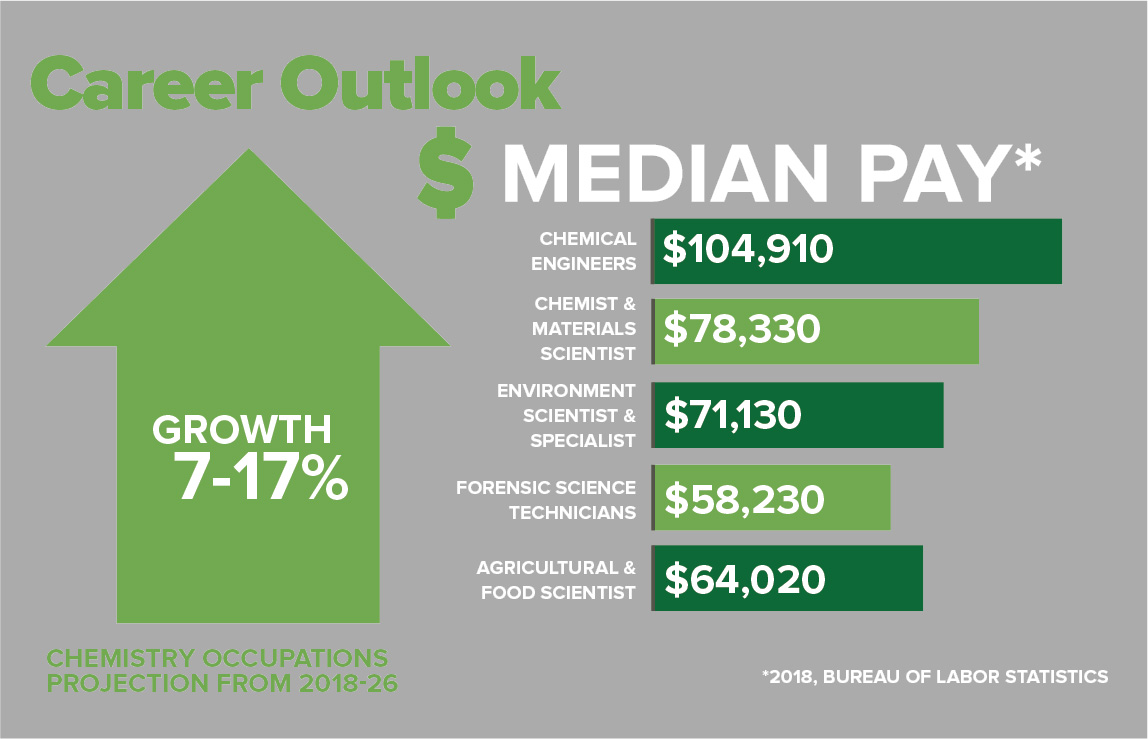 Lori Allen
Associate Professor, Chemistry Department Chair

AREAS OF EXPERTISE
Analytical Chemistry
Atomic Spectroscopy
Gas and Liquid Chromatography

Daryl Sauer, PH.D.
Assistant Professor

Dr. Sauer's research focuses on natural product isolation, microwave accelerated organic synthesis, flow chemistry and electrochemistry. Dr. Sauer has worked at Abbott Laboratories/AbbVie for 25 years in roles such as a medical chemist in the Cancer Research area, leader of the Abbott High-Throughput Organic Synthesis group, and as Senior Manager in the Scientific Assessment. his thesis work focused on the utilization of the 1,3-dipolar cycloaddition reaction to synthesize novel nucleoside analogs. Following the completion of his graduate studies, he joined the Ohio State University as a National Science Foundation post-doctoral fellow where he worked on the total synthesis of biologically interesting natural product. 

Frannie Mann, PH.D.
Academic Director of the Applied Biotechnology M.S., Chemistry Department

Dr. Mann is interested in the mechanisms by which microbes interact with their chemical environment by synthesizing or transforming chemical stimuli. Microbial synthesis of natural products is an evolutionary response to chemical stimuli, and I study the evolution and regulation of the enzymatic machinery within the pathway. Conversely, microbial transformation of natural products to reduce toxicity or produce novel products is the alternate mechanism by which microbes remodel their chemical surroundings.