A New Year of Academic Excellence
Published: September 7, 2016
A New Year of Academic Excellence Begins TODAY at UW-Parkside
Let's Celebrate … It's the First Day of Classes!
For students around the world, the first day of classes is the beginning of a dream. Enjoy and share in their experience and take a few moments to welcome new faculty, staff, and students to our Real and Amazing learning community.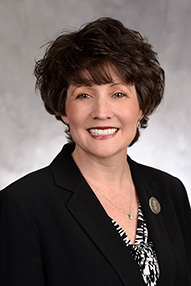 With more than 30 new academic programs in place, I know it is going to be a great year and it looks like we are on track to celebrate another record year of graduates. According to the Registrar's Office, early applications for December Commencement are up more than 10 percent over last year. Thanks for doing your part to prepare our graduates for that important next step – graduate school, professional school, or a rewarding and challenging career.
Academic Program Innovation
Last year, our Faculty Senate approved a record number of curricular innovations and changes – 34 to be exact – two master's degree programs, four bachelor's degree programs, six associate degree programs, eight minors, four concentrations, three certificates, and seven articulation agreements. I applaud the leadership of the deans, our faculty, the Committee on Academic Planning, the Registrar's Office, and the Faculty Senate. Well done!
While any list of 34 is long, I've included the innovations and changes here so you are aware of what's available to current and prospective students. This year, we'll focus on implementing the new programs and enrolling students for these innovative offerings. Congratulations and thank you for advancing academic programs that respond to the interests and needs of our students and help meet the talent demands of our region.
Master's Degree Programs
M.S. Sport Management
M.S. Health and Wellness Management (consortial online)
Bachelor's Degree Programs
B.S. Early Childhood Education
B.S. Secondary Education
B.S. Special Education
B.S. Business Management (online degree-completion)
Associate Degree Programs
A.A. Military and Security Studies
A.S. Laboratory Science
A.S. Physics
A.S. Financial Economics
A.A. Professional Studies
A.A. Liberal Studies and Leadership
Minors
English Language Arts for Elementary Education
English Language Arts for Secondary Education
Health Psychology
Medical Spanish
Social Studies for Elementary Teachers
Geography for Broad Field Social Studies
Elementary Mathematics (Mathematics for Elementary Teachers)
Health Communication
Concentrations
General Chemistry
Industrial Chemistry
Professional Chemistry
Pre-Health Professions – Chemistry
Certificates
Neuroscience
Health Communication
Project Management (UW Flexible Option)
Articulation Agreements
College of Lake County
holders of the A.S. degree in Chemistry
MATC for holders of the A.A.S. degree in Network Specialist
MATC for holders of the A.A.S. degree in Mobile Application Developer
MATC for holders of the A.A.S. degree in Information Systems Security Specialist
MATC for holders of the A.A.S. degree in Web and Software Developer
GTC for holders of the A.A.S. degree in Professional Communications
GTC for holders of the A.A.S. degree in Criminal Justice – Law Enforcement
College Initiatives for Fall 2016
The Election Experience: Did you know that UW-Parkside students vote at a higher rate than their peers? Check out the NSLVE chart below and more importantly, mark your calendars for the College of Social Sciences and Professional Studies Election Experience. Dean Peggy James and her colleagues have planned an event each week of the fall semester to engage in multidisciplinary discussions about the political process during this important presidential election year. The first event is Friday at noon in the Brickstone, "Political Jams" – a musical jam session of political songs.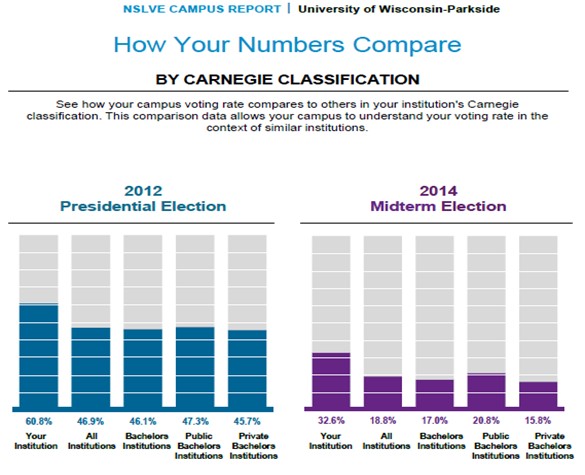 Peace Works: The College of Arts and Humanities has adopted the theme "Peace Works" for this year and has planned a series of events for the fall. You'll see this quote from Eleanor Roosevelt on the "Peace Works" flyer: "It isn't enough to talk about peace … one must work at it." Visit Peace Works for more information and a schedule of events.
Academic Plan
In 2012, UW-Parkside adopted its first academic plan in university history. Titled "An Academic Plan to Lead UW-Parkside Toward 2020: Aiming High and Making Excellence Inclusive" it covers the nine-year period 2012-2020. The plan emerged from two years of research and discussion led by Provost Terry Brown and the Committee on Academic Planning (CAP), and benefited from input during two faculty summits, and meetings with the University Committee and several other Senate Committees. The plan is divided in three main sections: 1) Student Profile; 2) Academic Programs; and 3) Pedagogy. Each section includes separate goals.
Since, we are at the mid-point of the implementation of the Academic Plan, Provost Rob Ducoffe, in partnership with the Committee on Academic Planning, will lead a process to assess the status of the plan in collaboration with the deans, faculty, and staff. This assessment will define our academic priorities for the next few years.
Faculty Scholarship, Research, and Awards
In case you missed it … here are links to some great news articles highlighting faculty research and awards: