Art Dept. Faculty Work
Lisa Marie Barber

Professor
Ceramics, Foundations
Email | Personal Web Site | Faculty Profile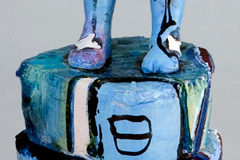 View work
"The majority of my ceramic work, often formatted as figures within dense environments, portrays how I wish to understand people in the world. I strive to create worlds composed of multiple, individualized parts, meant to be celebratory, shrine-like collections. Within them, the human is presented as a passive being, aware of life's weight, yet confident in its value. Often, the figures are children. Chosen for their purity of being, I use children as models of simplistic, unalienated living. To me, they represent a connection to the world that can be simultaneously awkward and full of possibility. In addition to these large-scale sculptures and installations, I also create series of paintings, drawings, and mixed-media works in the forms of quilts and assemblage sculpture. These works explore similar themes, as well as divergent subject matter."
---
Tom Berenz

Chair & Assistant Professor
Painting, Foundations
Email | Personal Site | Faculty Profile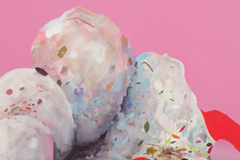 View Work
"My paintings are about my relationship to the world around me; cerebral and physical, intellectual and visceral. I use the disaster motif as a metaphor to discuss personal, sociopolitical, environmental and ideological issues. Through the motif of disaster, I explore the existential self and examine personal narratives, with some being more literal and others more enigmatic. Notions of loss, place, memory, space and time are central as I reexamine personal experiences from my past and present. The imagery is in constant flux, but always returns to a pile. A pile is everything and it is nothing. It is a mound that once was and now isn't; a mass of information, both physical and metaphysical, organized and chaotic. I am interested in blurring the lines between realism and abstraction, life and death, beauty and horror, devastation and sublime. Everything we live with as Americans is delicately balanced-the cars (magic carpets/ death traps), houses (castles/ prisons), and wilderness (paradise/oblivion)."
---
Judi Golombowski

Lecturer
Introduction to Digital Art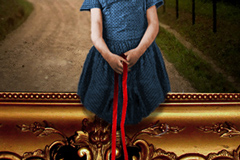 View Work
Judith received her Masters of fine arts with honors from the University of Wisconsin Milwaukee. She has been creating visual works of art based on her observations of her world as long as she can remember.Her inspirations vary from nature, to structures, to abstract ideas from her past and present and recently old portrait photos.
She believes her most valued ability is to learn from her world around her and to share what she has learned. She is a teacher, an academic of creative and conceptual problem solving for the visual arts.
---
Graphic Design
Email | Personal Website | Faculty Profile
"I am a designer because I enjoy solving problems; I chose graphic design specifically because the problems are visual and communicative problems, not purely aesthetic but not purely utilitarian. Graphic design extends into many forms of media, from traditional print to screens, web sites, motion graphics, apparel, packaging, books, fabricated works, and photography; I relish opportunities to apply my practice to a variety of media. Research, planning, and organization are very important to my work; I view the design process as a cognitive act regardless of medium. Currently, I am most interested by graphic design in and around digital humanities, academic publishing, data visualization, antiracism, and social justice."
---
William "Doug" Singsen


Assistant Professor
Art History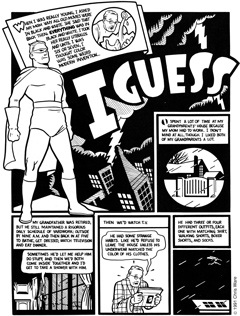 View Articles
"My research right now focuses primarily on the interaction between the avant-garde and popular culture. My dissertation, which was completed in 2013 and was entitled "An Alternative by Any Other Name: Alternative Comics between the 'Mainstream' and the Avant-Garde, 1976 to the Present," examined the history of "alternative comics," a category roughly comparable to alternative film or music, which combined influences from mainstream superhero, horror and crime comics, the countercultural underground comics of the late sixties and early seventies, and other avant-garde traditions. In 2014, a revised chapter from my dissertation was published in the Journal of Graphic Novels and Comics, and I have plans to publish other chapters from it in the future. My dissertation also raised broader questions about the history of interactions between the avant-garde and popular culture. I wanted to put alternative comics in a broader historical perspective but was confronted by the fact that there are very few studies of this area, and those that do exist are generally focused on one medium, time period, or society. I therefore began studying both the history of interactions between the avant-garde and popular culture and the theoretical models that have been applied to them, and I hope to begin publishing work on these topics in 2015."
---
Carey Watters


Associate Professor
Graphic Design
Email | Personal Web Site | Faculty Profile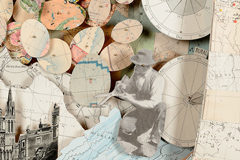 View Work
"A found object can be a mysterious thing. Inherent in every object is a narrative that describes the object itself or the life of the owner. The reality of an object's function is defined by the original owner. Every found object has a story to tell, a story I try to uncover. In my work, the found object is reinvented, and a new narrative is discovered through the manipulation of structure. By investigating sequential design and book structures I create a new way of engaging with an object. A new identity emerges. The users' interaction with the object creates a new history. The lines of function and design are blurred, and as the object is manipulated a new definition appears."
---