Geography and Anthropology
Geography examines the relationship between humans and the environment through field work, laboratory analysis, and literature research. Geographers utilize a variety of tools such as maps, Geographic Information Systems (GIS), Global Positioning Systems (GPS), tree increment borers, densitometers, sling psychrometers, hygrometers, anemometers, and aerial photographs.
Anthropology focuses on cultural and biological adaptations of all humankind, whether past or present. It is the comparative study of human life and culture, past and present. It is concerned with human biological and cultural adaptations to physical and social environments through time and in all parts of the world. The basic themes of anthropology include adaptation, evolution, change, and continuity. Anthropology is marked by specific methods from archaeological digs to ethnographic observation, focusing on systematic observations of how people live with each other, their belief systems, and how they make a living.
A degree in geography prepares you for careers in
Planning
Environmental analysis
Teaching
Soil conservation
Natural resource management
GIS analysis
Geography is an exciting discipline where you have the opportunity to learn about culture and the environment both in and out of the classroom. You might be found coring trees in the forest to explore vegetation and fire dynamics, visiting a local windmill to learn about alternative energy, meandering along a stream to collect data on biological invasion and river channels, digging a soil pit in the prairie to uncover the rich world of the underground, mapping trails or neighborhoods with a GPS unit, geocaching in Petrifying Springs Park, exploring Wisconsin's glacial landscapes, or camping at Devil's Lake.
Geographers answer questions like
Is Wisconsin a good location to utilize wind generated energy?
Are non-native plant species a problem in Wisconsin?
What kinds of alternative energy sources will power our cars in the near future?
How can we better address issues concerning sustainable development?
What causes so much congestion on certain highways?
Where would be a suitable location for developing a bicycle/hiking trail?
How does soil affect the spatial distribution of vegetation?
What are solutions to environment fragmentation/urbanization?
Is it better for cities to expand or densify?
How do fire patterns affect biodiversity?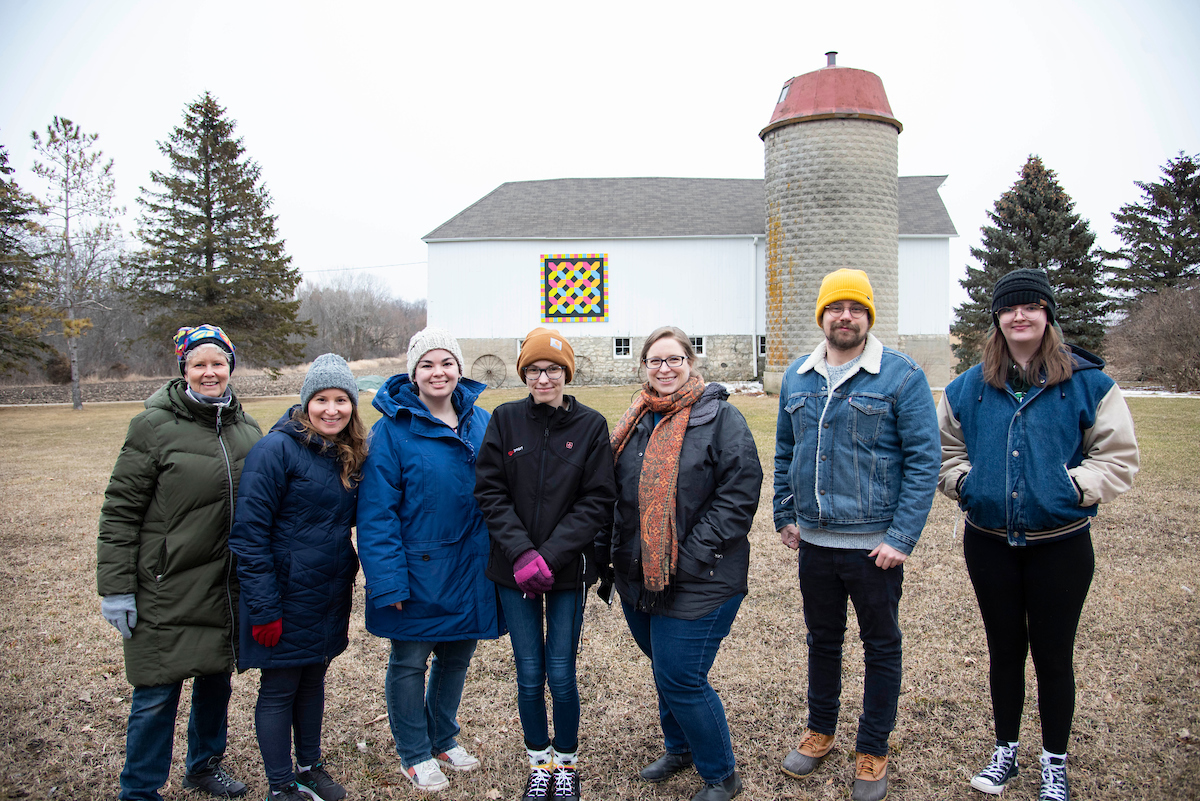 UW-PARKSIDE GEOGRAPHY STUDENTS PARTNER WITH RACINE ARTS COUNCIL FOR QUILTS ON BARNS PROJECT
Also featured on WUWM (Milwaukee's NPR) and received an Outstanding Partnership Award! 
GIS LAB
The University of Wisconsin-Parkside Department of Geography Spatial Data Analysis Lab (aka the GIS Lab, aka the Geography Lab) is located in MOLN 221. We currently have 14 PCs running state-of-the- art Geographic Information Systems, Remote Sensing, and Statistical software packages. The lab is utilized for many of our classes such as Intro to GIS, Advanced GIS, Remote Sensing, Cartography, Geographic Methods, and Landscape Ecology. In addition, you may use the lab for independent studies and class projects.
SOILS LAB
In the soils lab, you conduct research that investigates physical and biological characteristics of soils, delineating soil boundaries, and how soil is influenced by human activities, such as clearcutting, developing, and other disturbances. You will learn about these aspects of soil, and ways to protect, manage, and restore soil qualities for optimal ecosystem function and productivity, in the soil ecosystems and resources course (which is part of the Applied Environmental Geography Concentration). Experience hands-on learning from collecting soil in the field, testing soil samples in the lab, and understanding ways to remediate issues such as soil erosion, drainage, or pollution.
BIOGEOGRAPHY LAB
The biogeography lab involves research in dendrochronology and plant ecology. You will learn about vegetation dynamics such as fire ecology, climatic influences on tree growth, population and age structure, and historical events through the use of tree ring analysis. The lab has a top of the line tree ring bench linked to a computer system and Leica microscopes. It is also equipped with field and lab tools to identify plant species and quantify vegetation in the field. Issues that you would explore in this lab are impacts to biodiversity from non-native species, fragmentation of natural landscapes, or determining current taxonomic classifications. 
Biogeography Courses
Biogeography
Landscape Ecology
Field Methods
Dendrochronology
The courses above are all part of the Applied Environmental Geography Concentration.
Caitlin Curtis, PH.D.
Assistant Professor, Geography and Anthropology Department

Caitlin's research interests include participatory mapping, GIS applications to social questions, cultural heritage studies, and community engagement in heritage management. She received her PhD in Anthropology with specialization in Archaeology in 2017, and her MA in Geography with specialization in Geographic Information Systems (GIS) in 2012. In addition to her longstanding archaeological and heritage research in Turkey, she is also currently developing a heritage research project in Armenia and a community mapping project focused on UNESCO sites in Greenland. She is excited to bring these projects and research interests into the classroom to engage students at the forefront of heritage and GIS.

Kenneth "Kenny" French
Associate Professor, Geography and Anthropology Department

Kathleen "Kate" Gillogly, Ph.D.
Associate Professor, Department of Geography and Anthropology

Originally from the Midwest, Kate Gillogly returned after years living in the South Pacific, Southeast Asia, and Hawaii, working in consulting in applied anthropology of agricultural ecology and international development. She currently lives in Kenosha , focusing on undergraduate education, applied anthropological work in watershed management and environmental activism, as well as writing projects on sustainability, kinship & adaptation, and social structure.

Robert "Bob" Sasso, Ph.D., R.P.A.
Associate Professor of Anthropology
Geography and Anthropology Department

John Ward, Ph.D.
Associate Professor, Department Chair
Geography and Anthropology Department

I am originally from West Virginia and have lived many other places including Maryland, Alabama, Georgia, Arkansas, Washington State, and Scotland before coming to Wisconsin. I received a BS in Anthropology and a MS in Cultural and Environmental Resource Management from Central Washington University. I then received a PhD in Environmental Dynamics from the University of Arkansas. I serve as Director of GIS in the College of Social Sciences and Professional Studies at UW-Parkside.

Dr. Joy Wolf
Professor of Biogeography

Dr. Wolf's research interests include biogeography, soils, and fire ecology in forests, wetlands, and grasslands in Arizona, Colorado and Wisconsin, and bird dynamics in coastal forests in the Pacific Northwest. She teaches Biogeography, Landscape Ecology, Dendrochronology, Soil Ecosystems, Field Methods, Geomorphology, Physical Geography and Natural Resources Management. She is the recipient of the 2017 Chancellor's Award for Teaching and Learning Assessment. She is published in over twenty different journals, including Journal of Applied Ecology, and the Journal of Higher Education Outreach and Engagement.