Leadership and Public Service Applied Skills
The Leadership and Public Service program is a master's degree based on applied skills.

Public and private employers are looking for a workforce that is different from even 10 years ago.  Past work environments emphasized stability, longevity, and content expertise; now the focus is on dynamism, innovation, and functional expertise.  Employees can move quickly to the top, or they can move quickly across companies and careers. 
The most valuable qualities of an employee (for the employee and the employer) are based in leadership.  However, "86% of businesses worldwide say developing new leaders is their organization's #1 challenge—and only 15% are confident in their current leadership pipelines." (Deloitte)
The Leadership and Public Service program will provide you with the skills to excel in your career aspirations.
Explore the skills you will advance in after completing the program.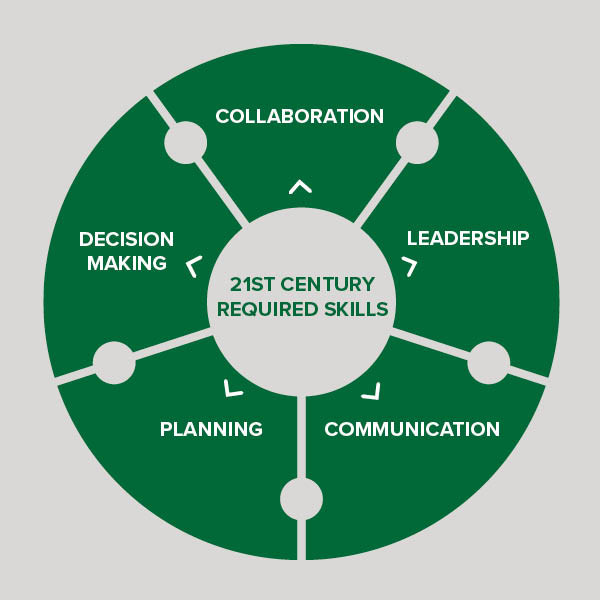 21ST CENTURY REQUIRED SKILLS
Collaboration
COLLABORATION
Apply effective strategies to build government and corporate partnerships to improve public services
COURSE
Public Private Partnerships
MAPS 742
Leadership
LEADERSHIP
Utilize conflict management and resolution strategies for effective leadership
COURSE
Foundations of Public Service
MAPS 720
Communication
COMMUNICATION
Intercultural communication equity and inclusivity
COURSE
Professional Communications
MAPS 703
PLANNING
PLANNING
Use research in program planning
and implementation
COURSE
Advanced Program Evaluation
MAPS 606
Decision Making
DECISION MAKING
Combine creative and critical thinking in program planning and implementation
COURSE
Strategic Decision Making
MAPS 517
MASTER OF ARTS IN APPLIED PROFESSIONAL STUDIES (MAPS)
Develop advanced in-demand skills to meet immediate workplace needs. An Applied Professional Studies degree focuses on industry specific skills that employers are looking for today while combining real-world application. We designed the MAPS program for the working professionals - offering a flexible format, online courses, and affordable opportunity to achieve your professional and personal goals that align with potential for career advancement and upskilling needs.
Begin exploring your path in the UW-Parkside Leadership and Public Service degree program. Schedule a phone conference or virtual meeting by emailing or calling Denise.
MAPS PROGRAM CONTACT INFO
Denise Olstinske  |  262-595-2162  | denise.olstinske@uwp.edu