Leadership and Public Service | ROI
The Leadership and Public Services graduate degree is AFFORDABLE!  You are a smart consumer, compare the cost of the graduate degree to the amount of the expected salary increase.  The average cost of a master's degree in the U.S. begins at $30,000 to $40,000.
LEADERSHIP AND PUBLIC SERVICES GRADUATE PROGRAM IS 43% LESS THAN THE NATIONAL AVERAGE!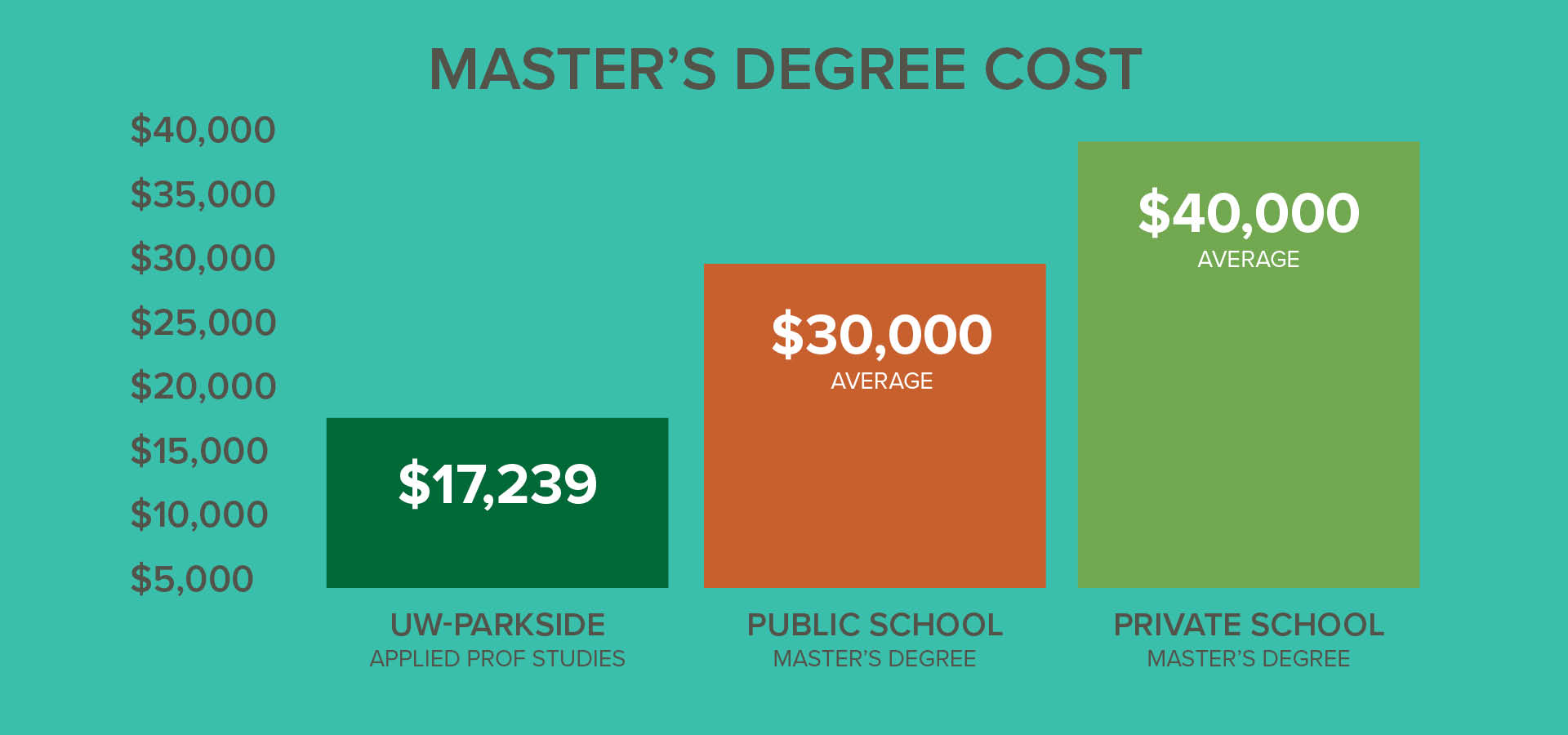 TUITION RATES
With tuition rates that are among the lowest in the University of Wisconsin System (and 43% lower than the national average), we offer you a quality graduate education that is accessible and affordable. It's all part of the Parkside experience!
Financial aid may also be available to you, please complete the free application for Federal Student Aid (FAFSA). To send your FAFSA results to UW-Parkside, simply enter the Parkside school code: 005015. You can also learn about financial aid eligibility requirements for "Second Degree Students" –meaning those with a prior Parkside or other degree. More information about the financial aid process is available on our financial aid webpage. And you can check out costs for residents and nonresidents students on our graduate tuition and fees page.
MASTER OF ARTS IN APPLIED PROFESSIONAL STUDIES (MAPS)
Develop advanced in-demand skills to meet immediate workplace needs. An Applied Professional Studies degree focuses on industry specific skills that employers are looking for today while combining real-world application. We designed the MAPS program for the working professionals - offering a flexible format, online courses, and affordable opportunity to achieve your professional and personal goals that align with potential for career advancement and upskilling needs.
Begin exploring your path in the UW-Parkside Leadership and Public Service degree program. Schedule a phone conference or virtual meeting by emailing or calling Denise.
MAPS PROGRAM CONTACT INFO
Denise Olstinske  |  262-595-2162  | denise.olstinske@uwp.edu