Reporting Sexual Misconduct
The University of Wisconsin-Parkside is committed to maintaining an educational environment that is conducive to academic success and personal growth. While we hope that no member of our campus community (student, faculty, staff, or guest) ever experiences an act of violence, it is important to know how to report such an incident and what resources are available for support. 
Reports of sexual misconduct (sexual assault, sexual harassment, dating/domestic violence, or stalking) may be made to the Title IX Coordinator, Dean of Students Office, and/or the University Police. To file a report with the Title IX Coordinator, you may contact the office directly at 262-595-2399 or complete the online Sexual Assault Reporting Form. To file a report with the police, you may contact the UW-Parkside Police Department at (262) 595-2455 (if the incident took place off-campus, the UW-Parkside Police will assist in connecting you with the appropriate law enforcement agency). 
Students living on-campus who report incidents of sexual misconduct to a Residence Life staff member (Resident Assistant, Hall Manager, Residence Life Office staff, Custodian/Maintenance staff) will be assisted in contacting the Title IX Coordinator and/or the University Police Department.
Most UW-Parkside staff members are required to report any known cases of sexual assault to the Title IX Coordinator. Confidential resources can be accessed through the Student Health and Counseling Center. You can make an appointment by calling (262) 595-2366. Community 24-hour Crisis Lines are also available (see Quick Links). 
Please contact the University Title IX Coordinator at 262-595-2399 or patterst@uwp.edu if you have any questions about sexual misconduct reporting requirements or procedures.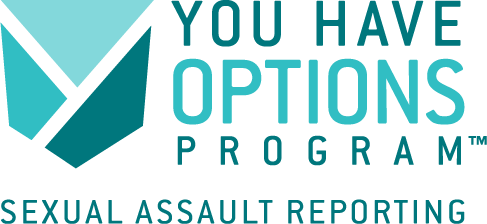 UW-Parkside Police Department is a certified agency in the You Have Options Program, a nationwide effort focused on changing how law enforcement responds to sexual violence.
To read more about the You Have Options Program or to file a report with UW-Parkside Police Department visit: