UW-Parkside Honors Eight at Distinguished Alumni Awards
Published: May 24, 2018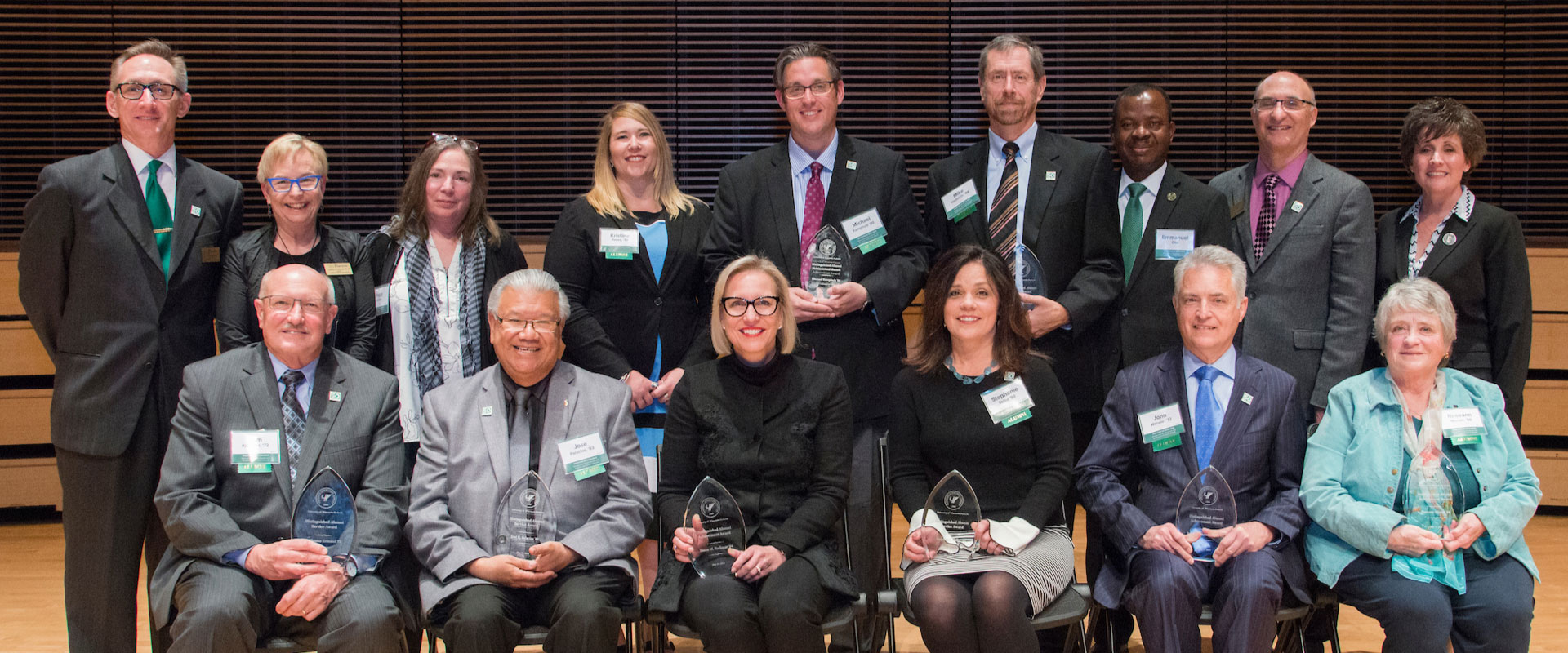 On Friday, May 11, UW-Parkside celebrated its rich legacy of learning and the many accomplishments of our graduates with the Traditions of Excellence Distinguished Alumni Awards event. The university honored eight alumni in the categories of Achievement and Service, recognizing alumni who excel in their chosen field and/or provide exemplary service to the community.
The event was held in the Frances Bedford Concert Hall as a kick-off to the spring commencement weekend. Honorees and their guests enjoyed a reception before the ceremony and were joined by the students receiving the Academic Achievement Awards for a dinner afterwards.
Chancellor Debbie Ford presided over the event. "It is a testament to what we do at UW-Parkside, that each of you has taken advantage of the higher education you received as a foundation for the wonderful accomplishments in your lives and careers," Ford said during her remarks.
This year's distinguished alumni class are some of the many the doctors, educators, philanthropists, and community advocates who demonstrate the power of a UW-Parkside education.
John Jaraczewski, Assistant Chancellor for University Advancement, said the Distinguished Alumni class is a "wonderful representation of the meaningful difference our alumni make in the lives of others."
The 2018 recipients demonstrate the university's impact on the region, as approximately 70 percent of UW-Parkside alumni continue to work and reside in southeastern Wisconsin and northern Illinois following graduation. Award recipients also evidence the nationally-recognized accomplishments of UW-Parkside alumni.
The 2018 recipients are: Mr. Michael P. Haubrich '88; Michael Kamphuis '00; J. Thomas Krimmel '72; Roseann Mason '86; Mr. José R. Palacios '83; Susan (Hilmer) Podlogar '84; Stephanie Sklba '90; John M. Werwie, DDS '72.
To learn more about the honorees and award process, visit www.uwp.edu/traditions
About the Distinguished Alumni Awards
Honorees are selected by committees of UW-Parkside faculty, staff, alumni, and advisory board members who read recommendations submitted during the year-round nomination process. 
Nominations are accepted throughout the year and award recipients are selected each spring. Nominees must have earned a bachelor's or master's degree from UW-Parkside, and are considered based on criteria for the Achievement Award or Service Award.