UW-Parkside Kicks off Fall 2022 Semester with Convocation
Published: September 1, 2022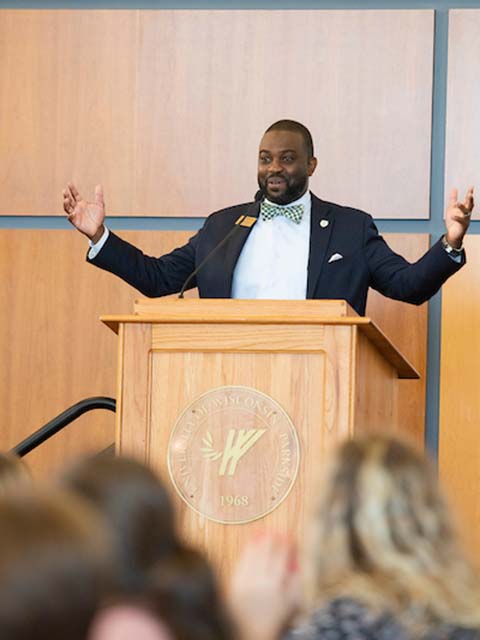 UW-Parkside kicked-off the Fall 2022 semester with enthusiasm and passion with an in-person and virtual convocation ceremony, on Wednesday, Aug. 31 in the Student Center Ballroom. Vice Chancellor for University Advancement Willie Jude II served as the emcee and energized the crowd with his witt and energy. This was UW-Parkside's first in-person convocation since the onset of the COVID-19 pandemic.
Faculty and Staff Awards
The Faculty and Staff Awards were presented by members of the Chancellor's Cabinet. Chancellor Ford awaited the recipients on stage to present them with their plaque, congratulate them on their achievements, and thank them for their service to the university.
Our faculty and staff awards honor colleagues for their research and creativity, their excellence in the classroom, and exemplary service to our students, our university, and our community. The awards included two brand new Faculty and Staff awards: the Early Career Excellence in Teaching Award and the Early Career Excellence in Research and Creative Activity Award.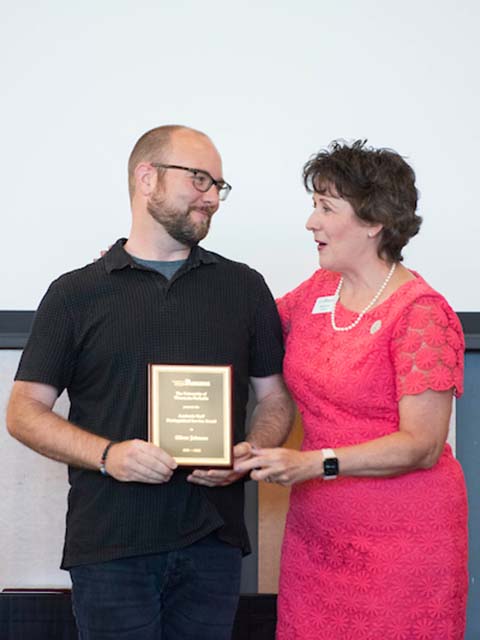 Academic Staff Distinguished Service Award - Oliver Johnson
University Staff Distinguished Service Award - April Puryear and Janine Chiaverotti
Faculty Distinguished Service Award - Theresa Castor
Excellence in Advising Award -  Katie Abbott
Community Engaged Learning and Research Award- Penny Lyter
Excellence in Research and Creative Activity Award – Hom Kandel
Early Career Excellence in Teaching Award- Madhumita Banerjee
Early Career Excellence in Research and Creative Activity Award- Meredith McGinley
Stella C. Gray Teaching Excellence Awards - Lisa Marie Barber and David Higgs
Learn more about the Faculty and Staff award winners here.
Human Resources Update
Dr. Sheronda Glass gave updates on recruitment and retention, culture and climate, and the Employee Assistance Program – KEPRO.
Glass highlighted volunteer opportunities for administration at Schools of Hope, Readers are Leaders, and the Jockey Mentoring Program. She announced the Benefits Fair on Sept. 26, from 11 a.m.-2 p.m. in the Ballroom. For more information, click here.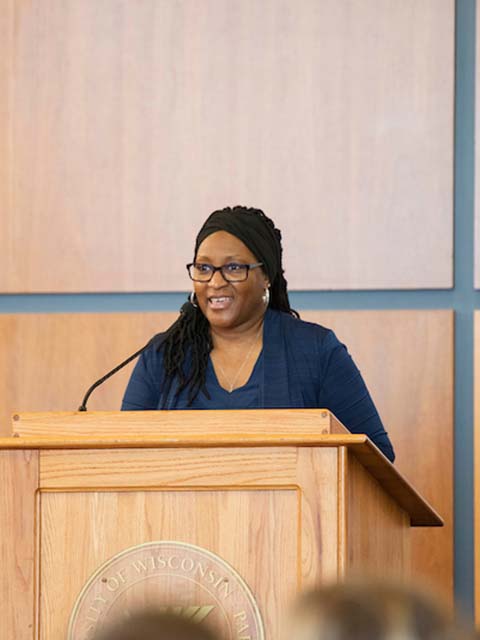 Glass showed a slide show from the employee engagement events from the past year and encouraged employees to visit the Employee Engagement page for upcoming events.
Student Affairs and Enrollment Services Update
Vice Provost for Student Affairs and Enrollment Services Tammy McGuckin took the stage to give updates on student affairs and enrollment services.
McGuckin highlighted many exciting programs and initiatives at UW-Parkside including the Callahan Scholars. She shared a video featuring a Callahan Scholar student, viewed by the Board of Regents at their August meeting. Watch the video here.
She concluded by speaking on the of "the village approach" and importance of engagement and collaboration and recognizing the unique and essential contributions of every member of our organization.
Student Success and Enrollment Initiatives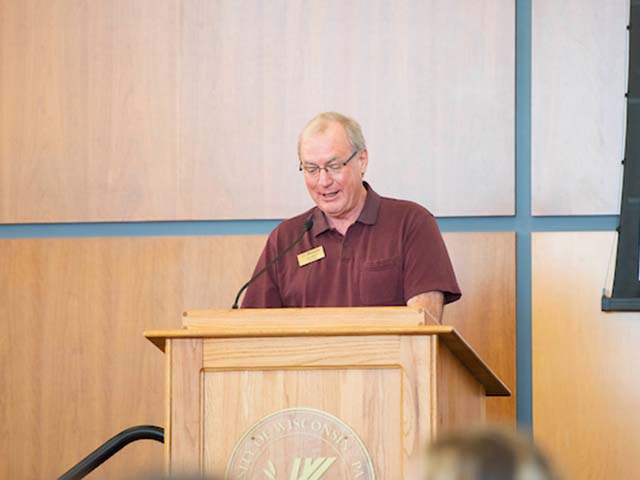 UW-Parkside's focus on student success is at the forefront of everything we do. Vice Provost for Academic Affairs, Dr. Gary Wood disscussed some of the student success programs and initiatives that we have employed in recent years. He listed the Academic Plan, HERA Goals, and Moon Shot for Equity as specific plans to help all of our students succeed.
Wood touted the 15 to Finish program as being an importnat factor in the improvement of new students completed at least 30 credits in the first year from 32% in 2016 to 48% in 2020. Another program, Math Pathways, has improved the number of new students who completed a credit-bearing math class to 80% in 2022 compared to an historical average of 65%. Early Alerts has also proven to improve student success. Students with resolved cases were retained at 81% from 2021 to 2022 and experienced a higher grade increase from midterm to final.
Additional successes included:
ReUp – A partnership with ReUp has resulted in the reenrollment of more than 170 students and16 new graduates.
Success Coaches – A $1.8M Title III grant has funded 5 success coaches to work with new first year and transfer students.
Registration Holds – 91 holds that were preventing students from registering have been eliminated.
Graduation Rate – The six-year graduation rate has increased from 24% for the 2010 cohort to 42% for the 2015 cohort.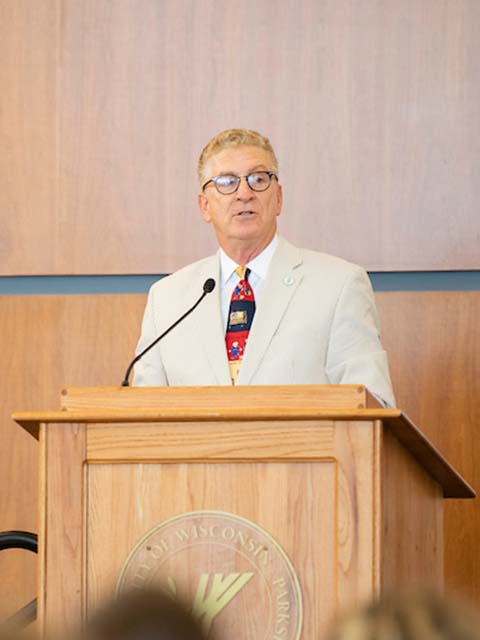 Provost Academic and Student Affairs Plan 25 Report
Provost-Vice Chancellor for Academic and Student Affairs, Dr. Rob Ducoffe, presented about the Academic and Student Affairs Plan 2025 (ASAP) and our recent successes.
UW-Parkside continues to set historic records for the number of graduates and student success. UW-Parkside was reclassified as a Medium Master's College/University and its master's population was recognized as one of ten fastest-growing in the nation among small colleges/universities.
UW-Parkside was also recognized by the American Association of State Colleges and Universities (AASCU) as the winner of its 2022 Excellence and Innovation Award for Student Success and College Completion.
Ducoffe emphasized our success, but acknowledged our commitment to continual improvement and stressed our efforts to improve graduation rates, eliminate equity gaps, reverse undergraduate enrollment decline, breathe new life into the undergraduate experience. He also emphasized the need to better understand, support, and energize our campus community, and seek more equity, diversity, inclusivity, and justice in everything we do.
Finance and Administartion Update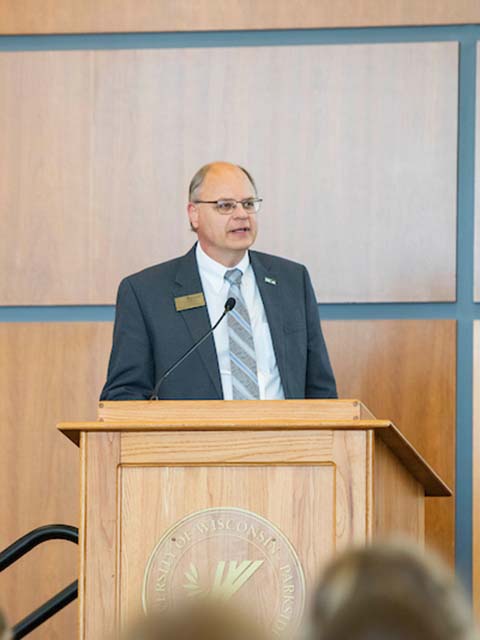 Vice Chancellor for Finance and Administration Scott Menke spoke about tuition trends and enrollment diversification, highlighting the recent growth of our online MBA program. He also provided an update about the over $61 million of capital projects that have been initiated or in-process since 2020. Menke explained the over $200 million capital planning request for next six years as well.
He concluded by listing some key elements of the Proposed UW System Biennial Budget Request:
4% increase each year of the biennium for operational costs ($115.0 million)
Fully support a 4% pay plan increase in each year of the biennium ($123.1 million)
Fund year two of the biennium for the Wisconsin Tuition Promise ($24.5 million)
Athletics Update
The past year has been a very busy and productive one for the Athletics Department as well. Director of Athletics Andrew Gavin shared the exciting Multi-Year Partnership with Jockey, marked by the unveiling of the renamed Jockey Sports Performance Center as well as updates to De Simone Arena.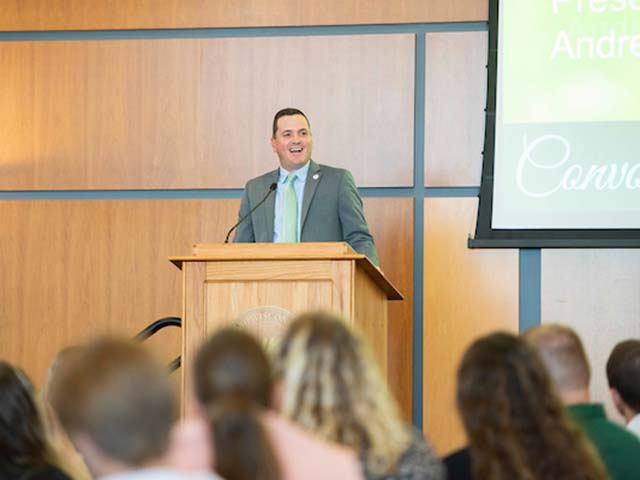 Justice, Equity, Diversity, Inclusion
The Office of Equity, Diversity and Inclusion was also present to give an update on their important work. Dr. Amber Handy, Associate Vice Provost for the Center for Excellence in Inclusive Teaching, and Trina Patterson, Learning and Diversity, Equity and Inclusion Student Services Manager, gave an overview and informed the campus community how they could get involved, including an informal conversation about Justice, Equity, Diversity, & Inclusion on Thursday, Sept. 1 from 2-3 p.m. in Wyllie L247. 
Other important programs they'vce started in the past year include:
So, Let's Talk: uwp.edu/edi
Multifaith Religious & Spiritual Observances Calendar
NSF Inclusive STEM Teaching Learning Community
Workshops, Learning Communities, and Brown Bags
Chancellor's Updates 
Chancellor Ford concluded the event by emphasizing UW-Parkside's Bold Goal to increase graduates by 50 percent. She also listed UW-Parkside's Four Guiding Priorities of the 2025 Strategic Framework, shaping the development and implementation of strategies to help us achieve our Bold Goal:
Provide a transformative education
Continuously improve student success
Partner with our communities
Be a "Best Place to Work" in southeast Wisconsin
Upcoming Events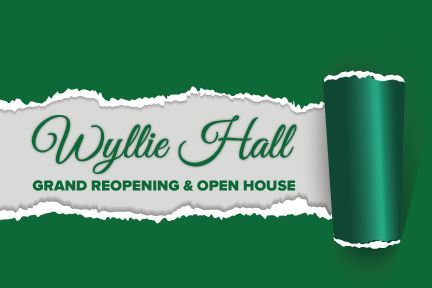 UW-Parkside is excited to start welcoming back students and we are excited for the many exciting upcoming events:
Wyllie Grand Reopening & Open House |Thursday, Sept. 15, 4-6 p.m. | Wyllie Hall Main Place 
Parkside Employee Alumni Group/Faculty/ Staff/ Alumni Mixer | Wednesday, Sept. 21, 4:30-6:30 p.m. | Biergarten, Petrifying Springs Park
CNHS Alumni & Community Event|Tuesday, Oct. 11, 5-8 p.m. | Student Center Ballroom 
OMSA 40th Anniversary Event| Thursday, Oct. 27, 4-8 p.m. | Callahan Family Student Success and Learning Commons
Distinguished Alumni Awards 40th Anniversary Event | Friday, Oct. 28| 4-9 p.m.
Homecoming Week | Oct. 24-29 | UW-Parkside
Special Thanks
Special thanks to our dining services partner Aladdin, John Nicholds and his team for a delicious breakfast. Thank you to Dennis Casey and the Student Center Team for preparing the Ballroom and facilities for the event. And a big thank you to the Chancellor's Executive Assistant Rachel Steveneson for spearheading the event and coordinationg between all the necessary assets.
Thanks also to the Student Center staff, Creative Services, Marketing and Communication, Parkside Athletics, University Advancement, and the Chancellor's Office for making this event something we enjoy and look forward to each year. Thank you to Alvaro Garcia and the Digital Media and Production Team for making livestreaming possible this year.