Outstanding Graduates Spring 2023
Published: May 1, 2023
By:

UW-Parkside Communications
Chancellor's Award


Gabrielle Richardson | Criminal Justice and Spanish
Gabrielle Richardson majored in Criminal justice and Spanish as well as minoring in Biological Sciences. Her drive, pursuit of excellence in coursework, and her desire to help others in the community set her apart. Gabrielle's goal is to become a doctor in a rural area.
She entered the Big Idea Tournament and won both the UW-Parkside competition and the state-wide competition, the first UW-Parkside student to do so. Her product, LinguaMD, is a collaborative project with the App Factory that helps patients understand their diagnosis and treatment through verbal, written, and visual explanations. Gabrielle has also co-authored three publications and presented her research multiple times.
Gabrielle helped establish the Spanish Language and Culture Club and was also accepted into the University of Wisconsin-Madison Rural and Urban Scholars Program (RUSCH), a pre-medical pipeline program. Gabrielle volunteers in a free clinic, is a licensed EMT, and has recently been accepted to medical school.
Congratulations, Gabrielle!
---
Outstanding Graduates – alphabetical order 


Alice Brecheisen | Liberal Studies 
Alice Brecheisen is a Liberal Studies major known for her perseverance, academic performance, and leadership. She always wanted to earn her college diploma, and after fifty years, Alice is proud to finally hold it in her hands.
During her 34-year work career, Alice's outstanding performance earned her recognition and promotions. She started as a bookkeeper and eventually became the head of accounting. Alice took notice of issues around her and spearheaded the creation of the business' first HR handbook to help create a better environment for all. Alice later became a plant manager for a global computer science corporation.
Later in her work-life, Alice became an entrepreneur, co-owning and co-managing a bed and breakfast for 10 years. Alice also created an informational website on Progressive Supranuclear Palsy. This project was inspired by the memory of her late husband.
Congratulations, Alice!
---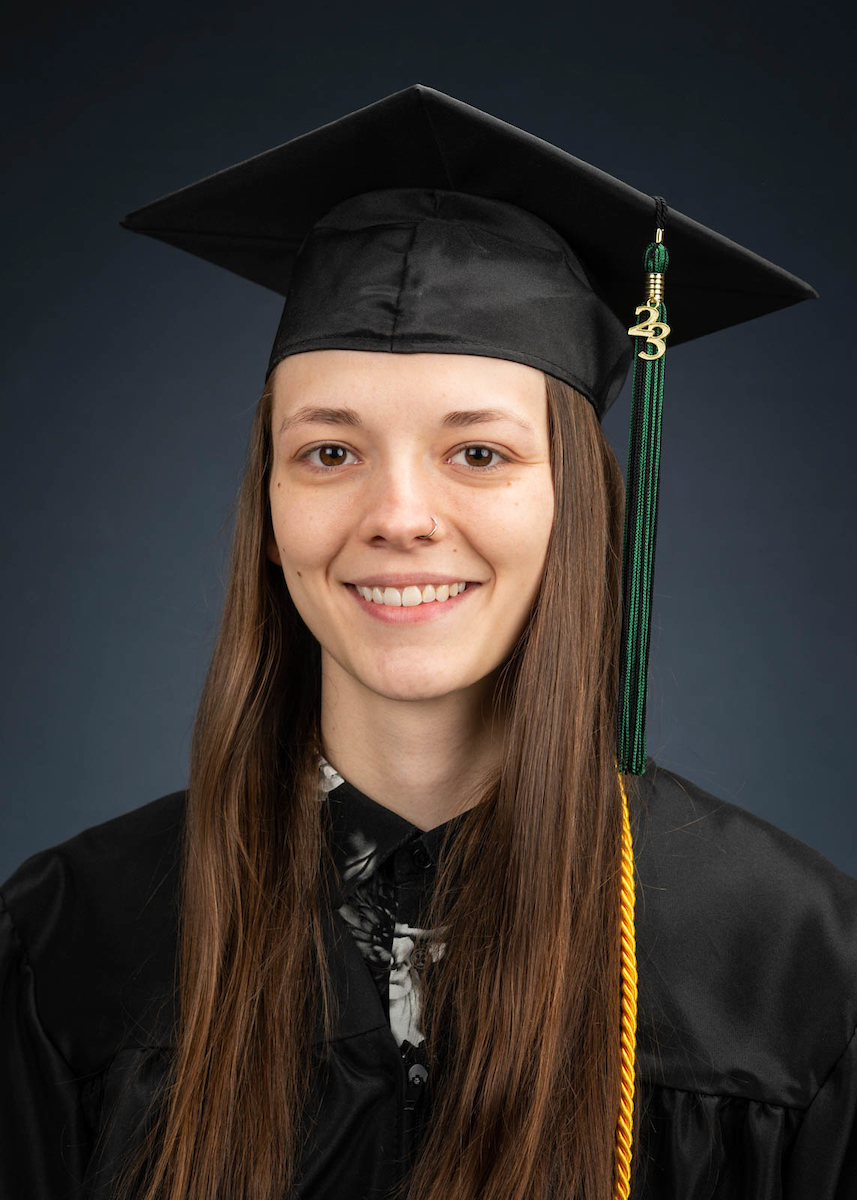 Jaide Brumfield | Sociology and Criminal Justice
Jaide Brumfield is a sociology and criminal justice double major. She is exceptionally hardworking and demonstrates a sincerity of effort that speaks highly of her dedication and commitment to learning.
Jaide exhibits qualities of an eager learner, asks thoughtful questions, takes initiative and demonstrates leadership. She takes the initiative to connect with her fellow classmates and always lends a helping hand.
Jaide has an exemplary work ethic and worked 45 to 60 hours per week as a tire technician and as a success coach with PARC, while taking 15 to 18 credits every semester. She has served on the CSSPS Innovation Task Force and the Gender Identity Taskforce. She regularly performs community service and volunteers many hours at the Shalom Center. She is involved with the Parkside Environmental Club and played a significant role in the Root River Clean up.
Congratulations, Jaide!
---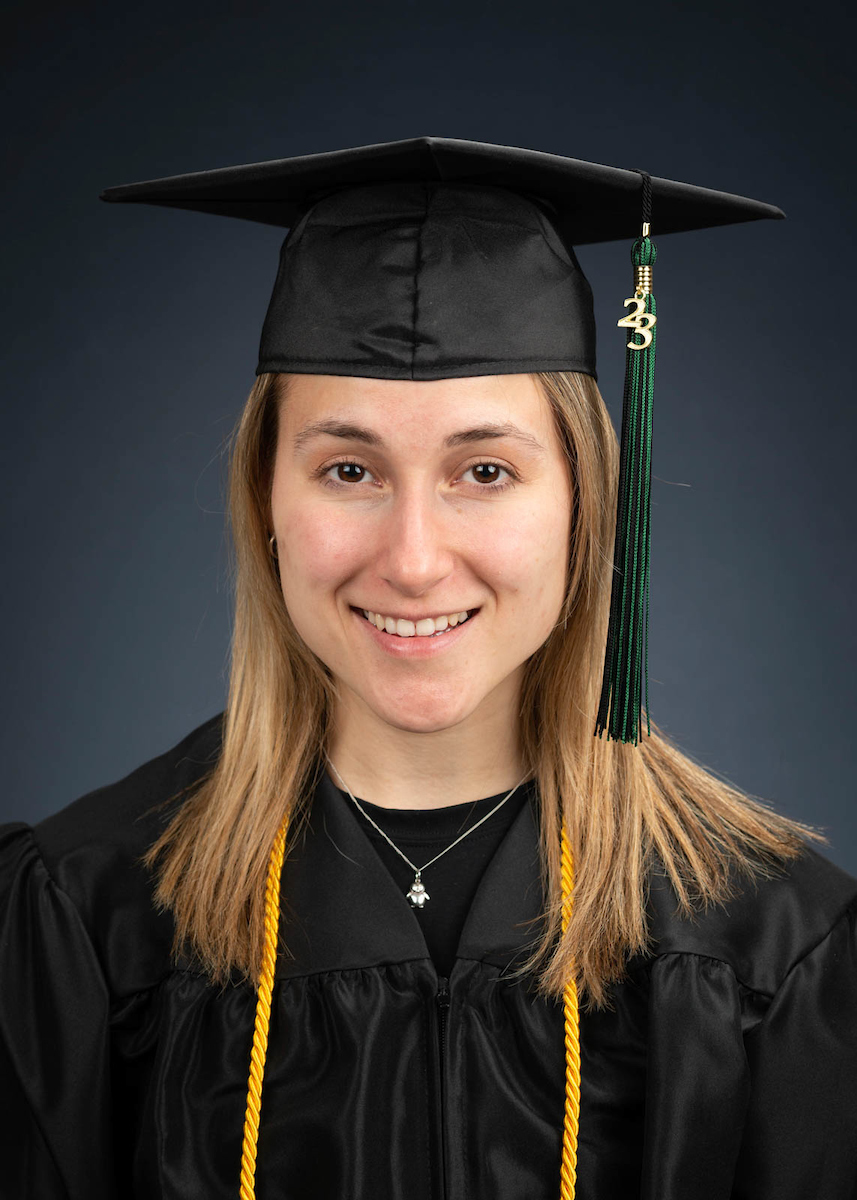 Lamija Coric | Biological Sciences 
Lamija Coric majored in Biological Sciences with a minor in Mathematics. She is an extraordinarily kind and humble person and positively effects everyone else she meets.
A Bosnian refugee, Lamija moved to Sweden with her family at a young age. She came to the U.S. to pursue her dream of attending college (and ultimately medical school) and becoming a college athlete. As a student athlete, Lamija has been instrumental to the success of the women's basketball team. As a tutor for the Parkside Academic Resource Center, she has supported the academic success of students.
Lamija has accumulated exceptional medical and research experience in support of her career goal of becoming an M.D. She completed two summer internships in surgery and pediatrics in Sweden and gained valuable hands-on experience assisting with breast cancer surgeries and neonatal and infant exams and care.
Congratulations, Lamija!
---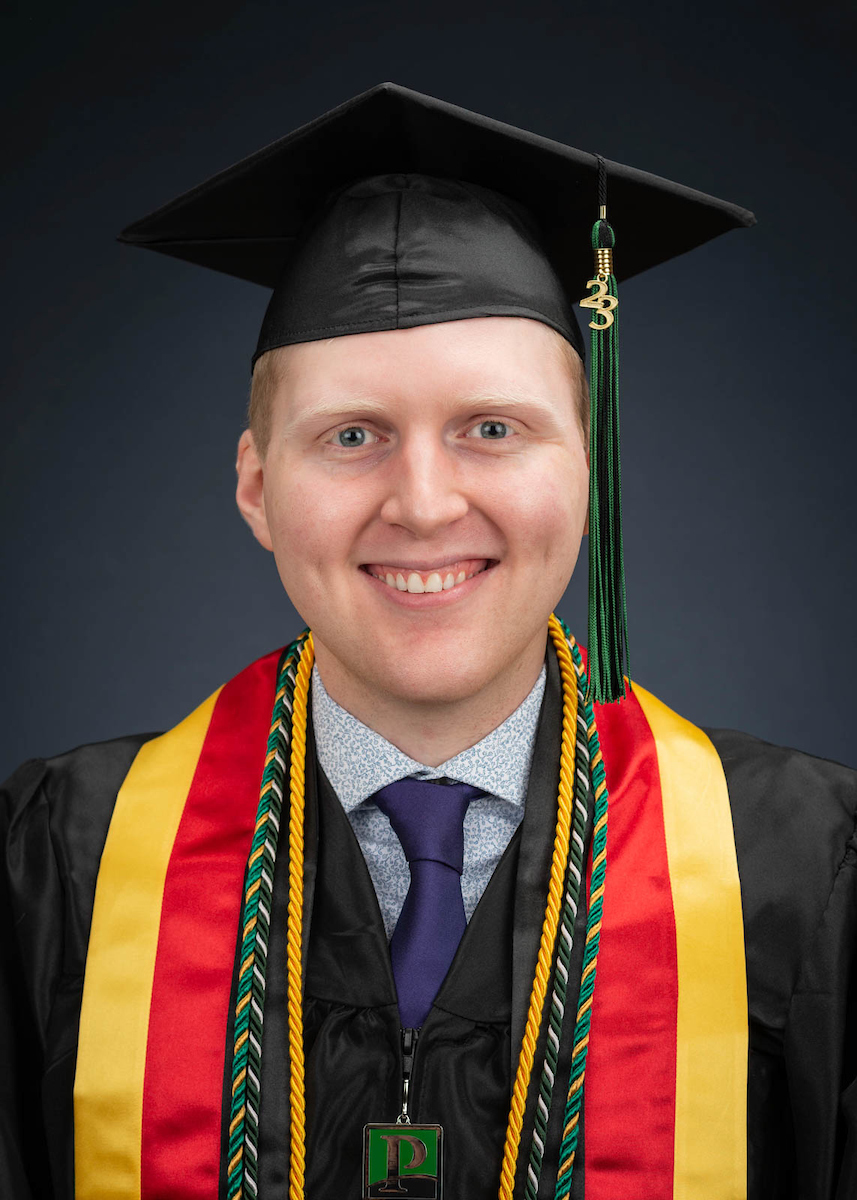 Colin Erickson | Philosophy and Political Science
Colin Erickson is graduating with majors in Philosophy and Political science. Throughout his studies, Mr. Erickson has maintained a very high GPA every single semester.
Colin was UW-Parkside's nominee for the UW-Parkside position of Student Regent within the UW System board of regents. Colin was also selected by the U.S. Department of State's Bureau of Educational and Cultural Affairs as a recipient of the Gilman HE Scholarship to study in Germany.
While in Germany, Colin volunteered at Lilli Nielsen Schule, a special needs school for children with physical impairments and learning difficulties or cognitive challenges. He spent 9 months in Germany and returned to UW-Parkside with unique perspectives on politics and international affairs.
Colin has also been involved in student affairs and helped establish a multi-purpose, podcast-oriented studio available for all students. Colin has been an active defender of students' rights and interests.
Congratulations, Colin!
---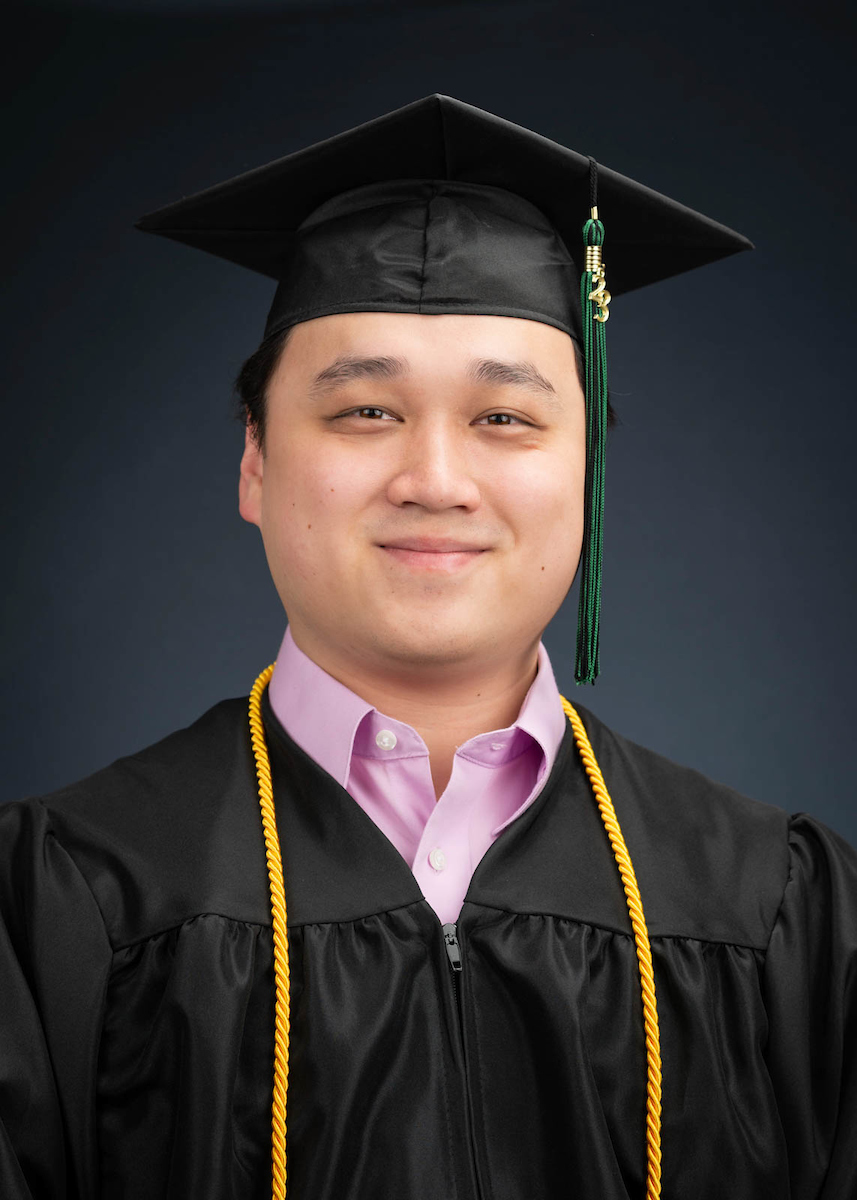 Jeremy Jin | Biological Sciences
Yincheng (Jeremy) Jin majored in Biological Sciences. In addition to being an exceptional student, researcher, and tutor, Jeremy is an exceptionally kind individual.
He has presented research at the annual meeting of the Association for Psychological Science, the largest association of research psychologists in the world. Jeremy also presented this work at the University of Wisconsin System Research Symposium and Research in the Rotunda. He is a co-author on 3 professional presentations and presented at the NCUR.
Jeremy also conducted molecular biology research. He was a regular recipient of the Undergraduate Research Apprenticeship Program award and received the prestigious Wallen fellowship. Jeremy has also taken a 400-level Psychology Research seminar course and even earned the Certificate in Psychological Research.
Congratulations, Jeremy!
---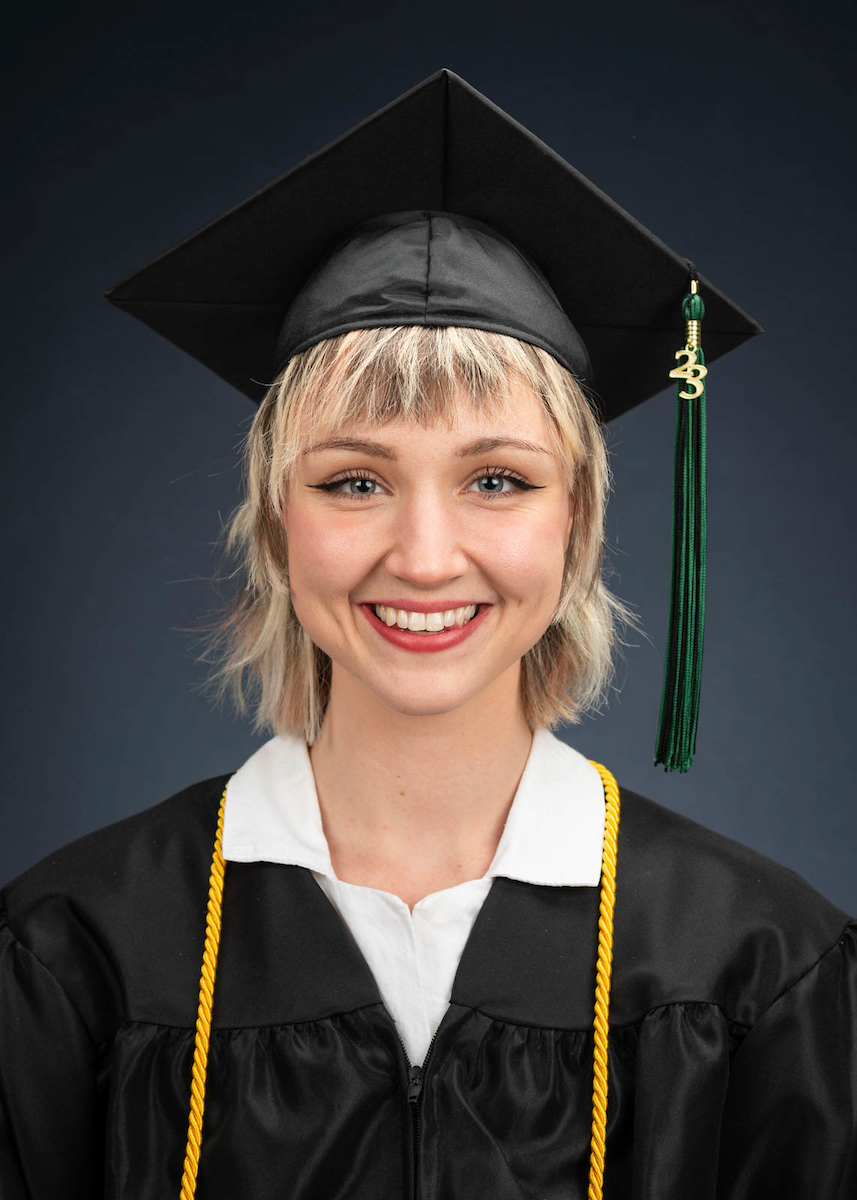 Julia Jones | Physics
Julia Jones is earning a major in Physics with minors in Biological Sciences and Computer Sciences. She has demonstrated outstanding achievements in academic performance, leadership, and extracurricular activities.
She presented her research at three national or international physics conferences and four statewide and local conferences and symposiums. Julia was the first-place winner of the WiSys statewide Research Competition in 2021 as well as the first-place winner and the statewide finalist of the WiSys Quick Pitch Competition also in 2021. She has contributed to multiple publications and was very active on campus.
She has served as a Lab Research Assistant, a Co-President and peer mentor of AssistSTEM, been a member of the Dean's Student Advisory Council President, a Tutor at the PARC, the Environmental Club Secretary, and a member of the Physics Club E-board.
Congratulations, Julia!
---
Briana Livesay | Theatre Arts and English
Briana Livesay is graduating as a double major in Theatre Arts and English. Briana has spent her time at UW-Parkside finding her voice and using it for the benefit of herself and others.
Briana has excelled as a Theatre Arts major. Her work has been recognized at the Kennedy Center American College Theatre Festival, Region 3, Irene Ryan Acting Scholarship Competition where she was earned the Best Classical Acting Award. Briana will teach theatre to children in Milwaukee and will teach them how to strive to be their best selves and how to utilize their voices.
She is also a gifted writer and communicator. Her paper on the institution of marriage in Shakespeare's plays earned her a Teresa Peck Gender Studies Award.
Briana also works as a daycare worker, serves as a writing tutor for the Parkside Academic Resource Center, and was the Managing Editor and Associate Poetry Editor for Straylight.
Congratulations, Briana!
---
Amber Milojevic | Master of Business Administration 
Amber Milojevic is earning her (online) M.B.A. She is currently working as a senior purchasing analyst at AbbVie. She supports contracting requests and negotiates and creates contracts based on the company's guidelines, procedures, and strategies.
Amber graduated from UW-Parkside in 2010 with a B.S. in Business Management with a concentration in Human Resource Management. While obtaining her bachelor's degree, she worked full-time in customer service. Over the years, she has held positions in vendor, contract and project management in companies such as Uline, Baxter Health Care, Catalyst Exhibits, Kelly OCG, and VW Credit.
She excels in managing multiple projects concurrently and exhibits a strong work ethic. She is results-driven and a team player with strong business acumen and experience with leading projects. She also excels in interpersonal, written, and verbal communication skills. She also has a Lean Champion Certification.
Congratulations, Amber!
---