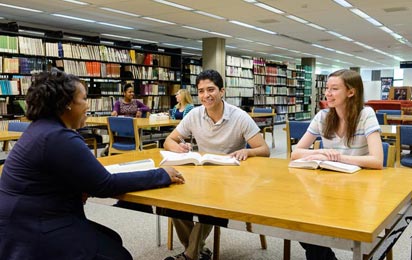 About the English Major at UW-Parkside
The English major is designed to suit the needs of UW-Parkside's heterogeneous population of traditional and non-traditional-aged students and their varied career paths and goals. Often combined with other majors and minors, it can become a valuable tool for students to achieve a traditional liberal arts education, helping them acquire a broad view of human experience, a critical approach to cultural traditions, and more complete self-understanding.
Each of its three concentrations, while offering a solid grounding in literature and communication skills, emphasizes a distinct area of expertise and understanding that has real world applications.

The English Major allows students to take both literature and writing courses. It is a solid liberal arts major that provides students to hone their reading and writing skills. It is particularly appropriate for those planning further graduate or professional study or literary careers, and offers the opportunity to explore the traditions of British and American literature in depth.
The English Language Arts Major focuses on the needs of educators, fulfilling the state of Wisconsin Department of Public Instruction requirements for teacher training. This major, together with certification via IPED (the Institute for Professional Educator Development), prepares the candidate for teaching at the middle and high school level. Those who want to teach at the elementary level, should major in Elementary Education and pursue an English minor.

The department's active Tau Psi chapter of Sigma Tau Delta, the national English Honor Society, encourages real world interaction between students and local business community. 
The English Minor
Students who desire to take a substantial number of courses in English but who do not intend to major in the subject should consider the English minor. The minor provides a foundation for further study in English and the liberal arts, and serves as a useful concentration for students planning to enter professional fields. Students who want to teach at the elementary level can also pursue an English minor along with their Elementary Education program. 
The Certificate Programs
The Creative Writing Certificate
The UW-Parkside English department offers a certificate in creative writing comprised of eighteen credits that include introductory and advanced courses in fiction writing, poetry writing, and expository writing. The creative writing certificate culminates in a capstone project made up of a significant body of work. The certificate is open to degree-seeking students of all majors as well as non-degree-seeking students. Whether students wish to jump-start a novel, or create a strong writing sample for a graduate school application, courses for the UW-Parkside English department's creative writing certificate are available now.

The Professional Writing Certificate
Degree-seeking and non-degree-seeking students who want to improve their writing for career enhancement, but do not intend to major or minor in English, should consider the professional writing certificate, which consists of 15 credits.  
The Film Studies Certificate
Offered through the English Department and Humanities Program, the film studies certificate allows students to obtain an interdisciplinary concentration in film studies. All students awarded the film studies certificate must demonstrate a comprehensive understanding of the history of film across numerous cultures, genres, and movements, as well as the major features of film study and analysis. Additionally, students must complete 15 credit hours of course work in classes with a substantial film component, participate in the film studies certificate presentation/discussion, and maintain a GPA of 3.0 or higher in all film certificate courses.