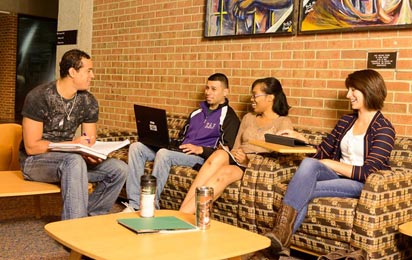 Internship Information
Students in the writing concentration are required to complete a writing and editing internship. Internships allow students to investigate potential careers, to gain experience in the professional field, and to build a network of contacts. A variety of possibilities exist for students seeking internships; some of these opportunities include working for the following organizations:
Straylight
The Ranger News
Taste of Home Magazine
The Literacy Council of Racine
The Literacy Council of Kenosha
The Urban League of Racine and Kenosha
The Scholastic Writing Competition
Many students craft their own internships by asking their employers if they have need for writing and editing services. Some students approach their favorite organizations on campus, their department chairs, or a trusted faculty member for ideas; additionally, visiting the Advising Center to create a RangerTrak account is helpful in connecting students with businesses seeking interns. Students who are prepared to establish an internship should contact their advisors in the English department to complete the necessary forms.
Here is what a few students had to say about their internship experiences:
"Working for Milwaukee's Pridefest was an enriching by delving into a phenomenal, diverse culture.  I made marketing material necessary to promote the three-day event, as well as, made necessary signs for the grounds to inform patrons of the entertainers throughout the weekend."
~ Charlie Erdall
"I interned with a local newspaper from which I gained real work experience as well as improved my writing skills that will be beneficial to me in my future endeavors."
~ Caitlin Kwasigroch
"The Urban League of Racine and Kenosha, an affiliate of the National Urban League, assists African Americans and other disadvantaged groups through various community based programs. Potential experience includes work with editing, proofreading, fact checking, document design, brochures, flyers, and event planning."
~ Ken Cornell
"I took the opportunity to combine two interests of mine--sports and writing--to complete my writing internship with the University of Wisconsin-Parkside's Sports Information Director. My experience creating game programs, developing game recaps and analyzing individual and team statistics has prepared me for my future career."
~ Meredith Novak