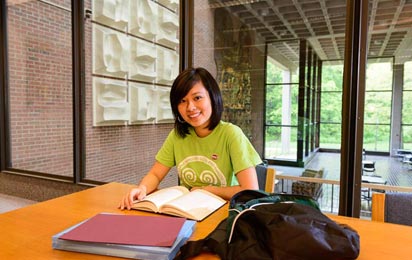 Advisee Tips
Obtaining an Advisor
Upon declaring an English major, students are assigned an appropriate advisor dependent on their type of major.  Students are allowed to request a specific advisor if they so desire. Prior to each semester's registration, each student is obligated to meet with this advisor, during which time the student's Solar registration-hold (or "flag") is lifted. While all advisors are equipped with the tools to assist students in planning their academic careers, professors with experience in a student's particular area of interest may be able to provide more advice and opportunity for internships, independent studies, and project development. 
Academic Planning
It is invaluable for each advisee to be well-informed in graduation and degree requirements. Tools each student should consider utilizing are as follows:
Degree, minor, and certificate requirements – This form lists all necessary classes for each degree, minor, and certificate our department currently offers.

Breadth of knowledge requirements – Also known as "The Green Sheet," this form details the general education requirements each student must complete to be eligible to attain any degree from the university.

The English Catalog – All degrees, minors, and certificates are explained in this catalog. This document is also important for long-term planning (please note that some classes are only offered during certain semesters and should thus be planned for accordingly).
Students should ideally aim to be self-sufficient in planning their academic careers; however, the department is more than happy to provide assistance.
Preparing for an Advising Session
Prior to meeting with a professor, an advisee should print/update his or her own documents (such as the two aforementioned forms) and generate a tentative schedule for the upcoming semester.  After the student's first year, it is also a good idea to obtain a fresh copy of his or her DARS report from the Advising Center (located at Wyllie D175) to verify classes completed and classes needed. 
Preparing your documents and inquiries prior to the meeting will ensure a more efficacious appointment; after all, while each advisor has many students, each advisee only has his or her own progress to track.