Sport Management Major
The sport and fitness industry has grown dramatically over the past 20 years. The need for expertise in sport management has developed into a discipline where specialization exists in a multidimensional sense. 
At Parkside, our comprehensive curriculum serves you, and your aspirations to gain employment in sport and fitness professions. According to the Bureau of Labor Statistics, the career outlook is expected to grow 10-15%. Graduates have found employment in administration, coaching, sport marketing, team management, sport agencies and broadcasting.
---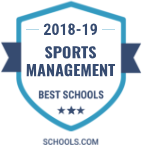 Real Opportunities
The majors in sport management and exercise science prepare students to become well-versed in general and specific realms of knowledge. Our faculty believes in teaching theoretical foundations, reflective reactions to material, applied projects and activities, and critical analysis by students of what they have experienced in the various processes.
Amazing Results
Majors find employment within the sport or fitness fields with numerous types of organizations including amateur and professional sport organizations, educational institutions, health and fitness centers, private and municipal recreation programs, or the sporting goods industry. Careers include administration, coaching, sport marketing, consulting, journalism, professional scouting, team manager, sport agent, and sports broadcaster.
PROGRAM CONTACT INFO
William Miller | (262) 595-2308 | miller1@uwp.edu
Sean Dahlin
Assistant professor of Sport Management 

Sean's research interests lend to organizational effectiveness, organizational culture, and leadership styles within intercollegiate athletics. Currently, his research is focused on the developmental pathways of NCAA Division III effective head coaches. Dr. Dahlin earned his Ph.D in Sport Management at Ohio State University, a master's degree in athletic administration from Idaho State University and a bachelor's degree in Portuguese from Brigham Young University.