45 year history of diversity
at Uw-parkside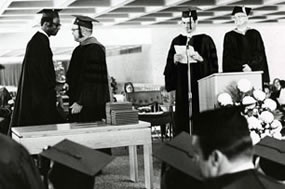 Students, alumni, faculty and staff:

Diversity and inclusion have played important roles in shaping the University of Wisconsin-Parkside. When members of the first graduating class walked across a small stage on the concourse of Greenquist Hall in June 1970, Isom Fearn Jr. became the first African American to earn a UW-Parkside degree. In January 1971, Lillie Jackson, Willie Box, and Donald Harris followed in Mr. Fearn's footsteps.
The photo above shows Mr. Fearn receiving his diploma from Chancellor Irvin Wyllie. For many years, we were uncertain as to the identity of the first African American graduate. Just a few weeks ago, we discovered it was Mr. Fearn. Unfortunately, we also discovered that he died in 2006. I think you might enjoy reading a short recap of his life.
As we move closer to the conclusion of another Black History Month, keep in mind how the legacy of African Americans at UW-Parkside began with Mr. Fearn, followed closely by Mr. Box, Mr. Harris, and Ms. Jackson, who are pictured below with their class.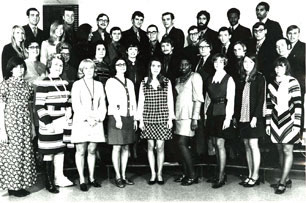 We often hear that UW-Parkside is the most diverse campus in the UW System. And we know that important distinction allows us to deliver a learning environment that prepares our graduates to live and interact with others from different cities, states, and countries. However, we didn't become who we are by accident. The university made a commitment to serving the needs of all students. As a campus community, we should be very proud of our graduates of color and the work done by so many during the past 45 years.
I invite you to take a moment and recall just a few of the diversity highlights at our university.
1969
Reverend Jesse Jackson speaks at UW-Parkside's first major symposium entitled "The Future of Cultural Minorities in Industrial Societies."

1971
UW-Parkside's first artist-in-residence is Spanish pianist Carmen Villa.

1972
Native American students are eligible for the state's new Indian Student Assistance Program.

The Ed Spicer Report, a 90-second minority report on interested Wisconsin radio stations is offered as a daily feature on University of Wisconsin System programs for minority and educationally disadvantaged students.

1974
At the end of the registration process, enrollment of minority students at the University of Wisconsin-Parkside went from 224 in 1973 to 337 in 1974.

1982
Office of Multicultural Student Affairs - OMSA - is established.

1989
Center for Ethnic Studies, formerly known as the Center for Multicultural Studies, originated when the UW System Board of Regents instituted a three-credit diversity course requirement.

1991
University officials travel to Soviet Georgia to initiate an exchange agreement between UW-Parkside and Georgian Technical University.

Chancellor Sheila Kaplan and Vice Chancellor John Stockwell travel to Nigeria to work out final details of an exchange agreement with Obafemi Awolowo University.

1993
Agbo Folarin, a professor of art at Obafemi Awolowo University in Nigeria, directs the creation of the copper mural "Diversity of Creation Myths" that graces Mid-Main in Wyllie Hall. Folarin served as artist-in-residence and worked with five UW-Parkside students.

UW-Parkside awards its first honorary doctor of humane letters degree to Gwendolyn Brooks, Pulitzer Prize winning poet and frequent visitor to campus.

1994
Eleanor Smith is the first African American chancellor to lead UW-Parkside.

2003
The Center for Ethnic Studies co-sponsors a presentation by Patrick Antonio Goldsmith, assistant professor of sociology, on "Learning to Understand Diversity: Getting Students Past Common (Non)Sense."

2004
UW-Parkside hosts Gay Civil Rights Diversity Circles Workshop.

2008
The Center for Ethnic Studies supports the development of new diversity courses such as Astronomy in Non-Western Cultures, Multicultural Theatre, Young Adult Literature, Multicultural Marketing, and Understanding White Privilege.

More graduation photos from 1970 and 1971.